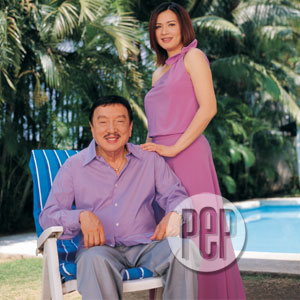 IMAGE 0
---
For Dolphy, the country's most beloved comedian, life can'tbe better. He'll be 74 in July (he's turning 79 this July 2007)... and he's done it all. Now he can dine on hisfavorite repast of keso, French fries, and Kobe beef. He can fly to anywhere inthe world. Or he can simply be inside his home by the bay with his family: ZsaZsa Padilla, 38 (now 43), and daughters Nicole, 11 (now 16), and Zia, 10 (now 15).
"Semi-retired natayo e," Dolphy says. "Easy-easy nalang tayo... Medyo bigyan pa ako ng konti pang buhay para pangalagaan ko angdapat pangalagaan sa mga supling ko lalo na 'yung mga maliliit pa. Siguro 'yungmga konting taon na nalalabi sa akin iuukol ko na lang sa kanila. Basta anggusto ko na lang health ko and health sa mga anak ko..."
Dolphy, who has sired 18children, particularly dotes on his twodaughters Nicole and Zia, both of whom, says Zsa Zsa, have picked up specialqualities from their father. Nicole, who wants to be a lawyer, has Dolphy's"lambing and thoughtfulness." Zia, who wants to be superstar, has Dolphy's"creativity and artistry."
It is Zsa Zsa whoplays the disciplinarian. "Somebody has to be," she says, "otherwise they wouldbe just spoiled talaga through and through. I mean, of course, we spoil them. Ilike to do that, but Dolphy is the biggest spoiler, talagang aiming to please,that type. He loves to please people, that's why he loves, number one, to feed.'Ano'ng gusto mo? Kumain ka na ba? Uuwian kita.' Lahat 'yan palagi—as in everysingle day."
ADVERTISEMENT - CONTINUE READING BELOW
What's more, she says: "If you are on a diet, he would bringyou salad. He will go out of his way to get what you want. He loves to do that.Now I'm resting... so bakasyon. Gustong-gusto niyang sasabihin ko sa kanya in myvacation, 'Dalhan mo ako ng lahat ng champoy sa Aji Ichiban.' Diyos ko, alam moang dumating? Four bags! I am not joking. I just kept 'binge-ing' on each bag.Talagang I'm so happy. I'm so bloated, I gained 10 pounds from all these salt,you know."
And Dolphy? What makes him happy?
"It's being with the kids," Zsa Zsa says, withouthesitation. "He is such a good father, especially to my children. 'Yung ageniya, siyempre ngayon talagang gusto niya pamilya na lang. Hindi na siyamasyadong away from his family because of work kasi he's very pleased now withthe way he works, e. He stays most of the time in the house."
Zsa Zsa says, "Noong bago pa lang kami, 'Parang padalangnang padalang ang alis niya,' sabi ko. Ako mismo, hindi na ako makaalis. ParangI miss the time being out with friends and exploring, you know, newfriendships. Parang 'yung growth ko din as a person stunted na. Sabi ko, 'Ba'tgan'un?' Tapos iniisip ko, kesa naman problemahin mo 'yung asawa mo kung nasaanat three in the morning, you know what I mean? Sakit sa ulo. Sabi ko, 'I thinkI'm lucky in the sense that my husband's home at 11!'"
ADVERTISEMENT - CONTINUE READING BELOW
Today, she sees Dolphy leave the house only when he goes offto work or when he wants to eat out.
"He loves good food," she says. "He loves to eat."
In days like that, Dolphy and family will likely end up inthe mall.
She intimates: "Alam mo, happiness namin, manood ng sine.We're so ordinary! We're so common! People think, 'Ay artista sila. Siguroje-jet set sila para mag-lunch sa Hong Kong,' parang gan'un. Hindi totoo 'yon!"
Why Dolphy spends all his time with his family and barelyany with his friends is also because, sadly, many of those closest to him, hisbarkada in showbiz, are gone.
"Ang dami nang namayapa," Dolphy himself says. "Nida(Blanca), Panchito, Babalu, Ading (Fernando). Lahat ng close sa akin sa showbiznawala na lahat e."
Is he thinking he might go their way, too?
"Oo nga," he says, smiling. "Madalas, nagdarasal ako."
Indeed, Zsa Zsa confirms, he prays to all the saints aroundthe house and to a crucified Christ in their lanai. Moreover, unlike her, shesays, he never misses Sunday mass and drives to Baclaran for his novena. DuringHoly Week, he organizes a padasal in his home and, when his time allows, doesthe traditional visita iglesia which is the visit to 14 churches to correspondwith the 14 stations of the cross.
She reveals that he has upped his praying time from one hourto two hours a day. To which he throws this rejoinder: "Sa dami ng pinagdarasalko."
ADVERTISEMENT - CONTINUE READING BELOW
Zsa Zsa jokes, "Sabi ko nga sa kanya, masyado ka ng close kayLord, ha. [Zsa Zsa puts her pointer and middle fingers together to make aV-sign.] Ganyan na lang kayo. Please, baka kunin ka na ni Lord!"