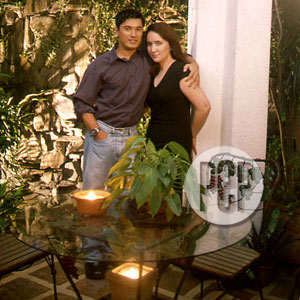 IMAGE 0
---
Liezl Sumilang-Martinez, 34 (now 40)—wife to actor Albert Martinez and daughter to former movie queen Amalia Fuentes—runs down the places they lived in before this one. "After we eloped, we went to Las Vegas, then lived in Los Angeles for six months, transferred to San Francisco in 1991, and came back to the Philippines October '91. We stayed with my mom for a while, then lived in a condo in Cubao, then finally moved here in '94."

A big reason for returning home is, of course, their three kids who seemed to come one after the other. "It was hard," admits Liezl, Amalia's unica hija, who became a mother at 19. "Sa States kasi wala kaming katulong."

But the big reason for staying put is the quality of life the whole family can enjoy in these parts. Albert Martinez, 40 years old (now 46) and one of the finest actors in the country today, earns enough from local movies and television to keep his family comfortable. And with Liezl contributing her own to the family coffers, the family is more than just comfortable—there's plenty to go around.

Even more important, it's a happy family. And it got that way in large part because the man of the house believes in spending time with his family. A big chunk of his free time he spends right at home—playing with the kids, tending to his garden (his favorite thing, says Liezl), taking care of his Boxer Rex, and—for everyone's ultimate family high—cooking great family meals.
ADVERTISEMENT - CONTINUE READING BELOW