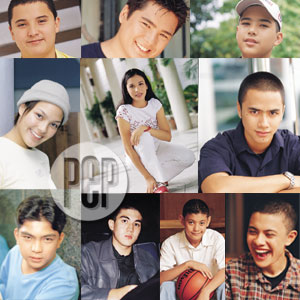 IMAGE 0
---
On the premise that stars end upmarrying each other and eventually produce equally good-looking kids, showbusiness will never run out of stars.
And so the famousclans: Salvadors, Quizons, Padillas, Ejercitos, Revillas, Muhlachs, Cruzes andso on. From them sprung child stars: Niño Muhlach, Snooky Serna, Sheryl Cruz... And the '80s youngleads: Ruffa Gutierrez, Ian de Leon,Keempee de Leon, the Legaspi brothers Zoren, Kier, Brando, Francis Magalona...
Of course, some celebrityparents insist that their children will not enter showbiz, that they will havethe normal life, as well as the schooling, they themselves never had. But othershowbiz parents say they'll be happy to have their kids follow them into theprofession that has given them the life they enjoy today.
Meantime, the industryitself creates the public need for fresh faces with famous family names. In the'80s, "That's Entertainment" gave us the likes of Tina Paner, Janno Gibbs,Ramon Christopher, and Lotlot de Leon. In the '90s to the present, ABS-CBN'sTalent Center gives us a talent pool studded with many second- or eventhird-generation stars.
It's in the blood, as theysay.
And maybe it is.
Certainly, the publicremains curious.
So here they are:10 heirs to showbiz names and faces!