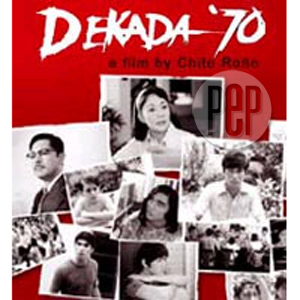 IMAGE 0
---
Now that Independence Day, June 12, is just around the corner, PEP (Philippine Entertainment Portal) took the time to reflect and recognize the classic films that mark historical milestones in our country's existence.
Filmmakers have often relied on history to provide inspiration for their own cinematic gems. Historical persons and places have become a rich source of subject matter and themes for movies.
In this way, Filipino directors were able to shape national consciousness and instill values of honor and love for country among moviegoers and the general public. Even after we regained our independence from foreign colonizers, there were still threats to our freedom—especially during the violent dictatorship of former president Ferdinand Marcos.
More than entertaining the audience, these historical films aim to preserve our heritage by immortalizing our stories—and the birth of our nation—for our sake and for future generations.
In celebration of the Independence Day, PEP decided to come up with its list of historical films. We are sure there's a dozen more movies which deserve to be included in this article—so in case, we fail to put your bet, please feel free to post it on the comments column.
Aguila (1979)
This three-and-a-half-hour epic covers the 1896 Philippine Revolution up to the militant student activities of the late '60s and early '70s.
As Jose Mari's (Christopher de Leon) search for his father, Daniel Aguila (Fernando Poe, Jr.), chronicles the highlights of our nation's history.
Aishite Imasu 1941 (2004)
Who could forget the intense performance of Dennis Trillo as Ignacio, the homosexual spy who falls in love with a Japanese officer? Aishite Imasu (which is Japanese for "Mahal kita") shows that love can transcend nationalities and cultural differences.
ADVERTISEMENT - CONTINUE READING BELOW
Set during the Japanese occupation of the Philippines, Aishite Imasu is a compelling story of love, betrayal and honor in times of war. This period film features a love triangle between common townfolk, Inya (Judy Ann Santos), Edilberto (Raymart Santiago) and Ignacio (Dennis Trillo) who show uncommon bravery as guerilla soldiers.
Ang Alamat ni Julian Makabayan (1979)
This contemporary historical drama tackles agrarian unrest in the Philippine countryside as seen through the eyes of a peasant leader named Julian.
Julian Makabayan (Celso Ad. Castillo) is a peasant who is arrested after he tries to organize a labor union to oppose repressive landowners. His new bride pleads for his release but is raped by an oppressive friar who sides with the landowners.
Bayaning Third World (2000)
This modern-day film takes an irreverent look at our national hero and its rather unusual plot is a radical departure from previous films on Dr. Jose Rizal.
In this "film within a film," an aspiring director works closely with a writer to capture Dr. Jose Rizal's "cinematic moments" in an investigative story of the Philippines' national hero. It has an unusual way of immortalizing Rizal by looking at the various ways filmmakers, historians and writers have portrayed him in the past.
Dekada '70 (2002)
Piolo Pascual shines in this movie for his portrayal of an activist who is willing to die for his beliefs. Not to be outdone, Vilma Santos plays a mother who becomes her family's anchor when her husband, played by Christopher de Leon, feels powerless in the face of societal upheaval.
ADVERTISEMENT - CONTINUE READING BELOW
A middle-class family struggles to exist despite the repressive measures imposed during Martial Law. A son joins the leftist movement in order to fight for freedom while a mother tries to find her own identity apart from her family.
Ganito Kami Noon, Paano Kayo Ngayon? (1976)
A man's search for identity is parallel to the changing fortunes of the Philippines under its colonizers.
This historical epic tells about the country's struggle to establish its cultural identity from the time of the Spanish Revolution up to the Philippine-American War, as told from the viewpoint of a probinsyano named Kulas (Christopher de Leon).
Jose Rizal the Movie (1999)
This complex film attempts to deconstruct our national hero and to portray his humanity.
Released in time for the Philippine Centennial, this cinematic masterpiece from Marilou Diaz-Abaya re-introduced Jose Rizal to a new generation of young Filipinos. Cesar Montano captures the wide range of emotions that Rizal presumably went through as he lived his extraordinary life.
Orapronobis (1989)
This political drama depicts human rights abuses during the '80s. Highly controversial at the time, it was banned from screening by then president Corazon Aquino for focusing on military atrocities in the countryside. Orapronobis chronicles abduction of dissidents, political killings, and proliferation of paramilitary vigilantes during the Aquino administration.
The movie title Orapronobis (Latin for "Pray for us") is also the name of the fictional vigilante group shown in the movie.
Sakay (1993)
This historical film is a dramatization of the life of Macario Sakay, the last Filipino revolutionary to stand firm against the American colonizers during the Filipino-American War.
ADVERTISEMENT - CONTINUE READING BELOW
In this third remake of the Sakay biographical film, Julio Diaz plays the lead character.
Sister Stella L (1984)
Why was it chosen? Vilma Santos is convincing as a nun who becomes socially aware after being involved in an on-going labor strike.
The long-standing debate between separation of the state and religion comes full circle in this Mike De Leon classic. When nuns defend workers who go on strike in an oil factory in Barrio Agoho, it raises questions on whether the religious should interfere with socio-political matters.