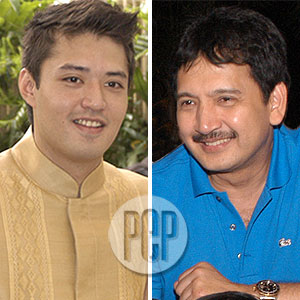 IMAGE 0
---
When Mark Anthony Fernandez first appeared as part of the teen trio, Guwapings, back in the early nineties, many immediately saw a potential talent in the mold of his famous dad Rudy Fernandez.
That observation was magnified when Mark decided to follow his father's footsteps and take on action roles. Rudy, at the time was very supportive and understandably proud of his son with ex-partner Alma Moreno.
But Mark had demons to contend with—the need to temper the pressures of being a public figure, an increasing sense of insecurity, and a gamut of personal problems. Unfortunately, he soon found himself getting entangled with substance abuse.
According to Mark, everything at that time became too heavy for him to handle.
"I got hooked only on marijuana," he quickly corrected when asked by the press. Mark's quick clarification was to dismiss rumors that he went beyond grass and dabbled with heavy drugs, like shabu and cocaine.
"I had never gone beyond marijuana," Mark repeated during an interview with a major broadsheet after he was discharged from a rehabilitation center in 2005. "I became addicted to it. If I didn't smoke a joint, I'd feel paranoid," he vividly recalled.
Finally accepting that he had a drug problem, Mark—with help of his family and loved ones—submitted himself to a rehabilitation center in 2004, where he stayed for 11 months.

DIGNITY IN ADVERSITY. Throughout Mark's stay in the rehab, Rudy Fernandez maintained a dignified silence, particularly towards reporters who frequently probed Mark's fall from grace.
ADVERTISEMENT - CONTINUE READING BELOW
Right from the start, Rudy has been very supportive of Mark, according to some of the people close to the action star. It was Rudy who insisted that Mark be admitted to curb his growing addiction.
Mark never hid the fact that one factor that led him to drugs was the lack of a close-knit family. His parents, of course, were separated.
Many believed that Rudy partly blamed himself for not being able to provide that kind of domestic set-up for his son. But, like Mark, he felt powerless to change their circumstances.
POSITIVE LIFE-CHANGE . Nowadays, Mark is in much better shape and is doing his best to get his life back in order.
He married his long-time girlfriend Melissa Garcia in September last year. Mark's parents Rudy and Alma were present for the celebration.
But while Mark was experiencing a rebirth of sorts, Rudy, on the other hand was going through a life-threatening disease—cancer.
Rudy was originally diagnosed with periampullary cancer. He was able to survive this initial stage, but after a couple of months, the cancer cells metastasized in his liver.
Mark keeps up tremendous courage and is optimistic that his father, who is no less courageous, would be able to get through his ordeal.
"I'm glad na 'yung nangyari, 'yong ganito kay daddy, ay okay and stable na ko. At least kahit papaano nakakabawi ako sa kanya."
The relationship between father and son has also improved tremendously, something that Mark attributes to his maturity and stable mindset.
ADVERTISEMENT - CONTINUE READING BELOW
"Even if we are not together everyday, he knows that he can always count on me," he said sincerely.
He thanked his dad for standing beside him during the times he was groping and about to give up.
"I have a positive outlook now in life," he affirmed, smiling a bit. "Clean living na 'ko... I don't want to go through again what I went through in the past."