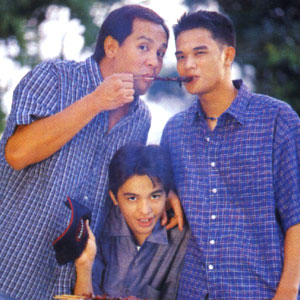 IMAGE 0
---
One more can't hurt. That was perhaps what crossed Mayor Joey Marquez's mind when two years ago he adopted Baby MM, an infant abandoned by a destitute mother in a Paranaque hospital.
The former hardcourt star offers neither apologies nor explanations for having enough kids to make not just one but two basketball teams!
"Lahat 'yan pinapaliwanagan ko. Wala naman akong hindi sinasabi sa kanila. Kasi sa akin, nobody should compete with my children. They will lose."
Of his brood, grown-ups Jeremy, 23 (now 28), and Paolo, 16 (now 21), are in politics. The half-brothers not only sleep under the same roof but also work as a team for Barangay BF—Jeremy as Barangay Kagawad and Paolo as Sanggunian ng Kabataan chairman and SK league president.
The two are very obviously sons of their father. Jeremy has Joey's height and built; Paulo, his full lips and wide eyes.
The similarities run deeper. Asked who inherited his charm with the ladies, the former "Kool Ka Lang" mainstay flashes his trademark smile and replies: "Palagay ko si Jeremy eh. 'Yung pagkatahimik... pagkamag-isa. Loner din. Saka serious. Si Paulo naman ang kenkoy, street-smart na mas gusto kausap 'yung matatanda kesa mga bata."
ADVERTISEMENT - CONTINUE READING BELOW
Joey doesn't mind his offsprings pursuing either showbiz or basketball. But early enough politics became an option. "N'ung una ayoko eh. Sabi ko sa kanila, 'Bakit?' Sabi nila, eh tutal nandito na rin daw ako and parte din sila dun sa hinihingan ng tulong, might as well be in the arena na makakatulong sila. Sabi ko, 'Pagbutihan n'yo lang kasi papansinin kayong mabuti diyan.'
"So, hopefully, eh sabi ko ngaif you have to have a position, you have to earn it. It's not because I'm the mayor, I'll put you there. No, no, I cannot put you where you want to be. It's you and the people."
Otherwise, everything's pretty regular between him and his young ones. Joey shoots the hoops with his sons as often as he shoots the breeze with his daughters. The 42 (now 47)-year-old grew up fast, siring his first son (JJ, now 30 and a resident in America), at 16, but the years haven't taken the fun out of him.
ADVERTISEMENT - CONTINUE READING BELOW
"Para kaming barkada. We talk about hobbies. I join them. I bring them to my golf game. Tapos nagka-carting kami.We swim, tapos kwentuhan kami. Debate-debate kami.The girls, we talk about their suitors. We talk about what they do...their parties. Okay lang 'yon.I use probably reverse psychology eh.
"Ang mga babae, lalo kapag pinigilan mo nang pinigilan, lalong gusto n'yang subukan. Kaya ang ano ko sa kanila, the greatest gift you can give back to me is you finish school. Now, gusto mong maging pregnant or single parent? Okay lang sa akin. I will accept, kaya lang it's your life. Ako, hindi naman ako habang buhay nandiyan. So, naiisip nila 'yon. Hindi pala bawal, so ayaw nila. Kasi ako n'ung bata ako, ganun ako, pag pinipigilan mo ako, lalo kong gagawin."
Joey's own tumultuous relationship with his father Direk Artemio Marquez was soap-opera material. While it ended with his father's excruciating death from cancer last 2001, for him much of the pain still lingers. "Who am I not to forgive? But to forget is a different story," Joey says, his voice gravelly.
ADVERTISEMENT - CONTINUE READING BELOW
He proceeds to explain. "I always forgive my enemies but I never forget what they did. I'm not saying that my dad is my enemy. It's just that, from the time I was born up to this time, my mother is my father. I tell my kids that I really paid my dues, na I started from the bottom in spite of the fact that my dad was a producer-director. I did everything in my own little way. And one of the formula of doing that is to concentrate on studies. Not just going to school. It's learning how and knowing what."
Because the happy-go-lucky Joey excelled in school, he now demands the same from his kids. This, Jeremy confirms: "He makes it a point that it has to be on our priority kasi he tries to teach us the value of education... He expects high grades so much. Minsan, sinasabi niya, siya hindi siya pwedeng magyabang kase 97 lang 'yung average niya dati. Parang reverse psychology siguro.He's trying to compare us to himself when he was young. Iba 'yung mga challenges na dinaanan niyaand he still managed to get good grades. He expects the same from us. Minsan,we can't deliver."
ADVERTISEMENT - CONTINUE READING BELOW
School is non-negotiable where Joey is concerned. "Alam mo, ang mga bata ngayon, medyo, you treat them as an adult. Meron ding groundings. 'Yun na 'yung pinaka-worse. Saka 'yung hindi ko papansinin. Parang if you choose a different direction that I'm trying to lead you.. .for you na hindi na daanan 'ung ibang pagkakamali ko... Let's say, you still want to experience it, then have it your way. Pero isang linggo ko siya hindi papansinin. Eventually, lalapit 'yan, magso-sorry.
"Isa lang naman ang hinihingi ko eh,serious school and give me good grades. Every after school year, nagtatanungan kami. So kung medyo bumaba 'yung grades nila, nagwo-worry sila. Pero 'yung night out nila, okay lang sa akin 'yun.Now if you wanna get married after your school or if you get pregnant, I will still love you regardless of what happened to you. Just give me what I want. Finish school."
ADVERTISEMENT - CONTINUE READING BELOW