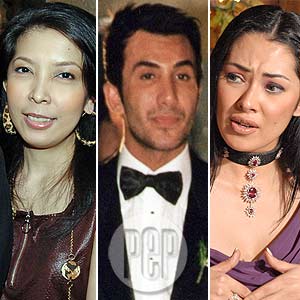 IMAGE 0
---
Recently, entertainment columnist Dolly Anne Carvajal revealed that she's in touch with Ruffa Gutierrez's estranged husband, Yilmaz Bektas.


"I got a surprise text from him so I gave him my landline," said Dolly Anne through a phone interview conducted by GMA-7's news program, 24 Oras.


In her column today, June 14, in the Philippine Daily Inquirer, Dolly Anne printed in full Yilmaz's "unedited" email response on some key points, particularly on those raised by Ruffa when she guested last Sunday, June 10, at The Buzz. During the said guesting, Ruffa accused the Turkish businessman of torturing her and subjecting her to various forms of abuse that triggered her to abandon the marriage.


Debunking all the accusations thrown at him, Yilmaz answers the torture allegations, custody issue of their two daughters (Lorin and Venice), Annabelle Rama, and his future legal plans.


Here is the full content of Yilmaz's reaction relayed through Dolly Anne:
What is the truth behind Ruffa's allegation that you beat her up for 15 hours? Did you ever hurt Ruffa physically? Did you ever lock her up in a cabinet?
"It's like Ruffa saying I kill JFK [John F. Kennedy] and I bombed the Twin Towers. She don't have evidence but she say she know. How funny! If I tortured her 15 hours and electrocuted her in bathtub, why she still alive? Is she Superman or Spiderman? Yes she is talking about cabinet. Mostly she staying cabinet because she love to look her dress and bags. It's a walk-in cabinet like as big as room. I hurt her only by slapping her when I heard about the other man she married before me. I slap her 'cause she deserve it. Why she lie about everything even simple thing about her age? Why all the hiding? She is really older than me. When I was in jail two years ago, she want hide it. I tell her, why be ashamed to tell truth? Even Gandhi go to prison for politics."
ADVERTISEMENT - CONTINUE READING BELOW
Are you fighting for custody of your kids?
"Yes. I want them grow up Bektas way, not Gutierrez way. When I call, I hear Ruffa shouting at our kids. Kids always with yaya. You ask where her kids are yesterday, she don't know. But ask her what Paris Hilton wear three months ago, she know.
Did you ever endanger the life of your children? Ruffa claims there was a shooting incident while you were in your car with Lorin and Venice.
"I think she watching too much Western movie. If that was true, it should be big news in Turkey 'cause my family prominent."
What did you mean, Annabelle is a "good seller"?
"She good seller period. People who know her understand what I mean. Everything money for her. When first met her, she not ask what university I come from, who my father, mother is. She ask what brand my watch."
Ruffa claims she gave up her career for you.
"What career? When I ask tape of her movie, she does not like me to see. I don't need her title—she only second runner-up [Miss World Second Princess 1993]. I buy Fashion TV for her birthday gift; nothing happen. I lost big money."
What did your lawyer find out about Richard Daloia?
"She still was marriage with this guy until April 2007. She never get divorce. During my wedding time she still marriage with this guy."
Ruffa claims you knew about Daloia from the start.
"If I knew she married other guy before me, I not even ask her to be my girlfriend, not 'cause I respect Ruffa or myself but because I am scare to God."
ADVERTISEMENT - CONTINUE READING BELOW
What are your legal plans?
"It's mostly about Ruffa and boyfriend. Annabelle admitted to me in text that Ruffa has lover. I mail you my cell phone to show message of Annabelle as proof. As for legal, she against two laws... several times lying marriage time and lying to government because she using this fake documents for traveling Europe, USA, etc. And for children I am gonna open case because no permission from me using them for commercial and magazines. I will sue all companies involve."
Why did communication between you and Ruffa break down?
"First reason we fight Feb 16 because I found out she's still married to someone else. I'm finding out also she has a relationship in Philippines three months now. I give $50, 000 reward to anybody who can point this dishonorable man to me. Show his face. And whatever I say regarding this story, I am speaking with evidence. I save Ruffa messages weeks ago calling me husband, soul mate, promising her soul and body belongs to me. But while she text me, she already [with] other man."
How is your family taking this?
"My mother had heart attack. She sad when I sad. She in hospital. I sorry for her."
Ruffa is saying she has moved on and so should you.
"I the one file for divorce. Why she say I want her back? How she move on? Before that, she has to face all legal case. This is not party time. This is real life."