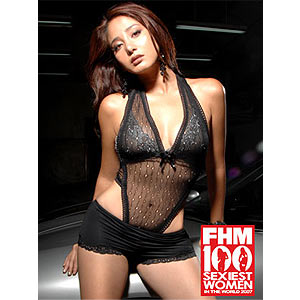 IMAGE 0
---
Katrina Halili is the sexiest woman in the Philippines, according to the premier men's magazine FHM. The Lupin vixen tops the "100 Sexiest" list and has held on to the title, Philippines' Finest, for two years in a row!
Meanwhile, Fantastic 4 lead Jessica Alba takes the numberone spot as the sexiest woman in the world. The Hollywood star is alsoa new entry to the global list of sultry women.
Angel Locsin is lucky lady number three. The Asian Treasuresheroine proves to be a gem and retains her status on the list, justlike last year. Angel is also considered a "triple treat" in showbiz—acertified star, a budding film producer, and a successful productendorser. Soon, she will be adding "businesswoman" to her list oftitles. She is set to create her own sportswear line.
Another Angel is close behind. Angelica Panganiban climbs ten spots to number four. The Rounin superwoman graced the cover of FHM lastMarch and became a big hit among the readers. Though actor Derek Ramsayhas already captured this Angel's heart, she continues to be everyone'sdream girlfriend.
Ehra Madrigal, claims the fifth place. Katrina's fellow Lupin star makes a giant leap from the 39th position last year. Her sibling, Michelle Madrigal, replaced Ehra in her former rank.
Here's the top 11: 1. Jessica Alba; 2. Katrina Halili; 3. Angel Locsin;4. Angelica Panganiban; 5. Ehra Madrigal; 6. Bianca King; 7. DianaZubiri; 8. Jennylyn Mercado; 9. Anne Curtis; 10. Iwa Moto; 11. IyaVillania