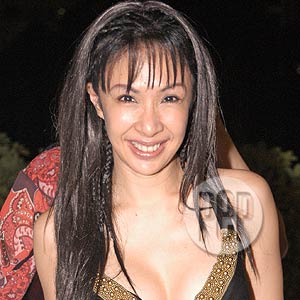 IMAGE 0
---
Comedienne-host Giselle Sanchez scored 21 points when she took the hot seat on "Forbidden Questions" segment earlier today, June 27, at Mo Twister's controversial radio show, Good Times with Mo, on Magic 89.9.
Giselle, who was given words of encouragement and had high expectations from the listeners, decided to play safe when it came to some questions that prodded her to drop names.
She demurred when asked who in showbiz exhibits a diva-esque attitude. Diva, in the negative sense, means a prima donna who's difficult to work with.
"I don't want to break personal relations," she reasoned, much to the protest of the DJs and the staff.
Giselle gamely subjected herself, though, to some personal "dares" like making out with Good Times co-DJ Mojo Jojo, and even admitted that she smoked marijuana when she was younger.
The sharp-witted sexy comedienne also revealed that she would have gladly showed her boobs to Mo, Mojo Jojo, and Andi 9 (Andrea Manzano) if they had asked her before the diva question.
ADVERTISEMENT - CONTINUE READING BELOW
"But I would ask my driver to go out first because the memory would be forever implanted in him," she joked about her driver who was watching outside the booth.
Here are some of Giselle's interesting answers:
What is not real on you?
"My eyelids. Because I'm really chinita, so I had it done. That's why I don't mind people saying that I'm retokada, because I am."
Have you ever gone out with a married man?
"When I was single, he courted me and I didn't know that he's married. And when I found out that he's married, I shooed him away."
Mayaman?
"Of course he's mayaman! Married na nga tapos mahirap pa! Tama ba 'yon? Ako pa ang magpapakain sa pamilya niya. 'Eto o, pang-grocery nyo, ang pangit!"
Without naming a name, had you ever slept with anyone famous?
"No. Honestly, no."
No boylet rising stars that you could have taken advantage of or anything?
"No. I hate dating showbiz people."
ADVERTISEMENT - CONTINUE READING BELOW
How about a socialite?
"Yes. I would date a socialite, but not anyone from showbiz."
But you never slept with anyone famous?
"No, and I'm proud of it."
Did you have a sex tape?
"I actually thought of that, and I told my husband about it but he said no. He did take indecent pictures of me but he erased it."
What's the better TV station?
"I work for both... you're making me lose my job."
They're both good but I prefer this...
"I'm closer to the staff of GMA."
How old were you when you lost your virginity?
"Twenty-two."
What's the better show, Wowowee or Eat Bulaga!?
"I admire Willie Revillame 'coz he's alone. But I also admire Joey de Leon and Vic Sotto."
Have you ever been intimate with something not human?
"Yes."
Spit or swallow?
"Swallow"
Craziest place you've done it?
"In college. Inside a car with my boyfriend and we're making out at CCP in Breakwater."
ADVERTISEMENT - CONTINUE READING BELOW
Who is your lesbian crush?
"Andie Manzano... I like the virginal look."
Email address for celebrities.
John Estrada - bigthingilike@yahoo.com
Dolly Anne Carvajal - shekindalookslikeme@yahoo.com