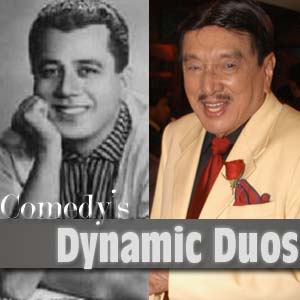 IMAGE 0
---
Although comedianscan deliver most of the act's slapstick, it won't be as interestingwithout the support of a funny buddy. Comedy sidekicks add more life tothe act with their lively reparteé and sometimes becoming the butt ofjokes. Comic icons like Dolphy, Joey de Leon, and Vic Sotto wouldn't beas funny without the follow-ups of Panchito, Rene Requiestas, and Jose Manalo.
The list of comedyduos here on PEP (Philippine Entertainment Portal) doesn't go by anyfunny-to-funniest yardstick; all of them share the same tenacity andpassion to make people laugh and forget all about the problems of dailylife. And of course, we do not disregard the fact that you may also have your Comedy Duos, so feel free to post them in the comments section of this article.
Dolphy and Panchito.The original funny duo of Dolphy and Panchito literally brought tearsof laughter to the masses for four decades. This duo became well knownduring the 50's and rose as one of the most successful tandems inFilipino comedy.
Dolphy, also knownas the Pidol or Golay, started out as an onstage performer during theJapanese Occupation. The late Fernando Poe Sr. gave Dolphy his firstbreak as a character actor and Dolphy later became recognized as acomedian for his roles in Jack en Jill and Facifica Falayfay.
For a span ofnearly five decades, Pidol made comedy films alongside fellow comediansPanchito, Pugo, Tugo, and Babalu, among others. Dolphy is best knownfor his role as John Puruntong in the sitcom John En Marsha with the late Nida Blanca.
The Comedy Kinghas had a lot of funny sidekicks but it was Panchito Alba who stood outamong all the others. He was recognized as the perfect match forDolphy's brand of humor. Panchito started out as an actor forSampaguita Pictures in 1954. He became a full-time comedian when hestarred with Dolphy in the 1959 film, Kalabog en Bosyo.
ADVERTISEMENT - CONTINUE READING BELOW
One of the duos'most notable performances was when they did the opening for theBeatles' show at Rizal Stadium in Manila in 1966.
Joey de Leon and Rene Requiestas. Who could ever forget Starzan and Cheetae? These two comedians made it big with their parody of the film Tarzan. The first movie (Starzan) became such a hit that they followed it up with Starzan II and Starzan III—all in one year.
Joey, a member of the famous comedy trio with Tito and Vic, is one of the hosts of the long-running show Eat...Bulaga.Joey started out as a DJ for some of the top FM stations mostly ownedby ABS-CBN. Also known as a songwriter, Joey composed the Filipino classics, "Ipagpatawad Mo," "Awitin Mo at Isasayaw Ko," and many more.
Rene Requiestaswas personally chosen by Joey de Leon for his funny nature andtrademark toothless grin. Rising out of poverty—he was hawkingcigarettes on the streets when he was discovered by a talent scout—Renebecame one of the most successful comic actors in Philippine cinema. Ithas been said that Rene was one of the actors who raised profits forRegal Films with his comedy roles in almost all his movies.
The late comedian is best remembered for his line in Starzan: "Cheetae, ganda lalake!"
Eric Quizon and Redford White. Buddy en Sol was the Filipino version of Perfect Strangers, a popular American sitcom in the '80s. Eric Quizon and Redford White made Channel 9's Buddy en Solhit the airwaves as one of the most sought-after with their antics andopinionated humor. The show was so popular that the duo made two movieswith the same title, Buddy en Sol (Sine Ito) and Buddy en Sol 2: Pribate Depektibs.
Comedy really runsin the Quizon blood. Eric certainly made a name for himself in theworld of comedy. The actor-director also played more serious roles suchas Markova: Comfort Gay and directed shows like Majica, and Asian treasures.
ADVERTISEMENT - CONTINUE READING BELOW
Redford White is a "white guy" who sounds very Pinoy. He started out as a solo comedian in the films Soldyer! and A Man called Tolonges. He captured notice with his major role in the film Hee-Man: Master of None.
Michael V. and Ogie Alcasid. A combo-mix of hilarious skits and spoofs characterized the programs, Tropang Trumpo and Bubble Gang, in over a decade of assorted stomach-churning comedy, thanks to its two geniuses: Michael V. and Ogie Alcasid.
Both artists'creative juices flowed harmoniously, giving life to hilariousimpersonations of political figures, fellow actors, and their perfectspoofing of popular commercials and TV programs. Together they starredin the hit gag show Tropang Trumpoin ABC-5 and made airwaves from 1993 to 1998. Michael V. and Ogieeventually left the show in 1995 to start a new gag show with GMA, Bubble Gang—oneof the longest running gag shows in the Philippines.
Ogie Alcasid, alsoknown as "The Songwriter", is a funnyman at heart. Ogie first exploredhis comic talent by teaming up with Janno Gibbs. And then came theopportunity to work with Michael V. With Tropang Trumpo and Bubble Gang, the two moved up the ranks to become comedy icons.
Michael V. a.k.a"Bitoy" or "Toybits" is a master in parody and impersonation. Bitoystarted out as a rap artist and eventually made it as an actor in Banana Split with Joey Marquez. He became well known when he was cast with Ogie Alcasid in the films Ano ba Yan and Manalo en Michelle.
Vic Sotto and Jose Manalo. Everyoneknows 'Bossing' as an iconic funnyman. Most popular for his part in theTito-Vic-and-Joey trio, he became most associated with the noontimeshow Eat Bulaga. Three times in a row, Vic Sotto was named Philippine Box Office King for his Enteng Kabisote trilogy.
ADVERTISEMENT - CONTINUE READING BELOW
Vic started out originally as a singer and composer and then teamed up with his brothers Tito and Val in the gag show OK Lang on IBC-TV. During his stint in OK LangVic met Joey de Leon and they eventually formed the legendary TVJ(Tito, Vic, and Joey). Aside from the gag show, Vic also joined VST& Company, producing hit songs like "Rock Baby Rock" and "Awitin Moat Isasayaw Ko."
Fast-forward to the present.
Little did Jose Manalo know that TVJ's Eat Bulagawould be the biggest career boost for him when people started enjoyinghis antics behind the scenes as Production Assistant. Jose became Vic's new sidekick in comedy, following Bossing in TV shows like Daddy Di Do Du and the movies Enteng Kabisote and Ispiritista.Jose and Bossing instantly clicked with their audiences and the duocontinues to give them full-bellied entertainment every lunch time.