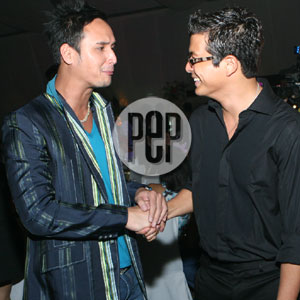 IMAGE 0
---
It was July of last year whenactor John Estrada got involved in a controversy brought allegedly by somesnide remarks he uttered to young actress Heart Evangelista in a bar somewherein Makati.
That incident never becamepublic, up until John and Heart's boyfriend, actor Jericho Rosales, bumped intoeach other during the celebrity screening of Hollywoodfilm, Superman Returns, at the IMAXTheater in Mall of Asia.
Upon seeing John, Jericho's protectivenature automatically went into high gear. Ignoring the public's privy eyes, Jericho confronted Johnin a serious man-to-man talk that, according to spectators, threatened to turnphysical if not immediately doused off. Accounts given by those present, mostlyshowbiz reporters and photographers said that the two were close to hittingeach other until Gary Valenciano stepped in to calm down the arguing parties.
NO HARM INTENDED. "Nag-usap langdaw sina Jerichoat John at syempre, maraming mga tao roon, kaya akala, nag-aaway na sila,"clarified quickly by Angeli Valenciano, talent manager of Echo and Heart.
She also shrugged off talks that the two were onthe verge of slugging it out and that Gary'sintervention was only to remind them that people might misinterpret their sterndiscussion.
"Paglapit niya sa dalawa, humawak si Gary sashoulders nina Jerichoat John, pero hindi pag-awat 'yon. Ni-remind niya yung dalawa na maraming mgatao at nakatingin na sa kanila at baka mag-isip ng kung anu-ano. Iyon na nga,akala pala ng iba, nag-aaway na sina Jericho at John," added the wife of Mr.Pure Energy who became even more evasive when quizzed about what John andJericho were possibly be talking about.
She continued, "Actually, alam ko kung ano yungpinag-usapan nila na very serious talaga, pero I'm not at liberty parai-announce kung ano 'yon. Ni hindi ako pwedeng maglabas ng official statementregarding that dahil personal yung pinag-usapan nina Jericho at John."
ADVERTISEMENT - CONTINUE READING BELOW
THE ROOT. At the center of the conflict was Jericho's girlfriend, Heart Evangelista.
A few weeks after theJohn-Jericho controversy, Heart faced the entertainment press to say her piece:
"I was with my sister and somefriends at that time [in a bar in Makati]when I saw John was also there. I said hello and I told him, 'I saw you at theVictory,' the church where Echo and I go. Then we chatted for about 10 minutes,but I wasn't drunk. I just had my second bottle of mineral water.
"All of a sudden he said something that I thinkwas not appropriate and I was offended. I just kept quiet and stormed out ofthe bar and called my driver to fetch me. While going home, I called up Echo andtold him about what happened," was Heart's narrative.
KEEPINGMUM.Heart made it clear that such would be the only statement she would give aboutthe incident.
"I hope hindi na lumaki pa ang isyung 'yan!"Angeli seconded.
Echo, the actor's nickname, also refused to talkabout it in length after his girlfriend gave her side of the story.
Same with John Estrada, who never gave his sideof the story.
KISS ANDMAKE UP. Barely a year after therow, John and Jericho'spath would cross again this time at the 7th anniversary party of YES! magazine and the launch ofPhilippine Entertainment Portal (PEP) held last February 28, 2007, at the NBCTent, The Fort in TaguigCity.
Entertainment columnist and manager Ethel Ramos,who also attended the event, narrated that John was seated at her table (with celebritycouple Aga Muhlach and Charlene Gonzales) when Jericho and Heart arrived.
The lovebirds, according to Manay Ethel, droppedby to say hello. When Jericho sawJohn, the former approached the latter—and without hesitation—Jericho extended his hand for a firm handshake.John, who also smilingly waved back to say hi to Heart, gladly reciprocatedEcho's effort.
ADVERTISEMENT - CONTINUE READING BELOW
Through actions and without saying much, thethree parties buried the hatchet without fanfare.
Later, John happily relayed to the press that hewas deeply touched by Echo's gesture.
"All's well that ends well. Tapos na 'yon, sohuwag na nating lagyan ng kulay. I wish them the best at sana silang dalawa na talaga," said Johnbeamingly.