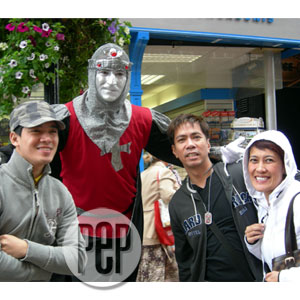 IMAGE 0
---
Ai-Ai and Eric only had one night to perform at the RDSShelbourne Theater for the "Kasiyahan 2007" event. It was made possible forthe Filipino community in Dublin, Ireland—thanks to producer Siony Altesa andconcert organizer Erlinda 'Baby' de Real.
Ate Baby is the older sister of The Library sing-along barowner Andrew 'Mamu' de Real, a part-time director and scriptwriter for shows like"Rock Da Vote." She and Ai-Ai had been best friends for some time now. In fact, the latter's the second celebrity to perform in Ireland. (Arnell Ignacio wasthe first). The group stayed atthe Bewleys Hotel.
The Filipinos in Ireland were ecstatic to see Ai-Ai and her guest performer, Erik Santos,in the flesh. This was relatively a small wonder since Ate Baby already announced their show to the whole of Dublin weeks before.
Because of their hectic schedule, Ai-Ai and Erik wereforced to limit their sightseeing, and they vowed to visit Dublin again, and all of the country's scenic spots.
During their stay, The Luck of the Irishmight have found its way to Ai-Ai's head as the comedienne was noticed wearinggreen all the time. None can be said for Ate Baby, however, as Ai-Ai had leavealone at the last minute, leaving Ate Baby to carry shopping bags that theybought all over Ireland's malls! Better luck next time!