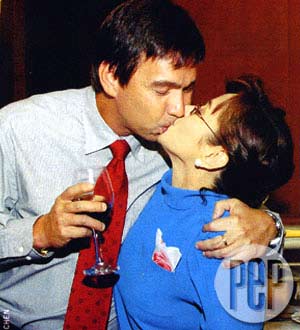 IMAGE 0
---
In contemporary times, there's nothing unusual anymore about May-December affairs.
A May-December union is about the significant age gapbetween two people in a relationship. We're not talking of merely a year or twodifference in terms of age. It is common of course to see young women hookingup with much older men. Experts attribute this to the fact that, in general,the "young once" are more mature, being more emotionally and financiallystable, than young ones.
But what if it's the other way around, when it's the woman who'smore experienced than her partner?
Philippine Entertainment Portal (PEP) lists some of localtinsel town's married couples, with the wives being way ahead in years.
Eula Valdez and Richard Litonjua. Comingout of a turbulent relationship that had spanned nine years, actress EulaValdez had no inkling that her knight in shining armor would appear as someone14-years younger than herself.
Butthat's what fate had in store for Eula and Australia-based electrical engineer,Richard Litonjua.
Theyfirst met on December 5, 2002, while Eula was stationed in a bazaar booth atthe World Trade Center.Richard was with actress-cousin, Sharmaine Arnaiz when they passed by Eula'sstall and bought some items.
ForEula, no sparks filled her eyes that first time she met Richard.
Butit was a different experience for the young engineer.
"Eulais cool," Richard remarked to his cousin after meeting Eula, who was then stillinvolved with Ronnie Quizon and had a son by him.
ADVERTISEMENT - CONTINUE READING BELOW
Afterthe good actress emerged, emotionally scarred, from her previous relationship,Richard eventually rekindled Eula's faith in love.
OnDecember 27, 2003, on the picturesque island of Boracay,Eula formally became Mrs. Richard Litonjua.
Kris Aquino and James Yap. Kris Aquino was already a celebrity while James Yap was still slugging itout as an amateur standout for the University of the East Red Warriors in theUAAP. By the time James crossed over to the Philippine Basketball Association(PBA) as a professional ball player in 2004, Kris's luster as a star was doublybrilliant.
Butlove irreverently made these facts irrelevant.
Withan 11-year age gap between them, Kris Aquino and James Yap threw all caution tothe wind and fell in love, in spite the cynicism whirling around them.
James'squiet and reserved nature, critics argued, don't stand a chance compared toKris' gregarious character.
Legendhas it that James was already nurturing a longtime crush on Kris when he askedhis manager Dondon Monteverde to set him up for a date with the well-knownactress. Despite their personality differences, James's persist courtshipeventually won her heart and the twobecame an item.
Theexact date of their marriage through civil rites fell on July 10, 2005.
Itcame as a surprise to many that Kris kept the romance, and even their marriage,a secret. Kris had a reputation for feeding the public with mundane to the mostinteresting details regarding her personal affairs.
Krishas repeatedly said that the age gap between her and James was never a problem,except on instances when she had to explain certain things he didn't know or hadn'texperienced.
ADVERTISEMENT - CONTINUE READING BELOW
Butdoubts resurfaced anew when a Belo medical clinic receptionist named HopeCenteno smeared James with her claims of his alleged marital infidelity lastyear. Skeptics said that being young and a rising PBA superstar, James wouldmost likely seek—or be sought by—younger women in place of his very popularwife. In short, it was easy to think that the 6'3" sweet-shooting swingman wasnot done yet with his bachelor days.
Fortunately,the marriage was saved and the couple soldiered on until Kris gave birth totheir first son, James Aquino Yap Jr., last April 19, 2007.
Afterthe scandal that threatened to tear their marriage apart, Kris decided to takea low profile to avoid attracting controversies that could harm her volatiledomestic life.
Vilma Santos and Ralph Recto. Revered actress-turned-politicianVilma Santos insists that the 10-year age gap between her and husband, formersenator Ralph Recto never became an issue since day one.
"Bothof us, malawak. Broadminded. Twenty years na kami and never kami nagkaroon ngmalaking problema because we know how to give and take. We respect each other,that's very important," said Vilma in a file interview.
She even joked that sheconsiders Ralph as one of her sons.
"I have three sons," she smiled,pertaining to the first as Luis and the second, Ryan Christian, in a previousinterview. "With Ralph being the youngest because he's the most hard-headed," saidVilma with a laugh.
But being a statesman with agood background, Ralph is easily perceived as a mature and level-headed man.
ADVERTISEMENT - CONTINUE READING BELOW
"Ralphtaught me how to read the newspapers starting from page 1. He noticed that whenI opened a newspaper, I would start reading the entertainment section first. Hetold me I should also read the news even if I just scan the stories. That way,he said, I would know what's happening when people talk about issues," revealedthe actress dubbed as the "Star for All Seasons" in an interview with a major broadsheet.
BothRalph and Vi acknowledged their mutual influence on each other. Ralph'sinfluence was obviously Vilma's surprising interest and eventual foray intopublic service. While Vilma on the other hand, gave Ralph that crucial massappeal, which according to political analysts, is essential to endear his imageto the public. Although Vilma's endorsement failed to shore up Ralph'ssenatorial bid during the last election, his wife's clout for sure would stillbenefit Ralph in his future endeavors.
Again,the question of fidelity comes into play especially in cases where the husbandis much younger than the wife. Curiously, Vilma maintains an open mind withregard to such a sensitive issue.
"I'mnot saying he's not flirting. That's natural. I would not tolerate it if itwere more than that. If it's a boys' night out, let them enjoy. I also want tobe that way if I'm with my friends," she admitted with much candor in the sameinterview.
"Butwhen we're together, we enjoy each other. We love each other, trust each other.I learn a lot from him."
ADVERTISEMENT - CONTINUE READING BELOW
AikoMelendez and Martin Jickain. Actress Aiko Melendez said that fashion modelMartin Jickain, who is eight years her junior, came into her life during atumultuous time.
Stillreeling from a failed marriage with actor, Jomari Yllana, with whom she has ason named Andre, Aiko met the good-looking ramp model on September of 2004.
"Irealized he's a God-given refuge," said Aiko when they were already an item.
Despitethe age gap coupled with their whirlwind romance, Martin said that right fromthe beginning, he was certain that she was the one for him.
"Ijust knew. It's destiny. There's magic between us," said the then 22-year-oldMartin.
Headmitted having a huge crush on Aiko and immediately courted theactress-turned-politician upon their first meeting. After a few weeks came themarriage proposal in Boracay, which was so grand that the media mistook it asthe actual wedding ceremony.
Thecouple tied the knot on February 16, 2006, at FernwoodGardens in Quezon City with Aiko's close friends inshowbiz on hand to witness the special occasion. Comprising the bride's entourage were Dawn Zulueta, GelliDe Belen, Carmina Villaroel, Kris Aquino, Boy Abunda and columnist-host CristyFermin.
Duringthe wedding itself, rumors floated that Martin's family was not in favor of theunion. Despite the presence of the groom's father and brother, Martin's motherwas curiously absent during the ceremony.
Martinnever hid the fact that his mother was surprised when he made known hisdecision to get hitched. He revealed that his mother asked him to give hersufficient time to adjust and accept the fact that her favorite son is on hisway to be a full-fledged family man. Mrs. Jickain however obliged to give hermessage and well wishes to the newly weds through a VTR.
ADVERTISEMENT - CONTINUE READING BELOW
Aiko,who was eight weeks pregnant during the wedding, openly expressed admiration forthe way Martin honored his commitment despite his young age.
Perhapsas a way of answering all doubts brought by the May-December affair, thefollowing words were inscribed in the couple's wedding invitation:
"The quantity of time isnot what matters...Quality of time is what we both shared and will cherish forthe rest of our lives...With two different worlds, we meet...Indeed, we aredestined to be together."
Agot Isidro and Manu Sandejas. Singer Agot Isidro was in a bad moodthe first day she met her husband-to-be in 1998.
"I was such in a nasty moodthen," recalled Agot. "The night before, I was in Malate until two, and then wehad to go out so early in the morning."
That initial meeting happenedin Anilao upon the instigation of Manuel "Manu" Sandejas' sister who labeledthe setup as a "dive date."
"I didn't really look at himuntil we were on our way home, and I said, 'Uy, cute pala siya,'" Agot beamed.
Advertising executive ManuSandejas was five years younger than Agot but that didn't stop him frompursuing the beauteous actress known for her soothing voice and megawatt smile.Right after the meeting, the two constantly dated, although they neverdiscussed jumping into a serious commitment at first.
Two years of being steady andthe pair finally walked down the aisle on October 7, 2000, at the St. John Bosco Churchat the Laguna Techopark in Sta. Cruz, Laguna.
ADVERTISEMENT - CONTINUE READING BELOW
The wedding mirrored thecouple's desire for privacy and close intimacy as they kept the ceremony simpleand free from media coverage.