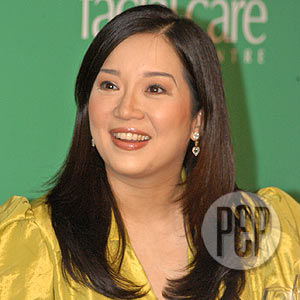 IMAGE 0
---
She is in her 30's—fun, fearless, and fabulous. She conquerswhichever stage or set she stands on. She commands attention. She gets youradmiration. She is beautiful. She is an idol. She is Mom.
PEP (Philippine Entertainement Portal) pays tribute toremarkable young moms who juggle family and show business, yet still manage tolook fabulous!
Here they are, in no particular order.
KRIS AQUINO, 36. After giving birth in March, Krisgave up GAME KNB? and The Buzz to have more free time with hertwo boys—Joshua, fathered by actor Philip Salvador, and Baby James,fathered by her husband James Yap.
She is seen on TV five times a week—in the morning talk show Boy & Kris and the evening game show KapamilyaDeal or No Deal. Plus, she is regularly spotted in TV commercials and on billboards for Facial Care Center, Maggi Sinigang Mix, Bench, Magnolia Nutri-Oil, and Pampers.
On top of these are her business ventures outside of showbiz. She co-owns a restaurant (with showbiz friends), a flower shop (with Boy Abunda), and a communications firm called MAD (in partnership with Boy Abunda, former advertising creative director Nonon del Carmen, and lawyer Agnes Maranan).
But the youngest daughter of former President Cory Aquino knows her priorities. "My one focus is to be the best mom I can possibly be to Josh and hisbaby brother," Kris says in a statement she released after giving birth to James.

She adds, "At the end of the day, after all has been said and done, myability to give them good lives is what matters most."
ADVERTISEMENT - CONTINUE READING BELOW
CARMINA VILLAROEL, 33. Ma. Carmina Muñoz Villaroel,or better known as Carmina Villaroel, has been a showbiz darling since RegalFilms matriarch Mother Lily Monteverde and talent manager Douglas Quijano sawher in a commercial when she was a teen. She hasn't left showbiz fromthat time on.
At 33, she now has two lovely twins, Maverick and Cassandra—with partner Zoren Legaspi—and a steady career in hosting and acting in GMA-7.She is part of the morning SiS trio, together with old-time friendsGelli de Belen and Janice de Belen. Mina, her nickname, is also a regular in the primetime drama series Mga Mata ni Anghelita.
After a hard day's work, Carmina looks forward to going home. Her twins have a way of erasing her stress and tiredness.
"When I get home from work, they massage myback and say, 'Mommy don't get sick. We need you and love you.' How canyou get sick with that?" shares the happy mom in her interview with Good Housekeeping magazine.
And Carmina doesn't look a day old since her 14, 15, 16days.
RUFFA GUTIERREZ, 33. Another Regal Baby made it toour Hot Moms top list—it's none other than 1993 Miss World Second Princess,Ruffa Gutierrez. With genes from talent manager Annabelle Rama and veteranactor Eddie Gutierrez, Ruffa was destined to have the beauty factor.
Even when she was crying on national television about hermarital woes with husband Yilmaz Bektas, PEP users could not help but notice howbeautiful she looked.
ADVERTISEMENT - CONTINUE READING BELOW
After deciding to flee Istanbul andrelocate in Manila, she has successfully revived her career—starring in Kokey, hosting The Buzz, and appearing in TV commercials. She is also a doting mother to Lorin and Venice,who obviously inherited the pretty gene.
CHARLENE GONZALEZ, 32. Charlene Gonzalez, CharleneMae Bonnin-Muhlach in real life, was born to show business with Bernard Bonninand Elvira Gonzalez as parents.
Showbiz came knocking after Charlene won Bb.Pilipinas-Universe in 1994. Shortly after that, she was making movies, hosting television shows, and appearing in TV commercials.
In 2001, she married Aga Muhlach, and gave birth to beautiful fraternal twins—Atasha and Andres. Since then, her family became her priority.
In an interview with a health magazine, the former beauty queen said she finds fulfillment in being a wife and a mom, "It's a common misconception that once a womanbecomes a wife and mother, everything goes downhill. I believe marriageand motherhood complete a woman. Family and kids are gifts from God.More women bloom when they get married and have kids."
GELLI DE BELEN, 34. Anna Gianelli De Belen was 14 when she was first introduced to the public as Gelli De Belen. She described herself then as "parang stick."
In 1989, the younger sister of Janice became one of local showbiz's busiest actresses when she starred in a total of seven movies. Her forte was romantic comedy. Years later, she gave singing a shot, and her single "O, Lumapit Ka" hit the radio charts. And just for a bit of trivia, Gelli was the first Pinay to record a rap track ("Mr. DJ" with Andrew E.) in Tagalog.
ADVERTISEMENT - CONTINUE READING BELOW
Things changed when she married Ariel Rivera in 1997. She stopped accepting movie projects after giving birth to Joaqui in 1999.
To date, she's busy co-hosting SiS with Janice and Carmina Villaroel. When asked about the things she values most, Gelli answers in her www.igma.tv profile, "my family."
DAWN ZULUETA, 38. Born Marie Rachel Salman—DawnZulueta—who was doing commercials back then, caught the attention of VivaFilms' Vic del Rosario and Mina Aragon. She was launched into stardom withfilms such as The Maggie dela Riva Story and Kasalanan Bang SambahinKita?
She blossomed as a premier actress after being paired with RichardGomez in Hihintayin Kita sa Langit and Saan Ka Man Naroroon.
In 1997, Dawn made a decision to leave show business when she married Anton Lagdameo. After years of trying to conceive, she was finallyblessed with a son, Jacobo. Now, she is making a comeback with ABS-CBN's upcoming fantaserye Lastikman.
LUCY TORRES, 33. Before entering showbiz, Lucy Torres was asimple girl from a well-to-do family in Leyte. Things changed for Lucy when shecame to Manila to star in a shampoo commercial, where she met Richard Gomez.The two fell in love and got married in 1998.
Two years later, Lucy gave birth to Juliana Marie Beatriz. Many expected that she would remain a dutiful homemaker to the two most important people in her life, but the opportunities to be part of showbiz kept on knocking Mrs. Gomez's door. She said no to acting, but gave hosting a nod.
ADVERTISEMENT - CONTINUE READING BELOW
Since then, she made it a point that her TV engagements would not take so much of her time away from home. This gorgeous lady admitted that she takes her roles as mother and wife seriously.
"With the privilege of being a wife and a mother comes duty and responsibility; and love fuels it. There is nothing basta-basta about it. Being a homemaker is a noble task," she said in the September 2006 issue of Marie Claire magazine.
Now, the fair-skinned angelic beauty plays the Virgin Maryin Mga Mata ni Anghelita and hosts The Sweet Life on QTV11. Shealso has a newspaper column titled Love Lucy.
DONITA ROSE, 33. Donita Rose Cavett, aFilipino-American, went to the set of That's Entertainment as anaudience member. She was approached by Romnick Sarmenta to join the cast, andthe rest is history.
In the late '90s, Donita became famous as a VJ (video jock) for MTV Asia, one of the most in-demand leading ladies for movies, and a most sought-after product endorser. She took a break from her shining career to focus on her family.
Now, Donita is a loving wife to Erick Villarama and motherto her son J.P. She currently co-hosts Umagang Kay Ganda.
GRETCHEN BARRETTO, 37. Since Gretchen Barretto announced her showbiz comeback last year, she had been a controversy magnet. And through it all, her partner Tonyboy Cojuangco and daughterDominique stayed by her side. She once said in her interview with a fashion magazine, "When I'm home. I feel safe."
ADVERTISEMENT - CONTINUE READING BELOW
So how's a day in the life of Gretchen? The glamorous mom brings her daughter to school in the morning, then fetches her in the afternoon. Come night time, she cooks and bakes for the family. And she ends her day exchanging tight hugs with Tony. "It's priceless," says La Greta, her popular name among showbiz friends, to ShowbizPinoy.com.
She briefly stayed away from the limelight when the "kisscandal" with John Estrada erupted on the news. She recently emerged again—more beautiful than ever. She now sports a newhairdo, a la Victoria Beckham!
LEA SALONGA, 36. Maria Lea Carmen Imutan Salongareleased her first album at 10 years old. She has since penetrated Broadway,starring in Miss Saigon and Les Miserables, and performed for twoAmerican presidents and Queen Elizabeth II. She also played the singing voiceof Princess Jasmine in Aladdin and of Mulan for the Disney movie with the same name.

At home, she is simply "Mom" to Nicole Beverlyand wife to Robert Chien.
When asked how she balances her Broadway career and family life, Leah said in her interview with Catholic Digest, "My baby is a gift, but my gift from God is a gift, too, so I have totake care of both, and not let one atrophy because of the other."