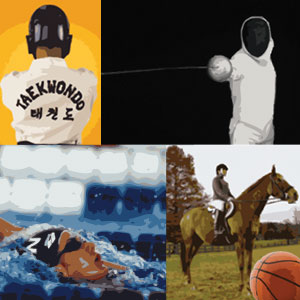 IMAGE 0
---
Sports and show business don't usually match. But a lot ofcelebrities have proven their competence not only in acting but in the sportthat they chose as well.
The discipline of sports teaches the value of fair play,camaraderie, ethical behavior, and grace in losing. Sports offer a lot ofbenefits, like promoting good health and allowing people to reach the peak oftheir physique; plus, lowering stress—a problem our local artistas usually facein the world of show business.
In this edition of PEP's Top List, we present some of ournotable celebs who excelled in their chosen sport before joining showbiz orduring their career as actors.
Olympic SwimmerChristine Jacob. Before emerging in the world of showbiz, Christine Jacob wasa champion swimmer—and an Olympian to boot! The former Eat Bulaga and Mobile Kusinaco-host started out as young kid with a passion for swimming. She competed innational and international meets until she became the Philippines' bet in the1984 Summer Olympics.
Christine Jacob competed in the 1984 Summer Olympics underthe Women's 100m (36th place) and 200m (25th place) freestyle, and the Women's100m (28th place) and 200m (27th place) Backstroke.
The Sport.Swimming became a popular competitive sport as early as 1896 during the SummerOlympic Games in Athens. The goal of competitive swimming is to be the fastestto swim a given distance. The competition consists of 34 events: 17 men'sevents and 17 women's events. It's a popular event at the Sunner Olypic Games, where male andfemale athletes each compete in 13 of the recognized events held in a 50-meter pool. Competitiveswimming's international governing body is FINA (FédérationInternationale de Natation), the International Swimming Federation.
Taekwondo GoldMedalist Monsour del Rosario. Manuel Monsour del Rosario III was inspired to take upmartial arts at the age of nine mainlybecause other boys bullied him in school. Fascinated by Chinese Kung Fu andBruce Lee movies, Monsour strived to be the best martial arts practitioner. Atfirst, he studied Tang Soo Doo/Moo Duk Kwan under Joe Lopez-Vito, his firstinstructor.
ADVERTISEMENT - CONTINUE READING BELOW
He later shifted to Tae Kwon Do in 1977 under Sung Chon Hong whenMonsour moved to Manila for high school. Five years later, he was included inthe National Team. Monsour was ranked Number One in the Lightweight Divisionhere in the Philippines and he held that title for seven years (1982-1989).
In1989, he competed in the 15th SEA Games and bagged the gold medal. His list ofdistinctions all comes down to his discipline and hard work to achieve hisgoals.
The Sport. TaeKwon Do is a martial art and combat sport that originated in Korea. It isKorea's national sport and is included in Olympic sporting events. Derived fromhanja, Tae means to destroy withfeet; Kwon, to strike or smash withthe hand; and Do means"path", "way" or "method". Loosely translated, itmeans "the way of the feet and fist".
Taekwondo's popularity has resulted in the divergentevolution of the martial art. As with many other martial arts,taekwondo is a combination of combat technique, self-defense, sport, exercise,entertainment, and philosophy.
Although there are great doctrinaland technical differences among public and private taekwondo organizations, theart in general emphasizes kicks thrown from a mobile stance, using the leg'sgreater reach and power to disable the opponent from a distance. In sparring, turning, front, reverse turning and side kicks are often used, as well as the backfist and reverse punch; advanced kicks include jump, spin,sliding, and skip kicks, often in combination. Taekwondo training oftenincludes a system of blocks, punches, open-handed strikes and may includevarious take-downs or sweeps, throws, and joint locks, though it generally doesnot emphasize grappling.
Gold MedalEquestrienne Mikee Cojuangco. People who happen to see Mikee Cojuangco's signature neednot wonder what her favorite animal is. Mikee started to develop a love forhorses when she was just eight byobserving her father's dedication in taking care of horses. She was allowed toride by the time she reached the age of 10.
ADVERTISEMENT - CONTINUE READING BELOW
Mikee instantly became a natural assoon as she placed her foot in the stirrup and itched to compete in equestrianevents right away.
She got her first taste of challenge when she was 16,flying all the way to Shizouka, Japan, where she placed third in the individualshow jumping. Placing third seemed to fuel her competitive nature as she againwent to Australia in 1995 for the Asia-Pacific Equestrian Championships for thechance to clinch the gold. This time, she was successful.
The best moment that happened to her would be the 2002 AsianGames in Busan, South Korea, where Mikee managed to bag the Philippines' thirdand last gold medal in the individual show jumping event.
The Sport.Equestrian sports revolve around endurance racing, reining, show jumping, polo,and horse racing. These events were first included in the Olympic Games in1900. Mikee's specialty would fall under Equitation: events where the rider isjudged on form, style and ability in three categories: Dressage, Show Jumping,and Eventing.
Dressage ("training" in French) involves theprogressive training of the horse to a high level of impulsion, collection, andobedience. Show jumping is a timed event where riders and their horses jumpover a series of obstacles in a given order with the fewest refusals orknockdowns of portions of the obstacles.
Eventing, also called combinedtraining, horse trials, the three-day event, the Military, or the completetest, puts together the obedience of dressage with the athletic ability of showjumping, the fitness demands the cross-country jumping phase. In thelast-named, the horses jump over fixed obstacles, such as logs, stone walls, banks,ditches, and water, trying to finish the course under the"optimum time."

Silver MedalSwordsman Richard Gomez. People who think "Richard Frank Gomez" immediatelyassociate his name with sports. The man plainly loves the world of sports, ashe is an avid golfer, motocross rider, basketball and baseball player. SinceGoma is a versatile sportsman, we will focus on the one sport that truly madehim exceptional: Fencing.
ADVERTISEMENT - CONTINUE READING BELOW
For six years, he awed the crowd at the Asian Fencing Leaguewith his discipline and determination. Starting at the 1st National Games backin 1995, Richard grabbed silver medal under the Individual Event. This wasfollowed by a flurry of other distinctions like being the champion at theDayrit Cup and the Finladia Cup.
International recognition finally came whenRichard joined and won the bronze medal at the 1995 Sea Games in Chiang Mai,Thailand. He competed in 12 more events during his course as fencingprofessional until 2001, when he chose to stop competing and concentrate on hisacting career.
The Sport.Fencing, originally derived from the shortening of the Middle English"defens," was first used in reference to swordsmanship in WilliamShakespeare's Merry Wives of Windsor(Alas sir, I cannot fence). The sport is all about armed combat involvingcutting, stabbing, or bludgeoning weapons directly manipulated by hand. In theOlympic Games, three types are only used namely: the Foil, the Épée, and theSabre.
The Foil is a light-thrusting weapon; the valid target isrestricted to the torso; double hits are not allowed. The Épée is a heavierthrusting weapon; the valid target area covers the entire body; double hits areallowed. Lastly, the Sabre is a light cutting and thrusting weapon; the validtarget area includes almost everything above the waist (excluding the back ofthe head and the hands); double hits are not allowed.
Competitions are conducted according to rules laid down bythe Fédération Internationale d'Escrime (FIE), the international governing body. These rules evolved from a set ofconventions developed in Europe between mid-17thand early 20th century with the specific purpose ofregulating competitive activity. They are loosely rooted in the practicalrequirements of fencing as a martial art. In competition, the validity oftouches is determined by the electronic scoring apparatus, so as to minimizehuman error and bias in refereeing.
ADVERTISEMENT - CONTINUE READING BELOW
Basketball ChampBenjie Paras. Like Christine Jacob and Monsour del Rosario, Benjie Paraswas already a sportsman even before joining showbiz. The Pride of U.P.(University of the Philippines) led his team to win the university's first UAAPMen's basketball.
Drafted by the Shell Turbo Chargers in 1989, Benjie-alsoknown as "The Tower of Power"-stunned basketball fanatics with hisexcellent ball-handling skills, powerful rebounds and shot-blocks. And his intimidatingpresence on the hard court.
Although Shell did not win any title during thatseason, Benjie's feats didn't go unnoticed; he was made Rookie of the Year andMost Valuable Player. He is the only player to ever accomplish theserecognitions in a single season.
Benjie Paras' reign ended in 1999 with another MVP titleunder his belt. Plagued by injuries, he only played 44 games from 2000-2002.Paras, at 34, finally decided to retire before the opening of the 2003 PBAseason. He left behind a legacy though, with over nine recognitions including a5-time Mythical First Team Selection, eight-time PBA All-Star, and PBA's 25Greatest Players of All Time.
The Sport.Probably the most popular and inexpensive sport in the Philippines, basketballonly requires a hoop, a basketball, a couple of friends and some skill.
Basketball is a team sport in which two teamsof five active players each try to score points against one another by throwinga ball through a 10 foot (3 m) high hoop (thegoal) under organized rules. Points are scored by passing the ball through thebasket from above; the team with more points at the end of the game wins.
Theball can be advanced on the court by bouncing it (dribbling)or passing it between teammates. Disruptive physical contact (fouls) is not permittedand there are restrictions on how the ball can be handled (violations).
Through time, basketball has developed to involve commontechniques of shooting, passing and dribbling, as well as players' positions,and offensive and defensive structures. While competitive basketball iscarefully regulated, numerous variations of basketball have developedfor casual play. In some countries, basketball is also a popular spectatorsport.
ADVERTISEMENT - CONTINUE READING BELOW
While competitive basketball is primarily an indoor sport,played on a basketball court, less regulated variationshave become exceedingly popular as an outdoor sport among both inner city andrural groups.
New Blood. Robin Padilla, Cesar Montano, and Aga Muhlach are catchingattention in their favorite sports.These health-conscious celebs all show promise in their chosen field whileenjoying themselves and raking up benefits. Robin, Cesar, and Aga openlypromote their hobby, inspiring fans and showbiz colleagues to follow suit andexcel in their chosen sport.
Robin Padilla's dedication in developing his Muay Thaiskills proved beneficial to the action star's discipline and down-to-earthattitude. He actively promotes the sport to everyone; even his kids love it. MuayThai, or Thai boxing, is a hard martial art that uses kicks and punches byhands, shins, elbows, and knees.