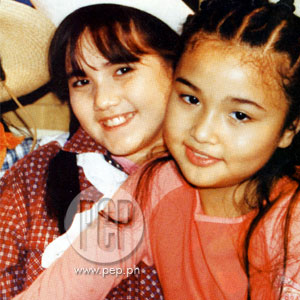 IMAGE 0
---
Well-mannered Zia Denise, 9 (now 15), and Nicole Beatrice, 10 (now 16), are the angels of comedy king Dolphy Quizon and wonderful singer ZsaZsa Padilla. Both kids attend the Maria Montessori Children's School Foundation, Inc.

Zia claims she inherited her mom's talent for singing. She also announces that aside from becoming a singer and an actress, she intends to be a fashion designer someday. Nicole, on the other hand, wants to take up Law. Mommy says she could well be: "She has a good memory."

Both Zia and Nicole were part of ABS-CBN's Ang TV 2, a comedy gag show starring kids. But, if their parents had their way, the two would not even be in showbiz. However, the kids have always wanted to be in the limelight. Says Zia: "Before, they didn't let me. They made me join the Girl Scouts instead so I'd learn to be responsible daw. That's why it's only now with Ang TV. Says Nicole: "It's fun being with other kids. We make lots of friends during the tapings."
Both kids are fully grown up now. Nicole is studying in Australia, while Zia is here with mom and dad.