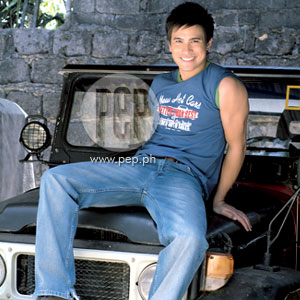 IMAGE 0
---
Sam Milby may be the hottest young actor today, but he has the aura of a shy kid overwhelmed by all the attention he's getting.

This Ohio-born dude started as an additional contestant to the first batch of Pinoy Big Brother contestants. With his bashful smile and good looks, he soon became everybody's favorite housemate. Although he didn't end up as the final winner, he is so far the only housemate who has built a respectable showbiz career.

Sam Lloyd Milby, 22 (now 23), grew up in Dayton, a city in the southwestern part of Ohio. Says Sam of his hometown: "There's no traffic there. It's very open, lots of green grass. Summer is very hot. Humidity is extremely hot. It's like a microwave, like you're heating up from the inside."

No one in the Milby household was into acting. Sam discovered his passion for it on his own. "I remember we had a school project. We had to make this video. We had to make our own script for history class or something like that."

The experience was so enjoyable that he found himself wanting to be an actor. He had plans of trying to make it to New York, building a good rep, then moving to Hollywood. But it didn't take him long to realize that making it big as an actor in the States was next to impossible.

In 2005, Sam came home to the Philippines for a vacation. He stayed for the most part in Manila, but also spent several days in his mom Elsie's province, Surigao del Sur. Sensing that he had a better chance of making it in showbiz in his mom's native country, he decided to stay. He soon found work as a commercial model.

"I've always wanted to get into showbiz," he says, "but I don't know my chances of, you know, actually making it. I was just looking to build my way up eventually."
ADVERTISEMENT - CONTINUE READING BELOW

Pinoy Big Brother brought the big break. Since PBB, Sam has starred in his own hit movie, Close to You (2006). He has also ventured into singing, and has released his own self-titled album.

In spite of his current success, he is aware of his limitations. "I really feel kailangan kong matutong Tagalog talaga. Before I go full blast into acting, I think that Tagalog is a main part of that."

Fame has its downside, too. Sam admits that there was a point when the work started to take its toll. "In January, I didn't think I could survive through everything that was happening. It was too much, and I didn't think I was gonna make it. I thought I was gonna break down."

But things have settled down a bit. "Now, I feel I am able to handle it a lot better—my schedule and everything. So, it's going to get better now."
Sam makes it clear he is grateful for all the good breaks coming his way. "I don't wanna sound like I am complaining, 'cause this is exactly what I wanna do. No complaints at all. I'm getting used to this now."

Hmm, looks like the fellow has more than a budding actor's concerns on his plate.