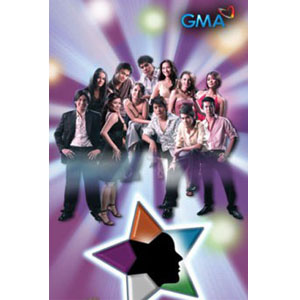 IMAGE 0
---
Dream. Believe. Survive.
This was the mantra of StarStuck, the phenomenal reality-basedartista search of GMA-7. Now, who would have thought that the show would spawnso many young talents now flooding our television sets and movie screens?
Initially, there had been doubts that the show would lastfor long. The popularity of "realiTV," coined from the words "reality" and"television," was at its peak when StarStruckwas launched on October 27, 2003. Skeptics said the timing wasn'tstrategic—the market was already saturated and the viewers had enough of thesereality shows. GMA-7 had Extra Challenge and 30 days, while ABS-CBN also had Star Circle Quest. And we watched theseeach night on primetime.
But to the surprise of the many, Kapuso network's own searchhas thrived for the past four seasons, plus an edition for kids was also aired.
StarStruck's pilot year wasphenomenal. Fourteen hopefuls tried their luck, and some went on to becomeGMA-7's biggest stars.
Why and how?
The teens had to undergo a series of tests and had to passthe tastes and standards of the Council and of TV viewers. Those who failedwould get eliminated and be called the "Avengers." What differentiated StarStruck from the rest was how itdefined the word "star."
1)One doesn't need a showbiz connection to qualify.
2)He/she should be talented: can dance, can act , can sing
3)S/he should not just be good looking, but charming as well.Charisma is a crucial factor in determining the winner.
ADVERTISEMENT - CONTINUE READING BELOW
In short, he/she's the total package. As he subjects himselfto the challenges, he has to shine and survive.
Season 1: Phenomenal!
Top Four: Jennylyn Mercado, Mark Herras, Rainier Castillo,and Yasmien Kurdi.
GMA called for teenagers to audition for the first season ofStarStruck. Many anonymous teenersflocked to the GMA headquarters and to SM Malls for the auditions, hoping toenter showbizlandia.
The first episode aired on October 27, 2003. It showed theprocess of eliminating the thousands of hopefuls to 100 to 60, from 60 to 30,and from 30 to the Final 14.
The first 14 were: Alvin Aragon, Cristine Reyes, Anton delaPaz, Jade Lopez, Sheena Halili, Tyron Perez, Katrina Halili, Christian Esteban,Dion Ignacio, Nadine Samonte, Yasmien Kurdi, Rainier Castillo, JennylynMercado, and Mark Herras.
Douglas Nierras facilitated one of the most memorableworkshops. The fiery choreographer scolded early favorite Rainier Castillo forhaving two left feet during the dance workshops. It was a baptism on fire forthe newbies.
Love teams also developed during the middle stage of theseason. Mark Herras was smitten by Cristine Reyes, the younger sister ofsinger-actress Ara Mina. Dion Ignacio admitted having a crush on Nadine Samonte. Christian Esteban's closenesswith Jade Lopez did not become privy to the public.
TV audiences witnessed real-life drama. Many admired thebrotherhood bond between Dion and Alvin Aragon, who admitted that Dion had beenlike a kuya to him. People alsonoticed the tension between Nadine and Yasmien Kurdi, who were both perceivedas the strongest contenders. And of course, the tear-jerking moments every timea member would get eliminated. In an interview, Ara Mina was even heard makinga comment about her sister's elimination. Cristine Reyes was the first female tobecome an Avenger (their term for those who did not make it to the Final Four).
ADVERTISEMENT - CONTINUE READING BELOW
The StarStruck fever paved the way for the creationof StarStruck Playhouse and Stage, a show where the Final 14 showcasedtheir acting skills. It was aired during weekdays, with Friday devoted toperformance assessment. Raymond Gutierrez, Cogie Domingo, and Chynna Hortalezahosted the daily show.
Joey de Leon, Joyce Bernal, and Ida Henares of GMA-7 ArtistCenter served as the StarStruck Counciljurors. Each week, the survivors had to listen to the criticisms, and sometimespraises, of the Council members.
The season ended with the Final Four: Jennylyn, Mark,Yasmien, and Rainer. During the early stage of the fame game, Rainer was themost popular. His similarity with Vic Zhou, a member of Taiwanese group F4, hadthe girls screaming his name and swooning over him. His tiny dimple was also aplus.
The Ultimate Survivors title went to Mark Herras andJennylyn Mercado, the Bad Boy of the Dance Floor and the Singing Sweetheart,respectively. The two became instant millionaires, and eventually, the hottestreel-and-real life loveteam. Less than a year after they won, they becameprimetime TV favorites, and starred in Foreverin My Heart (2004) Engkantadia (2005), Engkantadia: Pag-ibigHanggang Wakas (2006), and I Luv NY (2006).
The Final Judgment, which was inspired by the movie Matrix,was held at the Araneta Coliseum, with top talent managers Lolit Solis andDouglas Quijano already gauging the star potential and quality of the winners.
The first season was directed by Lino Cayetano, and hostedby Dingdong Dantes and Nancy Castiglione.
StarStruck Kids: Psychologically taxing
Final Four: Sam Bumatay, Kurt Perez, Miguel Tanfelix, EllaGuevarra
ADVERTISEMENT - CONTINUE READING BELOW
This was an offshoot of the successful first season of thereality show. This time they called for children aged five to seven years old.The show began on March 2004, a month after the finals of Season 1.
The chosen 14 were called "The 14K": Madi Yu, Renz Juan,Serge Septimo, Uno Guerta, Sandy Talag, Paul Salas, Shamel Leask, GabrielRoxas, Bea Binen, JM Reyes, Miguel Tanfelix, Ella Guevarra.
Like the senior version, one contestant was eliminated everyweek. It became an emotional journey for the kids who had to leave the show.Nonetheless, they thoroughly enjoyed the workshops.
The kids displayed their talents, wit, and even a bit oftheir tantrums. Paul and Gabriel became frenemies(coined from "friends" and "enemies"), Uno and JM endeared themselves tofans because of their kakulitan, Samreminded the Pinoys of the young Aiza Seguerra, Ella and Kurt were adored fortheir cuteness.
A second season though did not push through as the networkconsidered the criticisms too psychologically taxing on the first batch ofkids.
The show was hosted by Jolina Magdangal. Judges for thesearch were Joey De Leon, Janice de Belen, and Aiza Seguerra. The last two wereformer child stars who grew up in the showbiz limelight.
Season 2: Second fiddle
Top Four: Mike Tan, CJ Muere, Ryza Cenon, LJ Reyes
Season 2 which began in October of 2004 was met by some ofchanges.
First was Jolina Magdangal sharing hosting duties withDingdong Dantes. Second, two new judges joined the council—drama actorChristopher de Leon and director Louie Ignacio. But the mechanics of the showwere pretty much the same.
ADVERTISEMENT - CONTINUE READING BELOW
The fourteen newbies were Jelaine Santos, Kevin Santos,Ailyn Luna, Ken Punzalan, Ana David, Chris Martin, Krizzy Jareño, Benj Pacia,Megan Young, Kirby de Jesus, LJ Reyes, CJ Muere, Ryza Cenon and Mike Tan.
For this season, like Rainier Castillo in the previousseason, Mike Tan got a verbal beating from Douglas Nierras. They also attendedacting workshops under Gina Alajar, and a fashion workshop by Nina Ricci Alagaoand Wilma Doesn't.
But there was a twist along the way.
In an episode called "Avengers Strike Back," CJ andKrizzy—who were previously eliminated— were asked to join the Survivor Sixcomposed of Ryza, LJ, Megan, Benj, Mike, and Kirby. After two weeks, Krizzy andKirby were eliminated and CJ dropped his "avenger" status. CJ, the wild card,beat Benj and became part of the Final Four. It was a heart wrenching momentfor Benj, who had become part of the top three consistently.
Krizzy became the crush of the boys, but she gave her heartto Kirby. There was a week that they were scolded by the StarStruck councilbecause young love was already getting in the way. LJ and Mike also became anitem.
The Elektra-themed Finals was held at the MarikinaSports Complex with Ryza Cenon and Mike Tan winning the StarStruck UltimateSurvivors title and LJ and CJ winning the First Princess and Princerespectively.
Critics deemed this batch as second fiddle to the first. Noteveryone was given big breaks. Ryza's biggest break was in playing the role ofFantastic Girl opposite Mark Herras in Fantastic Man. Mike has beenplaying minor roles in primetime offerings I Luv NY, Sugo and Marimar,and other shows of GMA-7. LJ has been cast as the lead, opposite JC De Vera, inone season of Magic Kamison. CJ, who became the modern-day and grown-upversion of Ding in Darna, is now focused on his studies.
ADVERTISEMENT - CONTINUE READING BELOW
Season 3: Mostcontroversial
Top Four: Marky Cielo, Jackie Rice, Iwa Moto and Gian Carlos
Season 3 was a nationwide invasion. Auditions were held inkey cities: Davao, Iloilo, Dagupan, Cebu, and Naga. From the thousands andthousands of youngsters who lined up, seven boys and seven girls would beselected from Mega Manila; and another seven boys and seven girls chosen fromthe provinces. From these 28 hopefuls, they would be whittled down to the Final14.
The Season began later than expected. The first airing ofthe show was on December 2005.
Unlike before, when the contest was aired Monday to Friday(with Friday as elimination day), this season was shown virtually everyday,with Sunday for elimination.
Raymond Gutierrez joined the hosts Dingdong and Jolina.Lorna Tolentino became a member of the Starstruck Council. Joey de Leon andLouie Ignacio retained their seats in the council.
The Final 14 were: Jeric Rizalado, Vaness del Moral, JohanSantos, Rea Nakpil, Sara Larsson, Arci Muñoz, Bugz Daigo, Vivo Ouano, JanaRoxas, Chuck Allie, Iwa Moto, Gian Carlos, Jackie Rice and Marky Cielo.
This batch, so far, was considered the most controversialand pasaway.
Duringthe season's sixth week, some members-Sara,Jackie, and Jana-figured in a din. The three girls reportedly viewed a confidential fileon the StarStruck computer. Consequently, Sara left the group. But the issueremained.
Jackie and Jana accused Arci,another survivor, of lying. The show aired footage captured by surveillancecameras, which showed the girls taking turns at going near the computer. Butthey all denied opening the confidential file.
ADVERTISEMENT - CONTINUE READING BELOW
The week after, Sara was giventhe chance to reveal her side of the story. On that same night, Arci waseliminated.
And, of course, we all remember the crying bout of Iwa Moto.She tearfully complained about the ill behavior of other survivors and saidshe'd rather leave the show than mingle with "plastic" people.
These interesting sub-plots captured real-life drama, saidto be the unique selling point of Pinoy Big Brother, which was launchedthat same year.
Judgment day, which had a Gladiator theme, was heldon March 12, 2005, at the Marikina Sports Complex. More than 10,000 thronged towatch the event.
Marky was declared the Ultimate Sole Survivor and he tookhome 10 million pesos worth of cash and gift prizes. Jackie was chosen theUltimate Female Survivor. Iwa and Gian were the runners-up.
Season 4: The Next Level Top Six: Prince Stefan, Aljur Abrenica, Mart Escudero, KrisBernal, Rich Asuncion, Jewel Mische
On its fourth year, the show's biggest challenge was topresent a novelty. After three seasons, the biggest question of the viewers:What's new?
For one, it was dubbed StarStruck: The Next Level.
Age requirement was also expanded, from its previous 15-18years old to 16 to 21 years old. Voting from text messages and the Internetwould now constitute 50 percent of the criteria, from the previous 35 percent.
The StarStruck Council underwent a revamp with LornaTolentino heading it (it used to be Joey de Leon), together with Louie Ignacioand talent manager Douglas Quijano.
And instead of two winners, this season chose four: theUltimate Sweethearts, Ultimate Sweetheart, and Ultimate Hunk.
ADVERTISEMENT - CONTINUE READING BELOW
Those who made it to the Top 20 were Lizzy Pecson, ChadBurden, Jean de Castro, Lui Perez, Chariz Solomon, Kiko Juinio, Dave Valentino,Renee Lascuna, Hazel Uy, Dex Quindoza, Jan Manual, Rich Asuncion, JesiCorcuera, Paulo Avelino, Stef Presscot, Rich Asuncion, Prince Stefan, MartEscudero, Kris Bernal, Aljur Abrenica and Jewel Mische.
The catch: one of them openly admitted she's a lesbian. Howwould she fare in the workshops? If she wins, is she going to be the Ultimate Hunkor Ultimate Sweetheart?
There were more twists: the "Avengers versus Survivors,"which had the Avengers competing with the eight survivors, and the Danger 8,which changed the fate of some survivors. Rich, who had been eliminated, becamepart of the Final Six. This broke the heart of Stef Prescott who had beenalways made it to the top four slots. Mart Escudero, who just made his comeback,prevented Paulo from making it to the Final Six.
In the end, Mart and Kris bagged the Ultimate Love team;Jewel Mische, the Ultimate Sweetheart title; and Aljur, the Ultimate Hunk. Eachwon one million pesos and contracts worth 2.5 million pesos. Rich and Princewere the runners-up.
Impact of StarStruck. The youth competition has given the Kapuso network its own farmsystem of discovering and honing new talents. It has become the youths' accessto showbizlandia.
GMA's brightest stars today are products of the talentsearch—Mark and Jennylyn, whose love team has a huge following; Yasmien Kurdi,the afternoon drama princess; Marky Cielo, who now plays an important role in Zaido;Nadine, a favorite leading lady; Ryza, who is slowly inching her way tobecoming a teeny-bopper princess; Katrina Halili, who is fast building up hercharacter actress image; Cristine Reyes, one of the next big thing in theindustry; Iwa Moto, who has been visible on TV since she won as the FirstPrincess.
ADVERTISEMENT - CONTINUE READING BELOW
Some are still bit players, but have promising careers aheadof them. There were a few who chose to stay out of the limelight. And some who gotunlucky.
For the unlucky ones, attitude, indeed, is crucial indetermining a showbiz neophyte's rise to stardom.
No mantra could have been more apt: dream, believe, survive.