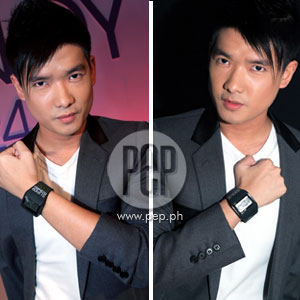 IMAGE 0
---
Manila's hottest young trendsettersgathered to celebrate their being Proud Pinoys. One oftoday's most dynamic international brands of designer watches, o.d.m., recently unveiledthe iconic Tim Yap-o.d.m. Limited Edition Watch II in a hot, supreme party atthe Rockwell Tent.
More than 250 celebrities,trendsetters and partyphiles attended the much-anticipated event. Present towelcome guests were top executives of L Timestudio, the exclusive distributorof o.d.m. in the Philippines, and Frank Lam, o.d.m. head of international sales& marketing who flew in from HongKong to grace the event.
"This is an absolute celebration ofPinoy pride," a visibly pleased Lam said. "The turnout is really amazing. It's a show of support for the Tim Yap-o.d.m. Limited Edition Watch II, which isa reflection of the ultra-modern, highly fashionable taste of today'sFilipinos. At the same time, the Tim Yap-o.d.m. Limited Edition Watch IIembodies the design ideals of odm—original, dynamic and minimalist."
Also present to welcome guests inthe event were L Timestudio's president Ivan Yao, managing director Emerson Yaoand Lorenz Manalang, marketing manager.
True to the event's "A Proud Pinoy24/7" theme, the party took on a nationalistic feel when rapper Francis M wentonstage to render a passionate performance of his anthemic '90s Tagalog rapsong "Mga Kababayan." Before the chorusof the song, fashion icon Tim Yap joined Francis M.
Seen swaying and singing to thenationalistic rap while sporting their own limited edition o.d.m. watches werecelebs Raymond Gutierrez, Mariel Rodriguez, Victor Basa, Bubbles Paraiso, IzaCalzado, Dingdong Dantes, Karylle, and Francis M's wife Pia,who came withtheir daughters Maxine and Saab.
Also proudly wearing their limitededition watches while enjoying the party were TV personalities PhoemelaBaranda, Issa Litton and Kat Alano; fashion icons Celine Lopez, JoeyMead who came with Ian King, Brent Javier, and Borgy Manotoc.
ADVERTISEMENT - CONTINUE READING BELOW
Of course, media hotshots MauriceArcache, Ernie Lopez, Grace Glory-Go, Pepper Teehankee, Philip Cu-Unjieng,Donnie Ramirez, Resty Vergara, and Anton San Diego partied as well.
Making the event even more glitterywere society figures Mons Tantoco; Divine Lee, who showed up with friend AdrianoCartullanes; Vicky Belo who was with Hayden Kho; Wyngard Tracy, JP Reyes, andDennis Lustico.
Like its first edition, the TimYap-o.d.m. Limited Edition Watch II comes with a patriotic scrolling LCDdisplay, "I'm Super Proud to be Pinoy" which makes the piece define the newstyle of Filipino time.
The Tim Yap-o.d.m. Limited EditionWatch II is available at all L Timestudio stores and specialty storesnationwide.