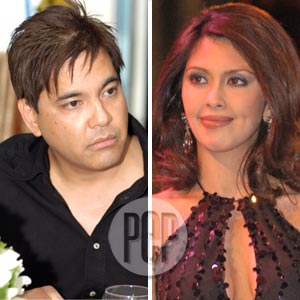 IMAGE 0
---
It was in the last week of July that Pops sat down with YES! magazine at her home in Ayala Alabang Village. Several days before that, Pops had been speaking to the media about an issue that involved her sons, Robin and Ram, and Katrina Ojeda.
The word war began in the second week of July when entertainment columnist Dolly Anne Carvajal revealed the "monkey" incident. In her column last July 12, Dolly Anne said, "It took a long time for their love to revert to friendship, but it looks like that friendship is about to crack. Trouble began when Martin's partner Katrina Ojeda called Robin and Ram monkeys... The incident happened years ago but Pipay (Pops' nickname) learned about it recently."
Soon, the media was feasting on anything about Martin and Pops.
Five days afterwards, Martin came out in response to the columns of Dolly Anne and Ricky Lo: "What Pops was telling you happened nine years ago, when I was living in a small apartment that was decorated by Katrina's sis. "When I had my boys over, they were wrestling and jumping on my bed and broke it in half. When I called Katrina in NY, I told her the funny story. She in turn told the story to her other friends this way: 'Martin's kids broke the bed in half! They were jumping up and down like monkeys, so the bed broke.'"
Martin also appeared in the The Buzz on July 15, along with partner Katrina Ojeda. Katrina offered her apologies, "I've apologized to Ram and Robin for whatever words that were said. Martin knows and the boys know that I will not say anything that would hurt Martin and the boys... We'll always be family and nothing will get in the way of that because we're one."
ADVERTISEMENT - CONTINUE READING BELOW
A week later, July 22, Pops appeared on The Buzz, still hurting and not convinced about Katrina's apology.
"I kept quiet for a while," she said, her voice breaking. "That's why I didn't want to say anything. Kaya lang I talked to Robin , I said, 'the stories that are coming out are not true. I did not know about this nine years ago! Nine years ago, ten years ago, eleven years ago, it doesn't matter... Believe me I remember everything that has happened and that has been said to me, but I have not said anything about it because ako lang ang nasasaktan."
Pops continued to recount that it was only around May when she heard the story from a friend. Martin was telling her friend that he wanted to break up with Katrina at the time. Martin knew all about the incident but Pops felt that he did nothing to protect his two sons.
And that hurt feeling led to the revelation Pops shared when she was interviewed by Yes! magazine last July 26.
A couple of days afterwards, in a live TV interview on Showbiz Central, Pops dropped hints to reveal juicy secrets about her failed marriage.
"Maybe one of these days since tapos na naman siyang lahat. Para lang siguro walang malaking question. Maybe one of these days, masasabi ko na talaga kung ano ba talaga ang nangyari," said Pops, hinting a tell-all interview in the near future.
"Nine years ago, madami akong nalaman na hindi niyo nalaman!" she chuckled. "Madami 'yon. One of these days, magugulat na lang kayo, para kasi siguro matapos na."
Calm before the storm. Martin returned to the U.S. Pops kept herself busy with other things. The issue died down for a while, the eye before the storm.
Martin returned to the country last September. He was launching a 2-disc anniversary CD. Martin told Philippine Entertainment Portal (PEP) that he and ex-wife Pops were not on speaking terms.
ADVERTISEMENT - CONTINUE READING BELOW
Martin said that he had been texting Pops but never received a reply.
"But I understand. I know Pops, and I know that she wants it the traditional way, which is a face-to-face, personal communication rather than relay things through text," said Martin over a cup of tea.
Martin also revealed in that same presscon that he had not yet been invited to the planned anniversary concert of his ex-wife and former tandem. Martin was a major part of Pops's music career. Martin wanted Pops to be the one to invite him to her anniversary concert.
In a separate interview with Startalk that week, Pops denied Martin's claims that she didn't reply at all to his text messages.
"No, that's not true. When it comes to my kids. I text him back," Pops said.
Pops continued, "Martin is the type who never calls and just would send you long messages. Texting kasi is so impersonal. Sometimes kasi when you text, okay yung tone mo, pero yung nakakabasa sa kabilang side, iba na yung tone. Sometimes, that's where a lot of misunderstanding happens... Kumbaga, nagkaroon kami ng samaan ng loob because everything was done through texting. Siguro, mga isang beses lang ako hindi nakasagot sa kanya."
In that same interview, Pops believed that Martin didn't know yet why she got really hurt.
A few days later, the YES! October 2007 issue came out with Pops on the cover, breaking her silence about the marriage she left behind. That issue proved to be a bestseller with copies running out in bookstores and magazine stands.
Martin's Reaction. A stunned Martin was interviewed by both GMA-7 talk shows, StarTalk and Showbiz Central, about the tell-all article.
"I think the best reaction is not to have one. If I had a reaction, the best thing is to not make it any bigger than it already is. So, I'd rather keep my comments and feelings. I would be lying if I said it wasn't a painful thing to read," Martin said in a taped interview with Startalk.
ADVERTISEMENT - CONTINUE READING BELOW
But Martin admitted that Pops was truly upset by his actions years ago.
"She's still a woman who's still hurting from the pain I caused years ago. Maybe it's still hurting her. I don't know what else to do to make her feel better, to make her feel....," Martin said as he tried to collect his thoughts.
"Beautiful article. I like the pictures. The picture's better than the words," Martin sarcastically said to Showbiz Central in a taped interview aired September 23.
"It's better that I don't react. I mean it's best if one of us stop talking. Nine years to say sorry and nine years to get back on my feet again. And now with this article it didn't do anything but put me back in the beginning again. I made a mistake, I mean how many times are you gonna crucify me, 'di ba?" an upset Martin said before the camera.
It took Martin several days to collect his thoughts and a return trip to the U.S. to his current family to say something again.
In a taped interview shown on The Buzz, Martin summed up his feelings, "Ang gusto kong sabihin ngayon sa The Buzz is that masakit na masakit ang nangyari.
"Now, I thought that problem [was] solved but I think it's important for Pops that the people know kung saan galing yung galit niya. Sa ibang tao maliit na bagay 'yon, e. So, ginagawa ni Pops ang article na ito para maipakita sa buong mundo kung bakit nagagalit siya sa akin. Kung bakit malaking bagay sa buhay niya o sa memory o sa puso ni Pops, because there's a place there that she doesn't wanna go to.
Martin also appealed to Pops to answer his text messages.
"She doesn't want to receive a text [message] from me anymore. Ang gusto niya face to face. But ako naman, feeling ko siguro a little bit also. Even no matter how wrong I was nine years ago, sana naman nag-reply siya at yung reply niya nakalagay, 'Please stop texting me, Martin. Mag-meet tayo ng face-to-face.'
ADVERTISEMENT - CONTINUE READING BELOW
"Sinasabi niya sa press, sinasabi niya sa TV, pero bakit hindi niya sinasabi sa akin? I mean, I'm a human being, I deserve a reply. I mean, people watching now they know what it's like when they don't receive a reply. It drives you crazy," Martin said.
In the lengthy interview, Martin also believed that the Martin-Pops tandem had come to an end, " The worst part is this: 'The Martin and Pops team as we've known it, as we've lined-up and lined to watch it, before, during and after the marriage, it's over. It's dead.'
As for talk about filing a case against Pops and YES! magazine, Martin cleared up the matter, "I'm not suing Pops. I'm not suing the magazine. I'm not here to belittle or hurt anyone. I'm just here to let everybody know I am guilty only of one thing and that was the result.
In closing up his interview, "I don't know why, I don't even know why we have gotten this far with this problem. I don't know why we can't seem to fix this. But to Pops? I don't know what to say.
"Let me just say now in front of the whole world that I'm really, really sorry. For whatever it is that it hurts you about me, I'm really, really sorry," Martin apologized.
Postscript. The lawyer consulted by Conchita Razon, Martin Nievera's mother did call up YES! Editor-in-Chief Jo-Ann Maglipon. She was told that Martin was stuying his 'legal options'. They felt that Martin was an aggrieved party because the article made him look bad. Ms. Maglipon explained that they were careful to get both sides.
After Pops's interview, the magazine got a freelancer close to Martin to interview him. She conducted the interview through e-mail and their series of e-mails became the basis of the article which was written by Leah Salterio.
ADVERTISEMENT - CONTINUE READING BELOW
This article appeared in the same issue where Pops' interview came out.
YES! editors have not received a follow-up call from the lawyer of Martin's mom, Conchita Razon, to speak in her behalf. The magazine assumes at this point that there will be no case brought against it. But Ms. Maglipon asserted in a recent Entertainment Live interview, "we did our job as journalists."
Pops and Martin still have not spoken to each other. Martin has not called, neither has Pops. Things are soon to get interesting again when Martin arrives in November. Pops herself has a concert at the Araneta Coliseum on December 7. The latest we heard, Pops will have more than a dozen costume changes, each one an original.
For all the bitter exchanges, Pops believes that the right time will happen, when both of them could have their friendship back on track.