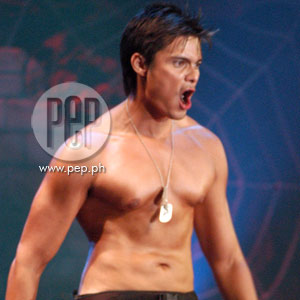 IMAGE 0
---
The sexiness of an actor is not only based on his looks butalso on his acting ability, stage presence, and self-confidence. An actor can beconsidered sexy if he has these three elements: face, body, and sex appeal—all contributing to the total package.
The hunks are attractive not only physically but also mentallyand emotionally. They have the "It" factor that makes women go "Ooh!" and "Aah!" These men exude a certain confidence that marks the waythey talk, walk, and interact with others.
In today's world, it has been proven time and again that sexsells. And being sexy can be a ticket to the big time, which is why a lot of commercial and ramp models cross over from the world offashion to the world of showbiz.
Philippine Entertainment Portal (PEP) draws its list of thesexiest hunks for 2007, in alphabetical order:
Marvin Agustin. This actor-businessman has the energy and the stamina tomanage several food establishments, fulfill his showbiz commitments, and takecare of his two young sons, Santiago and Sebastian. Marvin is seen every nighton GMA-7's Marimar, where he plays the charming Rodolfo Sta. Ginez. Hecompetes with Sergio (Dingdong Dantes) for the affections of Bella/Marimar(Marian Rivera).
From being the cute partner of Jolina Magdangal, he is now one of showbiz's sexiest bachelors. Marvin knows that staying fit should be his toppriority so that he can juggle all these responsibilities.
In June 2007, the character actor proudly showed his muscles and six-pack abs on the cover of Men's Health magazine.
Jon Avila. The "English Stallion" is presently one of the celebrity housemates in PinoyBig Brother Celebrity Edition 2 and is also part of Star Magic Batch 15.
This Fil-Irish model-turned-actor is Jonathan dela Cruz Mullally in real life.He used to weigh 200 lbs but the call of the limelight inspired him to trimdown to 175 lbs. Luckily for his fans, Jon did not think twice in leaving hisposition as account manager in England to pursue an acting career inthe Philippines. He can be seen 24/7 inside Big Brother's house. And of course, you won't miss his sexy billboard and posters in Bench stores.
ADVERTISEMENT - CONTINUE READING BELOW
Jake Cuenca. Jake Cuenca received the loudest shrieks and screams from his fans when he attended the Be Bench grandfinals earlier this year. Clad only in green briefs, the TV actor-model showedoff his well-defined torso and even posed provocatively to excite the crowdeven more. He topbilled ABS-CBN's Natutulog Ba ang Diyos opposite hiscurrent flame Roxanne Guinoo. He is now part of the fantaserye Lastikman.
Dingdong Dantes. The Philippine version of Sergio Santibañez made a daringpictorial for Cosmopolitan magazine where he agreed to be photographedin his birthday suit. The sensual Dingdong Dantes led the celebrity centerfoldsduring the Cosmo Bachelor Bash last September 6. A topless Dingdong stormedthrough the catwalk, causing the crowd to scream their lungs out.
In aninterview, Dingdong revealed, "I lost 28 lbs. for Marimar...I liked what Isaw." Fans of the actor agree—they sure like what they see.
Richard Gutierrez. Richard Gutierrez is beefing up for his new telefantasya Kamandag.He is currently training under mixed martial arts fighter and UltimateFighting Championship title contender, Brandon "The Truth" Vera.
The viewing public saw him transformed from cute, chubby kid in Kambal Tuko to a lean teenager in Click, from a muscled guy in Captain Barbell to a fashionably fit character in Lupin.
Richard points out thateven though two months have passed since his crime-fiction series Lupinended, he still follows a regular physical regimen to maintain his physique andendurance. Watch for his TV comeback soon!
Luis Manzano. Being the son of popular celebrities Edu Manzano and VilmaSantos, Luis is blessed with good genes as well as the discipline to maintainwhat nature has given him.
This ASAP '07 co-host shared his workoutwisdom with Men's Health magazine in its May 2007 issue. Luis is verycomfortable with his body, as proven by his Cosmo pictorial where his privateparts were covered by a wall and his butt exposed in the movie Ang Cute ngIna Mo. Aside from his physical attributes, Luis is known for his gift ofgab and a sense of humor that rivals that of his father. This makes him onelucky and hunky personality to watch.
ADVERTISEMENT - CONTINUE READING BELOW
Zanjoe Marudo. This moreno model-turned-actor is out to prove that he cando well in the drama and comedy genres. Zanjoe Marudo entered publicconsciousness when he became part of the first season of Pinoy Big Brother CelebrityEdition. Tall, dark, and handsome, Zanjoe's comic skills were honed in the showAalog-alog before he broke into movies via the Toni Gonzaga-Sam Milbystarrer You Got Me.
With a six-pack to die for and a towering six-footframe, this Bench underwear model will soon show off his dramatic skills in thethriller Altar.
Derek Ramsey. Derek Ramsey can be seen every night on ABS-CBN's Ysabellawhere he plays the buff chef Mito. The dusky actor is one of Cosmo magazine's 2007 celebrity centerfolds and it's not hard to see why he waschosen. His good muscle tone and chiseled face give him this manly look.
Derek keeps himself fit by engaging in ultimate frisbee.In fact, he was supposed to fly to Brazil as part of the Philippine frisbeeteam that will compete in the Ultimate Frisbee Competition.
Dennis Trillo. As a Pulis Pangkalawakan, Dennis Trillo dons askin-tight body suit for the TV series Zaido but he takes it all instride. The mild-mannered actor exudes a quiet persona but he is considered oneof tinseltown's hottest bachelors. In fact, two women being linked to Dennisreportedly confronted each other during a taping for a TV show.
Even thoughwe've seen him dress up as a lady twice already—in the movie Aishite Imasu andUnico Hijo, the Lenten offering of GMA-7—Dennis is definitely all-man.
Alfred Vargas. Yet another Cosmo celebrity centerfold makes it to PEP'slist of sexiest hunks. Alfred Vargas's hotness factor is expected to rise thiscold December when he appears on the big screen as a member of a SWAT (SpecialWeapons and Tactics) team.
ADVERTISEMENT - CONTINUE READING BELOW
Viewers of Banal, his Metro Manila Film Festentry, can look forward to Alfred's big guns and his even bigger physique. Infact, after his rigorous training, he was given a certificate proving thatAlfred is now an honorary member of the Makati SWAT Team. In times of danger,wouldn't it be great to have this hunk by your side?
There you have them. If you have names to add, the space below is all yours.