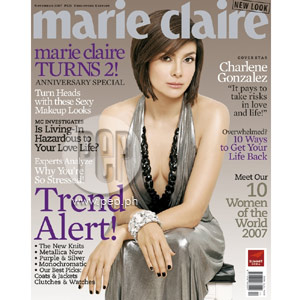 IMAGE 0
---

Viewers who have watched Charlene Gonzalez host ABC-5's EezyDancing and ABS-CBN's Keep On Dancing would probably think she's been dancing all her life. But Charlene herself confesses in the November2007 issue of Marie Claire, "When I first started, whatever I did, Ididn't know how to do it. For example, dancing—I didn't know how to dance atall."
Through hard work and determination, she was able to improveher dancing skills, earning the title, "Dance Empress."Charlene's diligence extends to all her other endeavors, especially hostingABS-CBN's now defunct lifestyle show, At Home Ka Dito.
The show ended last August after being on the air foralmost seven years. Charlene says, "We had a pretty long run. I wanted to takea break until the end of this year, then go back to work in 2008. As of now,I'm just relaxing. This is my first break from work, ever, and it's nice."
While Charlene takes a break, Aga'scareer accelerates: Aside from his weekly sitcom That's My Doc, there's his upcoming movie with Anne Curtis, Waiting for Your Love. Aga'slatest project for the big screen, A Love Story, paired Aga withAngelica Panganiban and Maricel Soriano.
Charlene narrates that in preparation for Aga's role as a mantorn between his wife and his mistress, he took up a strict diet andphysical regimen. He lost more than 60 lbs. On her husband's fit physique, Charlene gushes, "I love it, I love it, Ilove it! He looks so great, di ba? I remember waking up one day and seeing himshirtless. 'May abs ka na? Where did those come from?'"
ADVERTISEMENT - CONTINUE READING BELOW
Read more about Charlene, her hubby Aga, and their five-yearold twins Andres and Atasha. Get your copy of the November issue of MarieClaire magazine. Also featuring the 10 amazing Women of the Worldawardees, Marie Claire is available in all leading bookstores andmagazine stands at P125 per copy.