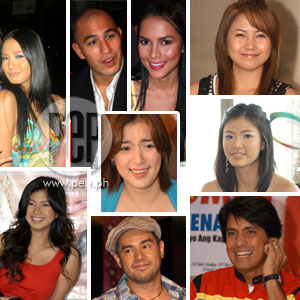 IMAGE 0
---
Showbiz fans like ourselvescherish the moment when we meet our favorite stars. Hobnobbing with the peopleof Tinseltown makes us all giddy. What's the perfect meet-and-greet scenario? Whatdo I tell him/ her? Do I get starstruck?
Things don't always goaccording to plan though. Fate sometimes has a knack of making things a bitmore interesting, catching us off guard at the final moment. The unexpectedoccurs, making that moment truly memorable, whether we like it or not. Takesome stories of the PEP staff, for example. What could have been a simplemeet-and-greet story turned into amusing experiences worth sharing.
One day, my editor assigned me tocover PEP's win-a-date promo with Katrina Halili. My job was to interviewKatrina and her date. It may sound easy to some people, but for me, it was likejumping off a 34-story building. You see, it was my first-ever interview with acelebrity, so I prayed that I would look confident and pretend not to be a hugefan of hers.
Anyway, the moment arrived when Ihad to interview Katrina and her date. The one with Allan Mendoza, Katrina'sdate, would go smoothly, I thought. "Astig! Madali lang pala 'to. Hehe!"
When my turn came to interviewKatrina, I suddenly went numb. She was staring directly into my eyes, as ifattempting to hypnotize me! I found myself stuttering and pointing my recordertowards somebody else. Good thing, no one noticed my blunder. I was able torecover immediately and carried on with the mission like a good soldier.
ADVERTISEMENT - CONTINUE READING BELOW
Now that's only one storyout of many more.
Getting lost with Gabby Eigenmann
Nerissa Almo, Editorial Assistant
During the YES! Anniversary and PEP Launch party, Iwas a bit nervous because I had never seen an event so star-studded. I wastasked to usher in the celebrities that night. Then, the most embarrassingmoment came, with Gabby Eigenmann. After telling me his table number, I lookedfor it as fast as I could. The table numbers were not arranged chronologicallyso I had a hard time. He seemed to have noticed that I was kinda clueless. Hesaid, "Alam mo ba talaga kung saan yung table na yun? Ang gulo kasi diba?" I just smiled at him and pretended to know what I was doing.
A photographer's boo-boo
Victor Abenes, Web Designer
I am not a photographer byprofession. But since I love taking pictures, PEP would sometimes send me topresscons.
My most unforgettableexperience with a celebrity is a bit embarrassing.
Sabi ko, "Yeng[Constantino] and Bea [Saw], pwede bang mag-pose kayo para makuhaan ko kayo ngpicture?" The two gamely obliged.
Inisip ko parang HollywoodBFF (Best Friends for Life) ang dalawa. A la Paris Hilton-Nicole Ritchie. Anggandang tignan!
When I clicked my camera,ayaw mag-flash. I tried again, ayaw ulit.
I had to muster my couragebefore admitting to the ladies, "Sorry, for some reason, ayaw mag-flash." Ifelt my face going red with embarrassment. I said to myself I wasted theirtime. But they said, "Okay lang." Hay,buti na lang.
ADVERTISEMENT - CONTINUE READING BELOW
Brandon Vera puts one over me
Bong Godinez, Part-time writer
When I visited the set of Kamandag last week, I got the chance tointerview Brandon Vera, UFC fighter and Richard Gutierrez's fight instructor.He's an American-born guy with a Filipino-Italian descent, so I asked him whichlanguage would he prefer—English or Filipino? He said, "English." So I talkedto him in English.
When I asked my firstquestion, he answered me in Tagalog. I asked him another one, he answered againin Tagalog. Confusion must have been clearly written all over my face, so hesaid to me, "Nalilito ka 'no?" Then we laughed. "Biro lang Bong, youcan ask me in straight Tagalog."
Charming a Jewel
Paul Mata, Staff Writer
It was the presscon of Kamandag. After the presentation at around8:30 p.m., the press in attendance went around interviewing the cast members.My editor was there, too, trying to field me for an interview with one of thestars, kasi may mga contributors din. "Kanya-kanya na iyan."
I took on Jewel Mische. Shewas first interviewed by the television shows. Then, it was on with thewriters. She was answering the typical questions related to the TV series.
PEP contributor Rose Garciawanted to ask her about the Peeping Toms "Borrower"blind item, but Rose was hesitant because she was the one who wrote it. I toldher, "Gamitan ko ng charms ko."
I got the chance to go nearher, but I had to do pasakalye muna,so I asked other questions. Other writers did the same.
ADVERTISEMENT - CONTINUE READING BELOW
It was 9:50 when finally, Ifired away the question. "We have a blind item, and PEPsters answered 'JewelMische' as the person who borrows stuff. Is it true?"
I thought she would say "nocomment," but she was actually thankful that somebody brought that up so shecould clarify things.
After that, I told oureditor, "We have an exclusive!"
Angel Locsin's Super Memory
Jocelyn Dimaculangan,Senior Editor
The first time I interviewedAngel Locsin was for the movie Mulawin(December 2005). I chatted with her briefly after the premiere of her moviewith Richard Gutierrez.
Fast forward to February2007. Angel and Richard were once again paired for a Valentine movie titled The Promise. I approached Angel andintroduced myself. But it proved to be unnecessary. She told me, "Yes, I remember. Diba straight ang hair mo dati?" I was floored. I wasn't expecting a super busystar like her to remember our first encounter—and even recall my hairstyle then!I was impressed that Angel could remember personal details like that—a trait thatendears stars to the press even more.
Ara Mina disturbs my sleep
Erwin Santiago,Associate Editor
What do you do when in the wee hoursof the morning, your mobile phone rings and you hear the voice of Ara Mina?That is one hell of a fantasy for most men.
Well, it happened to me one Saturdaymorning, at 3:00 a.m. to be exact.
While I was snoring in deep sleep,my mobile phone rang. Right off, I thought something happened to my sister whowas at the hospital at that time.
ADVERTISEMENT - CONTINUE READING BELOW
Anyway, when I finally managed tofind my phone and answer it, I got the shock of my life! The voice on the otherline introduced herself as Ara Mina.
Since Ara's number was not in myphone book, I thought it was just a prank call. But since the voice on theother line sounded like music to my ears, I was convinced that it was reallyAra.
She first told me how she got mynumber, and then went on to explain why she called me at that unholy hour.
According to Ara, a friend calledher attention about some of the comments posted in an article on PEP. It wasabout her denial of the rumored affair with boxing champ Manny Pacquiao.
She was obviously upset, but she wasvery nice when she asked if I can do something about the insulting commentsmade by some pasaway PEPsters. Shesaid that it might also upset her mom, who was sick that time, if ever she laideyes on them. I told her I would do my best.
Before hanging up the phone, she waskind enough to tell me to save her SUN number. I did.
Now fully awake, I immediately wentdownstairs and turned on my computer to moderate the comments on her article.
Then, I went back to bed with a bigsmile on my face. Did I just have a sweet dream?
A dictation session withRichard Gomez
Karen Pagsolingan,Managing Editor
It was my first time to beseated beside Richard Gomez. He just announced his decision to run for senator,so I thought I'd make that our conversation piece. The man, aside from being sohandsome, was also candid and passionate about the topic. "Sandali, scoop 'to."
ADVERTISEMENT - CONTINUE READING BELOW
So I told Richard, "Can Ijust get my pen and paper?"
He said, "Sure."
It became a Q&Asession. I would ask a question. He would answer. I would write down hisstatements.
On my third question, Inoticed he was talking slower. And then he said, following the stroke of mypen, "Write this, it doesn't matter if I run inde--pen--dent or not.It--is--about... Wait, kulang, you forgot the 'is.'"
I said, "No, it's okay. Ican correct it later."
He continued, "It is about my advo--ca--cies."
I chuckled and said, "Sorryha, I don't have my recorder with me."
After the interview, Ispent a few more minutes with him, double-checking the words I wrote. "Hindi komaintindihan kasi handwriting ko..."
He smiled and reviewed mynotes.
If Richard had been luckyin his senatorial bid, I'm pretty sure he would never hire me as his personalsecretary.