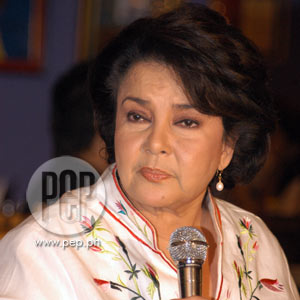 IMAGE 0
---
Joey Stevens accused his wife, veteran actress AmaliaFuentes, of robbery in his business establishment in Quezon City last Saturday,November 10.
Stevens reportedly filed a complaint for robbery, asrepresented by his corporate secretary Editha Bernardo Lopez, against Amalia atthe Quezon City Police District-Criminal Investigatigation and Detection Unit.
According to a report in People's Journal published today,November 14, Joey claimed that Amalia stole 20 stock certificates fromvarious companies; a folder containing documents for a Ford Expedition, Pajeroand Daewoo vehicles reportedly owned by Stevens; a digital camera; a manualcamera; various original titles; deed of absolute sale; cash worth P99,721.44;manager's check payable to SSS amounting to P131,000; various foreigncurrencies—collector's item; checkbook; and other documents.
Amalia is being accused with five other persons whoallegedly helped her in getting the cash and other important documents.
Investigations showed that Amalia was with a certain JericStevens, SPO3 Rodel Tuano, one Edmar Ramirez of 24/7 Locksmith and Safe VaultServices, and two unidentified persons when she was allowed to enter theestablishment. These men allegedlyhelped her in opening the main door of the office and stealing the documentscontained inside the vaults.
AMALIA'S DEFENSE. Through a text message, People's Journal was able to get theside of the veteran actress. Amalia'smessage read, "I can't answer until I see what he [Stevens] filed, you are thefirst one I hear this. Last night we wereboth in Manila Polo Club. So let meread his case first, I will ask my lawyer to get a copy of the case."
ADVERTISEMENT - CONTINUE READING BELOW
In the following phone interview, Amalia said in her defense that shemerely picked up personal papers. Shewas in a hurry, the actress said, so she picked up a stack of documents, withthe intention of returning them later.
Amalia clarified, "I only picked up personal papers fromJoey's secretary. I didn't bargein. I had the key to the office ofJoey. Technically we're still husbandand wife. Whatever is in his name isstill considered conjugal.
"I have no intention of selling the certificates. What I don't need, I will return. That is not a robbery."
The veteran actress further explained that she and Joey arestill technically husband and wife, that they still own the said conjugalproperty. Amalia added, "A husbandcannot sue his wife for theft."
During the interview, Amalia said that Joey stopped givingher P100,000 monthly support. She has also filed a temporary protection order against herhusband before the QC court.