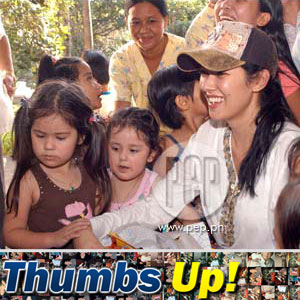 IMAGE 0
---
PEP is proud to announce that it has started its blogstories about our local celebrities who have, through the years, used theirfame, talent, and money to help improve the lives of others. And what better wayto call it than Thumbs Up!
Faithful YES!readers certainly remember the Bravo!feature on the magazine and its similarities to PEP's Thumbs Up! Yes, it is the same but our main goal for Thumbs Up! is to be a connectingbridge from Bravo! to the unendingboundaries of the Internet. This way, we bring to viewers all over the world worthy causes that, no matter how small, make a difference. Here's anopportunity to gain as much support as possible for civic projects, a goodreason for readers to follow suit.
So, join us in this meaningful journey into the other worldof celebrities with a cause. Let'sdiscover and appreciate the wonders of giving and may it be a source ofinspiration for us to help in our own way. And let's continue giving our celebs the "Thumbs up!"
The Christmasseason is approaching; what better to celebrate it than by spreading cheerthrough giving.
Click here to go to Thumbs Up!