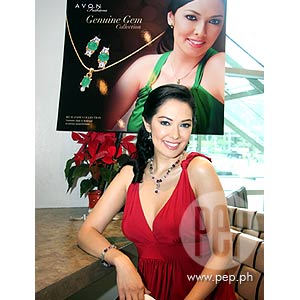 IMAGE 0
---

Ruffa Gutierrez was her usual bubbly self when she faced the press people in a media junket courtesy of Avon Fashions, her latest endorsement, at the M Café in Greenbelt, Makati, last November 27.
STYLE AMBASSADOR. The former Miss World Second Princess was chosen by Avon tobe their Style Ambassador in the Philippines, like Hollywood star ReeseWitherspoon, who is the Avon Global Ambassador.
Sarah McIntosh, Avon's commercial marketing director for Southeast Asia Cluster, said that more than Ruffa's beauty, the actress was chosen because she also believes in Avon.
Sarah further explained, "I think it was a joint decision. I think we felt great about Ruffa and somany companies do. I think we loveRuffa, I believe many people do. But I think she loves us, as an organization, too."
Ruffa will also be endorsing AvonFashions Jewelry and Accessories. Infact, during the press conference, Ruffa's long red dress went with a jewelry set from Avon's Genuine Gem Collection—from her earrings to her necklace to herbracelet. The accessories were madeof precious stones like amethyst, jade, and rose quartz.
When asked about the jewelry pieces she was wearing, "It attracts prosperity and love. I'm very excited to be wearing it. Prosperity, thank you, I know I'm very blessed now. Love, wala pa pero hopefully, when I wear iteveryday, maa-attract ko rin ang love."
Is she looking for a new love? How's her love life?
"I'm not looking for love because I'm verywell-loved by my friends and by you, guys. But with affairs of the heart, no. I guess when you're unlucky in love, you're blessed with your career. And right now, hindi ko puwedeng ipagsabayyung dalawa so I would rather be blessed in my career because I have two littlegirls that I need to support."
ADVERTISEMENT - CONTINUE READING BELOW
The celebrity talk-show host reiterated that she's not yetready to fall in love again. Sheexplained, "I don't see myself, actually even entertaining anyone rightnow. Kasi, unang-una, wala akong timepara sa kanila. Pangalawa, it'll beunfair also kasi hindi pa talaga nako-close yung past relationship ko. It's still very complicated so I don't wannaentertain anything right now. But whoknows what 2008 will bring."
INDEPENDENT WOMAN. With a number of endorsements that have come her way, a reporter hinted about her multi-million net worth.
Ruffa immediately replied, "Actually, no, because I have topay for the kids' school. School is soexpensive now."
Then why doesn't she ask for financial support from ex-husband Yilmaz Bektas? Ruffa said, on a positive note, "Well, actually, I'm very happy that I can support my kids on myown. And I'm an independent woman so Idon't need to ask anybody for money because I can afford to work on my own."
The actress-endorser then talked more about teaching financialindependence to her daughters, Lorin and Venice. "That, I think, is what'simportant to teach young women out there. You know, even if you're already born with a silver spoon. I think it's really important that you focuson your work and try hard to succeed."
Ruffa said she wants her daughters to know the value of money. "Not because may kaya ang tatay nila, ang mommy nila, you know, I also wantthem growing up to know the value of work. That's what my mom and dad taught us, na kahit you're born with a silverspoon or you were able to study in private schools, I think, they should alsoknow what it's like to work hard, to make your own money, to save, and toinvest."
ADVERTISEMENT - CONTINUE READING BELOW
As a parting shot, she offered advice for single moms who raise their children. "Always don't think that your future is in yourhand, you know. Always think that youhave to save for the rainy days. Soaside from saving, aside from being responsible as a mom, I think it's alsoimportant to teach by example, yun ang advice ko sa kanila."