Kyle Echarri asked Francine Diaz to be his date to the ABS-CBN Ball by serenading his Kadenang Ginto co-star—and yes, he got a "yes."
In an Instagram post this Thursday, September 5, Kyle showed a series of pictures showing Francine, who was all smiles with her bouquet of red roses.
Kyle went to Cavite City last Wednesday evening, September 4, to formally invite the 15-year-old actress to be his date to the anticipated ball.
The young singer-actor serenaded Francine with Bread's "Make It With You," and gave her a bouquet of flowers and chocolates.
The 16-year-old actor wore a white shirt that had the words: "WILL YOU BE MY DATE AT THE B-A-L-L???"
Also printed on the young actor's shirt were two boxes labeled YES or NO. A heart symbol was drawn inside the YES box, which meant Francine agreed to be Kyle's date.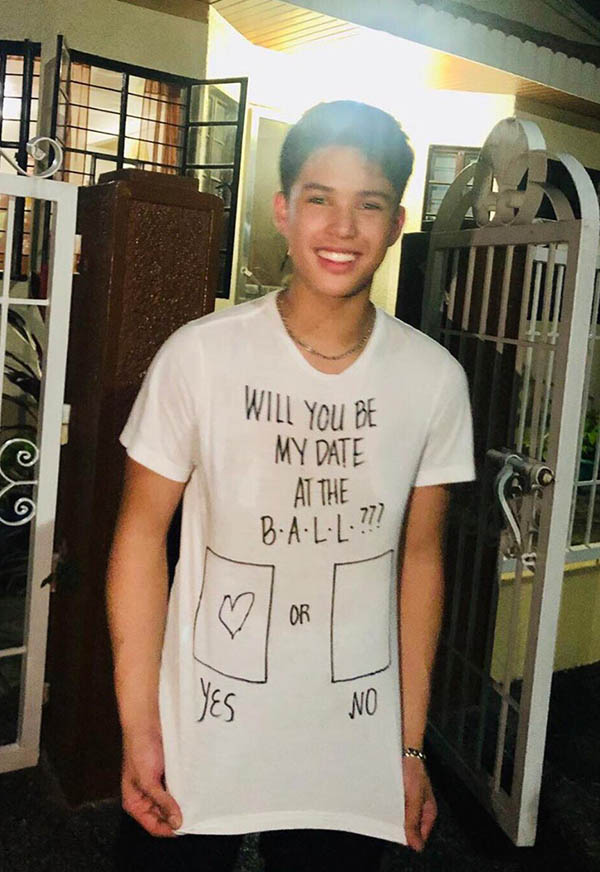 IT'S FRANCINE'S FIRST ABS-CBN BALL
Kyle's caption read: "It took me awhile to decide on the right place and time to do the date proposal but it only took me a second to know it is YOU I want to take to the ball.
"So many occassions I could have done it but something always came up. So many nights thinking how I'd pull it through then realized I can't let it stall any longer, so I decided however it'll end up & wherever it'll be, I'd do it for I want your first ball to be with me. #Harana."
Kyle then thanked his love-team partner for saying "yes" to his ABS-CBN Ball "proposal."
He wrote, "Thank you for the honor of being your date to your first ABS-CBN Ball. It is my first too, with a date (smile emoji).
"I'd want this to be special for the both of us. Let's make memories of the wonderful night it would be; YOU & ME with everyone in our ABS-CBN family. #KYCINEToABSCBNBall2019."
TWO MORE "YES" FROM THE PARENTS
Kyle also did not forget to thank Francine's parents "for giving me your permission to ask Chin to be my date for the ball."
He wrote, "And ofcourse, THANK YOU Tito Michael & Tita Merrdick for giving me your permission to ask Chin to be my date for the ball. Being it's my first time doing all these, I literally had butterflies in my stomach and found myself lost in the song. But YES! I pulled it through and all because CHIN, I'd really like to #MakeItWithYou (violet heart emoji)."
Photos of Kyle and Francine with the young actress' family members are among those featured in the actor's post.
In her own Instagram account, Francine expressed thanks to Kyle for "serenading me."
The ABS-CBN Ball, which will be for the benefit of ABS-CBN Foundation's Bantay Bata 163, will happen next Saturday, September 14.