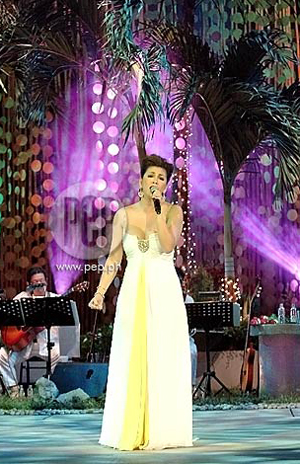 IMAGE 0
---

Regine Velasquez recently paid tribute to OPM (OriginalPilipino Music) artists to remind Filipinos that we have much to be proud ofwhen it comes to our musical heritage. Even the stage was transformed into a lush tropical garden and made to look like a scaled version of Luneta Park—with realgrass and trees. The organizers donated the trees to the StarCity complex when the show ended.
The six-night concert series titled Ang Ating Musika wasactually a family affair. Asia's Songbird directed the show herself, with her sisterCacai Velasquez-Mitra as production designer, and Regine's brother-in-lawRaul Mitra as musical director.
Regine wanted to accommodate as many OPM songs as she couldduring the event, which is why each performance (November 9, 10, 16, 17, 23 and24) boasted a different repertoire. Many of her choices were the timelesscompositions of George Canseco, Ryan Cayabyab, Rey Valera, Basil Valdez, andWilly Cruz.

Spotted by PEP (Philippine Entertainment Portal) during the November 24 showwere GMA-7's senior vice-president forentertainment TV Wilma Galvante, Dr. Vicki Belo and her beau Dr. HaydenKho Jr. Ogie Alcasid was there nearly every night except for the lastperformance because he had his own show that Saturday night.
It was a highly successful concert, to go by the last day. Inthe November 24 performance, Regine incorporated a couple of songs from theother weekend events—a fitting finale for the concert series.
The last day was also videotaped for television under thedirection of Louie Ignacio. The TV special was aired last Sunday night(December 2) on the Kapuso Network.
PEP's editor-in-chief Jo-Ann Maglipon said, "It was avery emotional show, which is what I think made it very successful." She alsonoted the two things that contributed to the show's triumph:
"First, there is the fact that it was all OPM [OriginalPilipino Music]. Regine said it so well in her spiels in Tagalog: 'Ito ang mgasongs na maipagmamalaki mong sariling atin. Akala nila wala tayong kayang gawinkung hindi covers. Ni hindi ko mailagay sa iisang programa, kahit two weekendspa 'yan, lahat ng kanta na nagawa ng mga Pinoy.'
ADVERTISEMENT - CONTINUE READING BELOW
"Because it was OPM, it resounded among the audience. When she performed YoyoyVillame's 'Butchikik,' the crowd became really involved. Mayinvolvement talaga. When she goes very emotional for the romantic songs, therewould be a real hush among the audience. Although people liked it whenever shebelted, I particularly like the quiet moments within a song or for a song. Shewas so good—her tonal quality and the clarity of the words were all intact.


"Secondly, Regine really made the show worth the money of theaudience. No one in his or her right mind would have gone home dissatisfied.The Aliw Theater, which has a capacity of 3,000 people, was jampacked.


Even when the whole thing ended satisfactorily already, Regine came back forseveral more pieces for the encore. During her spiel to introduce Florante's 'Handog,' Regine pointed out, 'Alam n'yo ang mga performers, kaming mgasingers, tuwing lalabas kami sa entablado, iniisip namin maaaring huli na ito.Saka marami nang mahusay na singers na puwedeng umagaw ng trono.'

"But the crowd showed their disapproval by shouting words of encouragement forthe singer.


"The last performance of Ang Ating Musika was very moving. Regine has away of speaking, especially in Tagalog that it touches the core. It is veryemotional for a Pinoy to listen to her."


Asia's Songbird had three gown changes. We would have wantedmore because Regine is known for having fabulous gowns but at least she wasable to sing almost continuously through the program. In fact, the singerhardly left the stage that night.
The most applauded portion (among the joint performances)would be the one with the alumnae of Pinoy Pop Superstar, the realitysinging competition that Regine hosted for its past three seasons.Now part of the GMA Artist Center, these very promising singers are JonalynViray (Year 1 winner), Aicelle Santos (1st Runner-up Year 2), Maricris Garcia (Year 3winner) and April delos Santos (Year 3 winner).


ADVERTISEMENT - CONTINUE READING BELOW
Regine confided to PEP (Philippine Entertainment Portal),that this portion is always one of the most applauded.
Jo-Ann said, "You can recognize that these PPS singers have raw and puretalent. It's not hype, it's not media powered, it's not a manager's pull."
She added, "Martin Nievera still sings very well but he has to improvehis spiels and veer them away from Pops Fernandez and from all the innuendosabout the female form.
Overall, Regine's endeavor to revive Original Pilipino Musicis very much appreciated and should be applauded as a noble effort to rekindleinterest in our rich musical heritage."