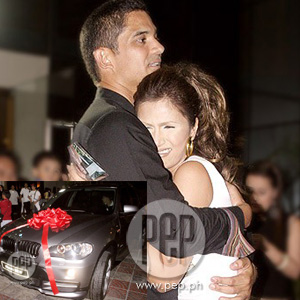 IMAGE 0
---
Talk in showbiz circles isgetting louder that all is not well between, on the one hand, celebrity coupleDavid Bunevacz and Jessica Rodriguez, and, on the other hand, aesthetic clinicBeverly Hills 6750.
First Rumor: Within the last two weeks, there havebeen murmurings that David, a former decathlete who is president and CEO ofBeverly Hills 6750, has been booted out of the high-end beauty clinic. Themurmurings also have it that Jessica, who handles publicity and promotions for theclinic, has been booted out along with David.
Second Rumor: Again within the last two weeks, darkrumors have spread that David had been "beaten up" byunnamed enemies. This was supposed to have happened in lateNovember, but nothing has yet come out in the papers or television or radio.
Third Rumor: The chatter that followed saysthat David and Jessica, fearing for their lives, have sought the advice offriends with connections and influence, including a senator and televisionnetwork executives. The couple are also said to have since consulted aprominent and expensive law firm. Meantime, the chatter also says that theclinic investors have consulted their own equally prominent and expensivelawyers.
ADVERTISEMENT - CONTINUE READING BELOW
The Latest Rumor: And now the latest talk is that thecouple have gone missing. That is, at press time, they could not be found intheir home, office, or any of the regular places they go to. In addition, theyhave not taken any calls from their showbiz friends or the press.
MAJOR PUZZLER. If true, this is a major puzzler.
It will be remembered thatBeverly Hills 6750 Cosmetic Surgery and Skin Institute on Ayala Avenue waslaunched, grandiosely, in late 2006, flying in no less than 1993 MissUniverse Dayanara Torres from California to Manila to endorse it. Unknown tomany, the man who almost single-handedly put together the clinic's inspiredconcept and efficient execution was David Bunevacz.
David has "a knack for puttingthings together," says a businessman who knows David. This idea, as theclinic's own site, www.6750.com, announces, isto affiliate "with the Beverly Hills Surgical Institute of California,USA," tap "world-class technology," gather "high-calibermedical professionals and staff," and position the clinic as "Asia'slatest premier center" for "aesthetic plastic surgery and aestheticdermatology."
ADVERTISEMENT - CONTINUE READING BELOW
With this, Beverly Hills 6750went head-to-head with the more established Belo Medical Group and the CalayanSurgicenter, in the cutthroat and lucrative beauty business. In this race, Beloremains the runaway winner, with Calayan trailing a very far second. But withina year of its launch, Beverly Hills has enough patrons willing to pay the steepprice of its services, ensuring the clinic's presence in the race.
For his efforts, David was namedpresident and chief executive officer of the clinic, made an official partner,and given anything between 10 and 15 percent of company shares. According to the same businessman, whochooses to remain anonymous, David did not have to put out any cash. His equitywas his business acumen.
Following this, David, wholists his profession as "financial consultant," moved from being theman-behind-the-scene to being a very visible man on the scene. So did hiswife, Jessica, who at the time was better known as a talent managerand a former starlet.
ADVERTISEMENT - CONTINUE READING BELOW
In fact, showbiz observers saythat the couples' involvement with Beverly Hills 6750 was their big ticket tobeing taken seriously, at last, as players in big-bucks business and, by natureof the clinic, in show business.
Certainly, Jessica, who hadlong faded in the background as a struggling star-maker, now began making herpresence felt in media like a star. This year, she co-hosted ExtremeMakeover on QTV-11, and also sponsored the "Miss Ugly No More"segment of GMA-7's Sis.
(Incidentally, the Miss Ugly NoMore billboard of Beverly Hills 6750 is considered a high point—or a low one,depending on your point of view—in marketing strategy. One half says it's agreat promotional gimmick that hits at the core of every female's insecurity;the other half says it's in poor taste, tapping as it does into society's shallowand dangerous preoccupation with looks. Either way, the in-your-face billboardmade its mark on the public that traverses EDSA daily.)
ADVERTISEMENT - CONTINUE READING BELOW
Jessica was again seen inthe "Celebrity Special" of Wish Ko Lang, and had likewisebecome visible in showbiz events, where often she was seen in the impressivecompany of women executives of GMA-7. And when she made it to the Final 3 ofthe high-rating GMA-7 show, Celebrity Duets, she had officially beenreintroduced to today's generation of viewers, giving her true celebritystatus.
As it happens, the Bunevaczcouple seem to like to do things with fanfare, which of course makes them evenmore recognizable in public. During the finals night of CelebrityDuets on October 20, for instance, David surprised Jessica with an opulentwedding anniversary gift: a BMW X5 car, said to have cost in the vicinity of5.6 million pesos.
According to car aficionados onthe scene, the BMW SUV came especially set up with an Aerokit body cladding and20-inch alloy wheels, which alone would have cost P400,000. The car also camewith a huge red ribbon taped to its hood (see photo). Television cameras andshowbiz reporters were around to capture Jessica receiving the gift in tears.In the next few days, the gift would become the subject of theentertainment pages of the national broadsheets and tabloids, giving the coupleeven more exposure.
ADVERTISEMENT - CONTINUE READING BELOW
BECOMING A COUPLE. Jessica Rodriguez and David Bunevaczwere married on December 9, 2000.
Before becoming a bit player inthe movies, the tall and attractive Jessica worked as a model and joined theBinibining Pilipinas beauty pageant, where she made it to the final ten. Eventually,she shifted from modelling to acting, and then to managing talents. At onepoint, she managed Angelika dela Cruz and Patricia Javier, and among hercurrent talents are Jackie Forster and Joanne Quintas. She is known to have a strongworking relationship with Viva Entertainment Inc., and is said to have the earof the company's big boss, Vic del Rosario.
Four years ago, when she gavebirth to her youngest, Breanna, now three years old, Jessica kept away from thelimelight. With the creation of Beverly Hills 6750, she began to be seen allover the place again, except that this time she had taken on a more corporatepersona.
ADVERTISEMENT - CONTINUE READING BELOW
David's own showbiz connectionstarted in 1997, when he became known as the athlete-boyfriend of U.S.-rearedAnjanette Abayari, a former beauty queen who entered local showbiz and who,within the few years she was in the Philippines, reached leading-lady status.The dusky and voluptuous beauty starred with, among others, Cesar Montano (Silakbo),Phillip Salvador (Hanggat May Hininga), Dolphy (Aringkingking),and even FPJ (Ang Syota Kong Balikbayan). In 2001, David himselflanded roles in the movies Buhay Kamao and Tusong Twosome. However,he never made it big in showbiz.
David did get into one major showbizscandal, which is supposed to be a measure of whether a person has "arrived" inshowbiz. (The idea being that if you're not a celebrity, nobody will bother towrite about a scandal involving you.) This particular scandal, which became thestuff of tabloids, had to do with his then high-profile relationship withAnjanette, plus their friend Jessica. The story goes that when Anjanette wasjailed by Guam airport police for having illegal drug paraphernalia in herluggage, her live-in partner David not only failed to see her through to theend of her ordeal, he allegedly sold off all her furniture in her absence.
ADVERTISEMENT - CONTINUE READING BELOW
True or not, it did not helpthat David would soon after have a romantic relationship with Jessica, who hadbeen very close to Anjanette. Eventually, with Anjanette settling in the U.S.and David and Jessica marrying, incidentally with big-time businessmen,politicians, and showbiz folk for sponsors—the public forgot all about this,and everyone moved on.
Since then, all has been quieton David's front. During that period, PEP's businessman-source says, David madea fortune through major infrastructure projects down south, in partnership witha Chinese-Filipino investor. Also since then, David and Jessica have lived asman and wife in relative anonymity. Until, that is, the high-rolling BeverlyHills 6750 came along.
THE BMW & THEPORSCHE. "David and Jessica are out of BeverlyHills!" exclaims a source in early December.
The source, a clinic insiderwho speaks to PEP only on condition of anonymity, reveals that David's partnersat the clinic are accusing David of "embezzlement." The amount inquestion is reportedly P20 million. One evidence being used against David isreportedly the very cheque with which he made a deposit for Jessica's BMW X5.Currently, the source adds, an audit is going on at the clinic.
ADVERTISEMENT - CONTINUE READING BELOW
(A website on criminal lawdefines embezzlement as "the fraudulent conversion of property ofanother by a person in lawful possession of that property.")
Another source, this time fromDavid's circle but also demanding anonymity, says that David, as president andCEO of the clinic, was given the unusual power of being the "solesignatory" of company cheques. "It's not the way to do business, but maybethey really trusted him," the source speculates. "Just David. Even Jessica couldnot come near the money." The source sums up, "In effect, the guy ran theshow."
The source talks of the Davidhe knows. "I think David did not mean to steal from the company, at first. Thiswas his ticket to the big time, after all." However, the same sourceconcedes, David could have been guiltyof "kiting," which refers to the practice of well-placed employees extendingtheir personal funds by dipping into company funds. The practice, adds thesource, is rationalized by the person doing it by saying he intends toreturn the money to the company in due time. He adds, "I think that's whathappened to David."
ADVERTISEMENT - CONTINUE READING BELOW
Unfortunately, alleges thesame source, some of David's partners at the clinic began to suspectsomething was amiss. And the very thing to trigger their suspicion was David buyingthe BMW for Jessica. "That was when they began feeling something was wronghere," claims the source. Apparently, the partners now wondered how David couldgive Jessica a brand-new BMW X5, valued at P5.6 million, in October of2007, when he'd just purchased for himself a brand-new PorscheCayenne Turbo, valued at P4 to 6 million, also in October of 2007.
The partners then begantheir investigation, the source claims, with the cheque David used to purchasethe BMW. They discovered, the source adds, that the cheque was indeed a"company cheque."
THE WHITE PAPER. Within the last week, a white papershown to a PEP source seemed to further crush the couple's fairy-tale existence. According to the whitepaper, the couple have been living a lifestyle far more lavish than theirincomes can possibly afford them. It alleges that the Bunevaczes wouldtake trips abroad, never travelling less than first class, and charging it allto the company. It alleges that they flew to California, where Jessica'seldest daughter, Hayca, is currently studying, at least five times within oneyear, first class every time, at company expense.
ADVERTISEMENT - CONTINUE READING BELOW
It does not help the Bunevaczesthat they have an obvious liking for the "good life." Apart from thevery visible Porsche and the BMW SUV, and the expensive private schools fortheir children here and abroad, the couple like to wear flashy, expensiveadornment. Jessica's watch, says a female employee at Viva, is a "Cartier namaraming real diamonds at iyong kay David mukhang sobrang mamahalin din." Theemployee also says Jessica's bags are "lahat Louis Vuitton."
Abante Tonite's columnist Rey Pumaloy wrote in May thisyear that when Jessica's last birthday was celebrated in Hong Kong, shereceived from David a ring with a rare African aquamarine stone believed to beworth more than half-a-million pesos. Just three months ago, the Bunevaczestold YES! that by 2008 they would be moving out of their rented house in AyalaAlabang, and moving into the house they're building in the same village.
ADVERTISEMENT - CONTINUE READING BELOW
THE INCIDENT. Now comes a PEP source from the businesssector who says that "something really happened to David."
Last November 27, thebusinessman says, Jessica received a distraught call from a male friend whobelongs to the same Christian church that she and David go to. The male friendasked, "Where is David? Where is David!" A clueless Jessica answered, "Why?Why?," her voice growing more scared by the minute.
The source goes on to say thatthe male friend, himself very agitated, told Jessica that he'd just calledDavid on the latter's cell phone. But when the call got through, all the malefriend could hear was grunting and cursing and sounds of pain. "Like somebody'shair was being pulled and it really hurt," says the source. Jessica becamehysterical by then, adds the source, but managed to make a lot of calls. When shestill could not locate David, and became sure that David was in danger, she gota high-ranking police officer on the phone.
ADVERTISEMENT - CONTINUE READING BELOW
Another PEP source, who belongsto neither the Bunevacz camp nor the partners' camp, confirms that this callwas made. Jessica reportedly told the police officer that her husband had been"abducted." Pleading with him to find David, and convincing the officer thatthere was reason to fear for David's life, the officer eventually sentoperatives to the Bunevaczes' house. By the time the operatives got there, however,they reportedly found David home—relatively safe, although badly beaten. "Hehad marks on his face," the source says.
According to the same PEPsource, David's story went this way: He was asked by people known to him tomeet with them in the Greenhills area. He went. Then they got into a heateddiscussion, and the guys began accusing him of things he wasn't guilty of. Sohe kept denying everything. Then they started hitting him with their fists,their feet, and "doing things to him you can't imagine." At one point, theyheld a gun to his head. Before it was over, they had made him sign over his Porsche,and also got his watch. Then they let him go, with threats to his life, if he didn'treturn what they said he'd stolen from the company.
ADVERTISEMENT - CONTINUE READING BELOW
CONFIRMING THE RUMORS. This independent PEP source says he is very sure of his story. Still,a check with the Criminal Investigation and Detection Group-Criminal Investigationand District Unit, National Capital Region (CIDG-CIDU, NCR), as of December 13, or morethan two weeks after the incident, showed up no record of any complaint—eitherof abduction and physical injuries or carnapping and robbery—from theBunevaczes, against anybody.
Nevertheless, another PEPsource says that a Beverly Hills 6750 insider intimated to him that theincident "really happened." Reportedly, some investors connected to the clinicwanted answers from David, the clinic's president and CEO, about the misuse of clinicfunds.
"Parang David had made theclinic his own personal ATM machine," says the source, and the investors wantedDavid to own up. "But the guy kept denying everything, even when they showedhim their evidence, so they got really pissed," the source adds. That is whenthings got ugly, the source concludes. This includes, confirms the source, thegroup manhandling David and taking away his Porsche and expensive watch.
ADVERTISEMENT - CONTINUE READING BELOW
A third source, a friend of theBunevaczes, confirms that after the incident the couple sought the help offriends "with connections." Some said they had a strong case, and advised themto file charges for abduction and carnapping, both non-bailable offenses. Othersadvised them to think hard before charging anybody because their enemies had"friends in high places in the PNP [Philippine National Police]." The couplealso went to Senator Ramon "Bong" Revilla, Jr., who reportedly advised them togo the National Bureau of Investigation (NBI), a body not under the PNP butdirectly under the justice department.
According to this third source,the Bunevacz couple are both very frightened for their lives. David flew toHong Kong the very day after the incident, but returned the following day. Thecouple did go to the NBI, where they told their version of the story tohigh-ranking officers of the bureau. They also did go to the Villaraza andAngangco Law Office, in preparation for a possible legal war with theirpartners. The source insists that the CIDG-CIDU is also aware of the story, butwonders why there is still no blotter there of the incident. "Maybe they'restill busy with the Manila Pen incident," says the source.
ADVERTISEMENT - CONTINUE READING BELOW
RECENT DEVELOPMENTS. A check by PEP with car circles on December 8 confirms that Jessica'sBMW X5 is now up for sale, through BMW's Certified Pre-owned program. Accordingto motoring journalists, David cited "financial problems" as hisreason for putting the two-month old BMW back in the market.
A call by PEP to Beverly Hills6750, also on December 8, produced only more questions. Nobody there seemed toknow where she is, and we were told instead to "write to the general manager."
A call to both Jessica andDavid through their cell phones have produced dead air.
Speculation is rife in showbusiness that many players-stars, managers, network executives, reporters—alreadyhave bits and pieces of the story. Jessica, at the first stages of panic, issaid to have unburdened herself to trusted industry hands, including somecolumnists. But now, reliable PEP sources say, Jessica wants the story killed.She wants it way out of print and definitely out of television, ostensiblybecause she and David are still trying to broker peace with their partners. Theyare negotiating, according to PEP sources, from the United States, to wherethey have flown.
ADVERTISEMENT - CONTINUE READING BELOW
With reports from Karen A. Pagsolingan