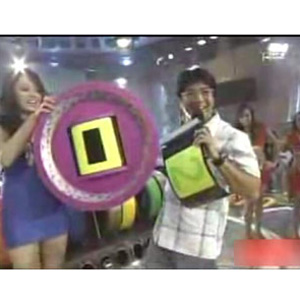 IMAGE 0
---
Let us take a break from the more serious issues andcontroversies of local entertainment.Instead of talking about the scandals, gay issues, network war, etc.,PEP will take you back to some of the headlines that made showbiz followersgasp, "Ooopps!!!"
Let us review all the memorable showbiz events that happened in 2007,and name the 10 incidents that fell under the "Showbiz Ooops"category.
Wowowee's "Wilyonaryo." Television viewers got surprised when the violet wheel of Wowowee'ssegment "Wilyonaryo" showed "0" instead of "2" as its host Willie Revillame pulled the cover fromthe wheel. Upon noticing the mistake,Willie immediately said, "Mali-mali, sandali… ang two million…ay hawak kopala!" But that was real-time, and millions of Pinoys were watching it.
The incident got published on PEP and in differentpublications. The actual footage was uploaded in a video-sharing sites. Later on, the issue led to aword war between Willie and Joey de Leon, the host of Wowowee's rivalshow Eat Bulaga!
Willie and ABS-CBN management explained that they did notintend to cheat the players of "Wilyonaryo" and what happened was just atechnical glitch. The issue died downand "Wilyonaryo" was replaced with a new game called "Merrygalo," in time forthe Christmas season.
However, another video was posted recently in YouTube showing the"rehearsal" of the discontinued controversial game. It showed how Willie and the staff of Wowowee practicedpulling the cover to show only one of the two numbers that contain the chosenwheel. But the video did not make anynoise, unlike the first one, with people being more interested in the ongoingissue between ABS-CBN and AGB Nielsen about an alleged ratings anomaly.
ADVERTISEMENT - CONTINUE READING BELOW
Christian Bautista's unforgettable lines. The "Asia's Pop Idol" Christian Baustista had probably themost embarrassing moment of his life when, while singing, he forgot to deliver two lines of the Philippine NationalAnthem "Lupang Hinirang"in a boxing exhibition between Gerry Peñalosaand Concepcion Bernabe last August 16 in Alabang, Muntinlupa.
People made a big deal out of it. Some said it was no simple mistake—he could be put in jail. However, instead of hiding, Christian bravely faced the publicand apologized for his blunder.
In fact, in a statement he released the following day,Christian explained apologetically.
"I apologize to the Filipino people for the lapse of memorythat occurred yesterday during my rendition of the National Anthem.
"I was recovering from a cold and the adrenalin andexcitement of the moment got me through it. Unfortunately, it was at the costof a momentary lapse on my part.
"I promise that my next rendition of our National Anthemwill be faultless."
And as a true singing artist, Christian said he was nottraumatized with what happened. Infact, he is more willing to sing the "Lupang Hinirang" again if given thechance. He added, "Sinabi ko namanghanda akong kantahin uli ang 'Lupang Hinirang' kung may pagkakataon. Sana nga,hindi ako magkamali uli. Nakakahiya na talaga kung magkaganoon."
La Greta's juicy scoop. The information came out while Gretchen Barretto wasreacting to Lani Mercado's statement, "I have six beautiful children withBong." During that time, there was asnubbing issue between Gretchen and Sen. Bong Revilla at Lorna Tolentino'sbirthday party.
ADVERTISEMENT - CONTINUE READING BELOW
Gretchen retaliated by saying, "This is thefirst time I'm going to say this... If Lani has six beautiful childrenwith Bong, I hope that she hasn't forgotten that Bong has sevenbeautiful children."
The press people listening to her paused for a few seconds before saying, "Whaaaat! Bong has a seventh child?"
The controversial actress went on: ""Sabi niya [Lani],'What I have with Bong is a marriage and it's beautiful.' Lani, I didn't knowthat Bong's infidelity is something beautiful. It's obviously not beautiful.You don't have to pretend, you don't have to hit me. We all know that Bong hassomebody else, and it's not me. So hindi ako ang dapat niyang tirahin. Yunlang."
La Greta's statement was picked up by media but it was only after a month that Sen. Bong actually admitted he had a son.The boy was identified by showbiz columnist Dolly Anne Carvajal as Luigi. His mother's initials were L. G., a married woman who belonged to a good family.
In an interview with The Buzz aired March 11,Bong admitted, "Hindi ko naman dine-deny 'yon. Actually, 'yong son ko, recognized ng buongpamilya—even Lani, even my kids—they recognize [him]. Pumupunta sa bahay 'yon.Walang kasalanan ang bata, e."
Even Bong's eldest son, Brian, revealed that he and his siblings knew abouttheir half-brother. In fact, he said inthe same episode of The Buzz, "It's not new for us. Beforehand, we knew na madami talagakami..."
ADVERTISEMENT - CONTINUE READING BELOW
Carlene Aguilar: wa-poise?. Many PEPsters were surprised when 2005 Binibining Pilipinas-World Carlene Aguilar confronted young actress Cristine Reyes. Others became jumpy, "Ganun pala siya. Wa-poise tuloy."
During the taping of All Star K in Broadway Centrumlast November 7, the beauty queen reportedly approached the young actress andintroduced herself: "I'm Carlene, I know you're Cristine!"
It's public knowledge that Carlene has a son with herfive-year boyfriend Dennis Trillo who, at that time, was linked to CristineReyes.
With a "beauty queen" title and in a conservative countrylike Philippines, people reacted to her actions, which were "unexpected" of someone who had joined several beauty pageants. One PEPster even wrote, "Carlene, beauty queen ka pa naman [angdami mo palang nasalihan] pero ano na iyong nangyari sa 'spreading peace andgoodwill to men' na common [spiel] ng mga beauty queens na katulad mo."
The incident even led Cristine and her sister Ara Mina tofile grave scandal and oral defamation lawsuits against Carlene.But the case did not continue as Cristine's camp initiated a meetingwith Carlene after the latter gave her public apology to the young actress and to those who were taken aback by her sudden action.
Mariel Rodriguez's candid comments. People from the showbiz industry cried "foul" when the PinoyBig Brother celebrity houseguest Mariel Rodgriguez said, "Kadiri angshowbiz, " during a conversation with model celebrity housemate Jon Avila.
Mariel's manager, Boy Abunda, immediately apologized forMariel's remark. Boy told PEP, "Hindiko napanood yung episode na 'yon. But I apologize kung nasabi man ni Mariel'yon,"
ADVERTISEMENT - CONTINUE READING BELOW
PBB viewers waited for Mariel to come out of the PBBhouse and listened to her explanation about her statement. In The Buzz last December 2, Marielreasoned out, "You know, when we say na parang a lot of people do this andI feel bad that I'm one of those people when we say na parang 'Ay, showbiz kanaman, e.' Yung parang plastik, not plastik, but you know what I'msaying?
"It's just a term. It's not our industry. It's not ourwork. It's not my job. It was just a term, ganun. Sabi ko nga, I have nointentions or whatsoever, and I never will hurt anyone in the industry. Ifmeron akong nasaktan, gusto ko talagang mag-apologize. I'm really very sorry. Ididn't mean anything by it. I love my job."
Aside from "kadiri ang showbiz," the TV host-actress wasalso caught saying "baduy sa GMA ," which is the rival network of her mother station ABS-CBN. And most recently, just a few hours beforeshe went out of Big Brother's house, PBB 24/7 subscribers witnessed howthe TV host badmouthed housemate Riza Santos while having a conversation with Ethel Booba.
Is Mariel just being tactless, or honest? Either way, her statements still had people going, "Ooops!"
Misleading photos on the web. PEP remembers the photos received from the PEPsters whowanted to help in getting information about certain issues. Some of these are KC Concepcion and LinoCayetano together in Hong Kong, Richard Daloia, and Gretchen Barretto's "date"with an unidentified man.
ADVERTISEMENT - CONTINUE READING BELOW
The first two photos were actually published in Dolly AnneCarvajal's column. Apparently, therewas a mistake about these photos, they were what media people call"kuryente."
About the KC-Lino photo, Dolly Anne wrote, "GOT this e-mail andpicture from Kace Cayetano (kookikace@gmail.com) dated Jan. 26. Justhomonymous, not synonymous to KC (Concepcion), huh? Looks like Lino Cayetanoand KC are living it up—Paris, Manila, Bora, Tagaytay and now, Hong Kong.Before KC flew back to Paris, she and Lino spent a few weeks in HK, accordingto the e-mail sender.
"Oh, yeah! 'The world will always welcome lovers as timegoes by.' What sweeter way to start the Valentine month than by seeing loverswhose worlds revolve around each other!"
The photo looked like Lino and KC were the only persons inthe picture being sweet with each other.But later on a Multiply account revealed that the publishedphoto was actually a group shot—KC and Lino with their friends.
Megastar Sharon Cuneta did not take the mistake lightly. She openly revealed her dislike for the published photo and its misleading caption.
The same boo-boo with the photo which was said to beRichard Daloia. The columnistsaid it was just sent by a reader.Upon searching in MySpace, PEP found out that it was a different RichardDaloia.
Ruffa Gutierrez said on TV, "Hindi siya [Richard Daloia] yun." Viewers said, "Kung hindi siya yun, sino? Kawawa naman."
Gretchen Barreto also became a victim of leaked photos: the "kisscandal" with John Estrada kissing photos, which wereconfirmed by both parties, and the Gretchen "date" photos , about which theactress chose not to comment.
ADVERTISEMENT - CONTINUE READING BELOW
Missing: Ethel Booba's Nose. On May 25, while the PEP staff was having a little rest with thecontributing writers, PEPsters enjoyed their "freedom of speech" by writingcomments about Ethel Booba's silicone implant in her nose.
Some readers even suspected that Ethel might not have bumped into a furniture but was punched by her then-boyfriend, AlexCrisano, causing her silicone implant to come out of her nose. Otherspoked fun at Ethel by creating stories around the accident. In short, the comments page looked like achat room for PEPsters.
"In or Out? Am I In or Out?" Remember Sandara Parks's song, "In or Out?" That is what the viewers of Pinoy BigBrother Celebrity Edition 2were singing every time they watched the show.Why?
Here were some of the reasons: Ethel Booba exited voluntarily with Mcoy Fundales but she came back to the PBB houseafter pleading with Big Brother, who then made her one of the "big sisters." Another returning housemate was Mariel Rodriguez who was a guestcelebrity housemate and became "big sister" when she came back.
That did not stop there. Gaby dela Merced chose to leave thePBB house to attend a racing seminar in Arizona. After a few weeks, Gaby went backinside the house following the voluntary exit of Mcoy and Ethel.
Some asked, "Isn't this a violation of the Big Brother HouseRules and Regulations?" The answer was,"No." According to the rules, "A new housemate may be called in to replace any person who leavesvoluntarily or who has been disqualified by Big Brother. This replacement couldbe a former housemate who had previously been evicted."
ADVERTISEMENT - CONTINUE READING BELOW
Big Brother also allowed some celebrities to stay inside thehouse as guest housemates for more than 24 hours, or even days. Among these were PBB host ToniGonzaga, Angel Locsin, and Gladys Guevarra, who later also decided to exitvoluntarily.
Stray cat gives Gladys Reyes a souvenir . Actress Gladys Reyes left her house to attend the presscon of Sine Novela My Only Love lastNovember 7; she left the venue with a souvenir from a stray cat: a bite.
The actress was immediately given an anti-rabies injectionto avoid infection—and then advised by her doctor to avoid sexual intercourse during her medical regimen of 24 anti-rabies shots.
Instead of getting annoyed, the actress took the incidentlightly, saying, "Hindi ako puwedeng makipag-french kissing, makipag-sexor anything na may exchange ng body fluids hanggang hindi matapos ang mgapagturok sa akin. Dyusko, mababaliw ako! Lagot sa akin 'yang pusang gala na'yan! Pati sex life namin ng mister ko, na-put on hold!
The interesting twist to the story—10 days after that article was published, PEP came out with an article sayingthat Gladys is pregnant with her second child.
The actress explained that her anti-rabies vaccination would not have any badeffect on her baby.
"Well, sabi naman, wala naman daw bad effect sa situation ko at sababy, " said Gladys. "May mga cases pa nga raw na minsan, malalaki natalaga ang tiyan pero binabakanuhan pa rin nila kapag nakakagat. Siyempre,panghahawakan ko na yung sinabi nilang [doctors] wala naman siyang magiginghindi magandang effect sa baby. At saka siyempre, puro prayers talaga."
ADVERTISEMENT - CONTINUE READING BELOW
Comediennes split an acting trophy . Celebrity guests and nominees thought that Pokwang was the sole winner ofthe Best Comedy Actress in the 21st Star Awards last November18. But they were surprised when thepresenter, Tracy Torres, also announced Tiya Pusit's name after Pokwang gaveher speech.
The veteran comedienne happily accepted the award despite the delay inannouncing her name.Tiya Pusit even saidjokingly, "After 27 years, ngayon lang ako nagka-trophy, gusto panghiramin ni Pokwang. Buti na lang si Pokwang ang kahati ko. Plastik!"
In an interview with PEP, Tiya Pusit added, "Okey lang 'yon, talaga namangmayroong naghahati, e. Mas nagulat ako noong tinawag ako sa stage."
And how did these two comediennes share the award? "Nagpakuwela pa ito," went our report, and quoting Pokwang whowas joking, "Biniyak na po naminni Tiya Pusit ang award kanina! Sa akin napunta 'yong matulis na bagay."
Unthinkable. Unexpected. Hilarious. These are the words to describe last year's blunders. Though celebrities look almost perfect to us, they too, are susceptible to making mistakes. The big difference: their embarassing moments get published, and even witnessed by millions of people. Showbiz will not run out of boo-boos, so be sure to say "Ooops" again this 2008.