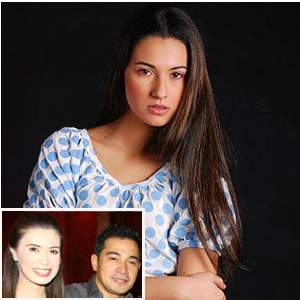 IMAGE 0
---
Cesar Montano and Sunshine Cruz have been causing a rumpus in select showbiz circles for almost a week now. The couple, according to sources, are already "separated." The detailed report of the said issue wasput out in PEP (Philippine Entertainment Portal) at 2:07 in the morning today,December 29.
Cesar already confuted therumors, saying that what happened was just "one of the tampuhan of mag-asawa."In a statement he sent via text to PEP Editor-in-Chief Jo-Ann Q. Maglipon, he stressed that it's one of his wife's "childish reactions on things,"and that his detractors fed Sunshine with text messages that "poisoned hermind."
Sunshine, with her three kids, reportedly left their house inQuezon City last December 25 after a fiery argument withCesar about his "affair" with a Brazilian model named Mariana del Rio.
In the said spat, according to a source,Cesar diverted the issue by branding his wife a "porn star," which deeply hurtSunshine. The actress was said to have sent this text message to her friends:"All I want is a little respect."
Cesar, in his phoneconversation with Maglipon last night, said he's "hurting." Sunshine, for herpart, sent a text message to the Editor-in-Chief of PEP: "Not ready to talknow. I am hoping that this matter wud be settled. I love my family so much."
How about Mariana? How does she feel about her name being dragged into this issue as the "third party?"
In his effort to present all sides of the story, Cesar directed PEP to Carla de Mesa, Mariana's bestfriend. Carla, who was also with the model when they met Cesar at the airport, spoke on behalf of Mariana—who is currently inSao Paulo, Brazil, and was "scared like a kid" when she heard about the issue.
PEP: How is Mariana now?
ADVERTISEMENT - CONTINUE READING BELOW
Carla: She's in Brazil.When she read the article, she reacted like any normal kid—scared.
PEP: Let's go to the firstrumor, is it true that Mariana is seen regularly with Cesar in the gatheringsof Pinoy Mano-Mano?
Carla: No. He invited usbut we're not able to come.
PEP: Why would Cesarinvite them?
Carla: Because we'retrying to have a movie...indie film...three indie films.
PEP: How did Mariana meetCesar?
Carla: At the airport inBohol last September. Nagkita kami. We were in group. Marami kami.
PEP: So, Cesar and Marianareally saw each other in Bohol?
Carla: Yes. But Marianawas there for a modeling engagement. We had a purpose in going there. Si Cesarwas there because of the premiere of that movie with Maricel Soriano...GawadKalinga.
PEP: Did you guys go tothe house of Cesar in Bohol?
Carla: Yes, he showed usthe paintings. Nag-meryenda kami at about 4:00 [p.m.], then we left at 5:00p.m. Mga one hour lang at marami kami.
PEP: What about the resthouse in Bulacan?
Carla: They went there forpictorial for a movie. Kaso di na matutuloy...'di nagkasundo sa presyo. Maramikasing naka-line up na commercial so mas priority yun. Isa pa, nahihirapan siMariana sa Tagalog.
PEP: According to rumors, Cesar tried to let the young model believe that he and his wife are already separated by telling Mariana that Sunshine doesn't have a single photo in either of the two houses of the Montanos. You guys visited their homes in Bohol and Bulacan, is that true?
Carla: In Bohol...I didn't see any picture. Honestly...In Bulacan, Mariana just said something like, "'Di pa tapos yung house."
PEP: So, Mariana nevervisited the set of Pinoy Mano-Mano?
Carla: Kung nagpupunta mansiya, nakikita man siya ng ABS-CBN, may workshop kasi siya doon.
ADVERTISEMENT - CONTINUE READING BELOW
PEP: A source claimed that Sunshine saw a picture of Cesar and Mariana during the Christmas party of Pinoy Mano-Mano.
Carla: They don't have. Ilabas nila yung pic...wala talaga. Di talaga kame pumunta dun.
PEP: How about the allegedphone conversation between Sunshine and Mariana? Naikuwento ba ni Mariana sa iyoyun?
Carla: Okay naman. Sabi niSunshine, "Ako yung asawa ni Cesar." Nagpakilala siya. Si Mariana naman, "Don'tworry, I'm just doing pure business with your husband, for the movie."
PEP: It wasn't scandalous?
Carla: Kung halimbawangnakapagtaas si Mariana ng boses, kagigising lang niya noon. Gabi na kasitumawag [si Sunshine], mga 11:00 p.m."
PEP: So there's no truthto the "affair" rumors?
Carla: Wala. Walangnangyari. 'Kuya' nga ang tawag ni Mariana kay Cesar. She's like a kid. Naaaliw siCesar sa kanyang pagta-Tagalog. But she's the typical kid na...bubbly.
PEP: Do they text eachother?
Carla: Yeah. Nagte-textsila. Purely business. Lahat ng connection ni Cesar sa model goes through me.Supposedly, the workshop, kailangang may agent na kasama. Mariana never wantedto be alone with Cesar.
PEP: Would you know if Cesar has a code name for Mariana in his phone book?
Carla: No...Not true.
PEP: What about Cesar? Theway he treats Mariana?
Carla: Purely businessfrom his end.
PEP: Has Mariana metSunshine?
Carla: Yes. Nakilala naminsi Sunshine sa Rockwell. We bumped into each other last October. 'Pinakilala niCesar si Sunshine. Mabait si Shine. May picture-taking pa nga kami kasi yungbading naming kasama, gustong magpa-picture with her.
PEP: Does Mariana know about the issue?
Carla: Yes, I called her. She really want to bean artista, but when she found out about this, sabi niya, "I don't wannabe like that if that's what's gonna happen." She's just sixteen years old. Ex-bfniya si Victor Basa. Parang fling. Madalas sila sa Embassy noon. She's not thetype who would settle with Cesar."
ADVERTISEMENT - CONTINUE READING BELOW
At press time, the mother of Cesar's three girls has not yet released her side about the said issue. In Startalk's episode today, December 29, Sunshine's manager Alfie Lorenzo, however, said his ward had told him, "Ninong, aalisna talaga ako." And the talent manager added, "Desididona siya."