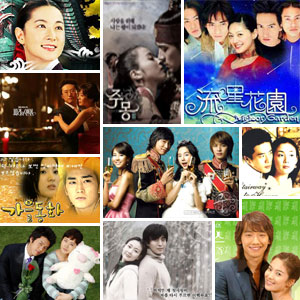 IMAGE 0
---
Asianovelas have been popular with the Filipino audienceever since Taiwan's Meteor Garden hit the airwaves back in 2002. Since then, asteady stream of shows from Taiwan, Korea, and Japan soon found its way toPhilippine shores and started a new craze in local programming, quickly addinga few more slots in the telenovela fan's list of favorites. In just a fewyears, the Asianovela invasion successfully built a country-wide fan base.
"Asianovelas" are drama shows produced in Asiancountries and, of course, the Philippines. The term is a spin-off from"Telenovela," which refers to the Spanish soap operas, like Marimar,that first entered the country.
How do Asianovelas differ from the Telenovelas that we havegrown to love?
Asianovelas offer unique, straight-to-the-point, engagingstorylines. We Filipinos can comfortably relate with Asianovelas for theirtraditional ways of story telling. Real-life situations are interpreted anddelivered so gracefully, all we have to do is sit back and enjoy the story'sunfolding.
The Asian stars with their chinky eyes and smooth complexionlook foreign yet feel familiar. After all, especially in urban areas, we oftensee or interact with Chinese, Korean, and Japanese nationals. The actresses'pulchritude and the hunky yet lean frame of the handsome leading men inAsianovelas exude freshness. No sweaty-looking actors and over-sexy actresses,no long complicated plots.
PEP's Top List highlights the Asianovelas that got us hookedfrom the first to the final episode. Ranking is based on the ratings and theword-of-mouth fame that a particular series earned both locally and abroad.
ADVERTISEMENT - CONTINUE READING BELOW
If you disagree with the list or if you have more shows tosuggest, feel free to share here.
On to the Top Ten Asianovelas!
Meteor Garden.
Just say"F4" and we all know which Asianovela gets the Number One spot onthis list. The F4 band caught our attention with their music and pretty-boylooks. Bring in the beautiful, equally talented actress Barbie Shu and you findyourself in Meteor Garden. First aired in the Philippines by ABS-CBN, theshow's first few episodes caught like wildfire, forging its status as one ofthe most watched TV programs.
Meteor Garden, which sounds like a sci-fi project but is farfrom it, was first released in 2001 in Taiwan. It was based on a popularJapanese manga (comics) titled "Hana Yori Dango (Boys Over Flowers)."
Taiwanese producer Chai Zhi Ping, who was really interestedin that manga, decided resolutely to make a TV-series version. But first, shehad to find the right group of boys who would play as members of F4. Jerry Yan,Vaness Wu, Vic Zhou, and Ken Chu were chosen to play the characters and soonlaunched the drama that would catapult them to stardom. The success of thedrama made the F4 one of the most famous music groups in 2001. They made thealbum Meteor Rain even before they had finished the drama.
Meteor Garden is the story of a poor but tough girl San Chai(Barbie Hsu) who studies at the Ing Te University, a university for rich peoplefounded and funded by the F4's family. San Chai and the F4 boys cross paths andthey embark on a journey of self-discovery.
ADVERTISEMENT - CONTINUE READING BELOW
Jewel in the Palace.
Dae Jang Geum, or Jewel in the Palace, takes the Number Twospot.
This show is a 2003 TV series produced by South Korean TVchannel MBC. Jewel in the Palace was shown locally in November 2005 under GMA-7and was hailed as the highest rating Koreanovela in primetime during thatperiod. Because of its popularity, the show was rerun and again, garnered highratings. Faith Cuneta sang the Tagalog version, "Pangarap na Bituin,"of the show's theme song.
Based loosely on the historical figure depicted in theannals of Joseon Dynasty, the show focuses on Jang-geum (played by Lee YoungAe), the first female royal physician of the Joseon Dynasty of Korea. The maintheme is her perseverance, as well as the portrayal of traditional Koreanculture, including Korean royal court cuisine and medicine.
Lovers in Paris.
This was another primetime Korean telenovela aired in thesummer of 2004 under SBS studio. Lovers in Paris was the first of threeromantic dramas set in Europe. The second was Lovers in Prague, and the thirdwas simply titled Lovers.
ABS-CBN got the rights to air Lovers in Paris in 2005.Starting with a rating of 27.1% on its first airing, people thought that theshow wouldn't do well, until it exploded with a rating of 36% a week later. Itwas an instant hit among drama fans, a top-rater in its timeslot. Its highestrating ever recorded was 39.7%. ABS-CBN aired the series in its internationalTFC last year, making it the first non-Philippine show in its roster.
ADVERTISEMENT - CONTINUE READING BELOW
Lovers in Paris is about Han Ki-joo, the president and sonof the CEO of GD Motors. He's been living in Paris for two years after hisfailed marriage. A smart and charismatic man, he has been preparing to takeover the company as chairman. That is, until he meets Kang Tae-young, thedaughter of a film director. She works as a housekeeper for Han Ki-joo to ekeout a living. Her optimistic and happy-go-lucky attitude endears her to peoplearound her. A twist of events and series of confrontations bring Han Ki-joo andKang Tae-young closer together.
Stairway to Heaven.
This Korean drama from SBS was shown between late 2003 andearly 2004.
The first week of Stairway to Heaven got relatively lowratings (about 20%) on GMA-7 mainly because another Korean soap, Lovers inParis, was being aired on ABS-CBN. Viewership increased when Lovers in Parisended its run; Stairway garnered over 40% in ratings.
In 2006, GMA-7 aired Stairway to Heaven again, but thistime, in the morning. It was replayed in Q, the sister channel of GMA-7 in theevening.
The story is about best friends Song Joo and and Jung Suh.Their friendship in childhood slowly blossoms into love. But fate sends Song tothe U.S. After three years, he returns to the waiting arms of Jung, but herlove sparks the jealous rage of another woman who makes life hell for Jung.
Full House.
This drama-comedy explores the situation of two peoplegetting married only on paper. A hilarious turn of events plagues Han Ji-Eunwhen she discovers that her friends tricked her into selling her home to abudding actor named Lee Young-Jae.
ADVERTISEMENT - CONTINUE READING BELOW
When confronted by Han, Lee agrees give Han's home back onlyif she agrees to work as a maid for him. Out of misunderstanding and in anattempt to make Lee's girlfriend jealous, he proposes to Han with a contract ofmarriage good for only six months. As time goes by, the two bickeringhousemates slowly fall in love... and the rest is history.
Full House made its debut on Philippine shores under GMA-7back in 2005. It moved on to be the highest rated Koreanovela with a whopping52.0% in the ratings, making it a household name among primetime fans.
Princess Hours.
Princess Hours, also known as Palace Love, is anothercomedy-drama from Korea. Under Munhwa Broadcasting Corporation, it became themost popular show of 2006 in Korea, second only to Jumong. According to TNSMedia Research, Princess Hours was the tenth most popular drama of 2006. Andso, a second season was produced but controversy within the show led to itscancelation.
Princess Hours premiered in the Philippines through ABS-CBNin December 2006. The network changed the names of the show's characters tomake it more attuned to Filipino audiences.
Its theme song, "Pag-ibig Nga Kaya" was sung byformer lovebirds Christian Bautista and Rachelle Ann Go. The show's finale wasaired for two days last April 2007 with a special episode called PrincessHours: The Royal Special.
Set in an imaginary Korea ruled by a royal family, PrincessHours follows the lives of its Crown Prince and his new bride.
Endless Love: Autumn in My Heart.
ADVERTISEMENT - CONTINUE READING BELOW
Probably the most heart-wrenching Korean drama, Endless Love:Autumn in My Heart is the first installment of a four-part series revolvingaround the four seasons of the year. It was produced by the TV network KBS inKorea (2000). The Philippine airing rights went to GMA-7 back in late 2003. Thedrama was so popular among Pinoy fans that GMA-7 aired it two more times in2004. Endless Love is considered to have started the Koreanovela phenomenon inthe Philippines.
The story is about two teenagers, Johnny and Jenny, who aresiblings-that is, until they find out after an accident that they are notblood-related. Jenny then gets into an argument with her foster mother,prompting her to leave home and begin the search for her real parents. Johnnyand his parents had already left for the U.S. after the mishap.
For Jenny, it is tragedy after tragedy when she learns thather biological father is dead and that her mother and brother live in absolutepoverty. Jenny makes ends meet by working as a telephone receptionist. Anunlikely reunion takes place when Johnny returns from the U.S. after ten years.Thus follows a series of tearful events that fans can happily cry about.
Endless Love: Winter Sonata.
Winter Sonata (2002) is the second installment in theEndless Love series, but it focuses on a completely different story. Like itspredecessor, Winter Sonata follows the tragic path of Jung Yujin and JoongSang, who meet under fateful circumstances.
GMA-7 again got the rights to air this second Endless Loveand, once again, attracted drama fans by its signature style of tearing up eyeducts with its engaging storyline and dramatic climax.
ADVERTISEMENT - CONTINUE READING BELOW
Kim Sam Soon.
Kim Sam Soon, produced by MBC TV in 2005 is probably thebiggest thing that ever happened to the Koreanovela-its finale garnering over50.5% in Korean households. The success of this show stemmed from the fact thatit focused on the life of a chubby, single, middle-aged woman. The stereotypeportrayed by actress Kim Seon-Ah won the support of nearly every middle-agedwoman in Korea. Kim was said to have gained 15 pounds for the role, turning herinto the "Bridget Jones of Korea."
The show depicts the life of a middle-aged woman named Kim,the daughter of a rice-mill owner. Her passion for baking lands her a job in abig French restaurant where she encounters a rude boss named Mr. Hyun. Thoughexact opposites, they gradually fall in love.
Jumong.
Jumong is anotherdrama gem from TV MBC. The show premiered in Korea in May 2006 and its pilotepisode immediately grabbed the 3rd spot in the rankings. It's a historicaldrama about Jumong Taewang, who lives in the old Korean empire of Gojoseon.Gojoseon has fallen to the Han Empire of China and it's up to Jumong to driveback the invaders. Because few historical records are found on the life ofJumong, the producers approached the story artistically. Much of the mythsurrounding the main character had to be replaced with more realistic scenes,such as that concerning his birth.
The show commanded the ratings with its highest ever at52.7% in Seoul. Nationwide ratings clocked in at 51.9%.
ADVERTISEMENT - CONTINUE READING BELOW
Jumong invaded the Philippines at the start of 2007. Itbecame an instant hit because of its historical significance and awesome battlesequences. However, these qualities weren't enough to take Jumong to the top ofthe ratings game. It averaged only at a steady 20% to 25.3%, a fifth to sixthplacer in the top ten primetime programs (AGB Nielsen).
End Notes.
Asianovelas willalways have a place in Philippine TV because of their unique storytellingappeal. These dramas remain faithful to the story from start to finish, withoutever dragging. They explore all kinds of emotion, never exaggerating and oftenportraying tradition and values that reflect our own.
Asianovelas truly leave us always surprised with their quickturnover. Take The Coffee Prince and Spring Waltz, for example. These two newshows came in as a fresh start after the Jumong craze.
It's unlikely that people will tire of Asianovelas anytimesoon. Our local telenovela writers might learn something out of all thecreativity that Asianovelas deliver.