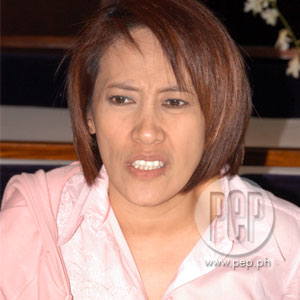 IMAGE 0
---
According to ABS-CBN News, Ai-Ai de las Alas has now filed charges against twoemployees from a convenience store outlet in Sampaloc, Manila, who reportedlymaltreated her 16-year-old son last December 8.
Ai-Ai was accompanied by her lawyer, Rowena Guanzon to theNBI where she filed child abuse, grave threat and illegal detention chargesagainst a store attendant and a security guard of the Mini-Stop store branchlocated at Padre Noval Street. One of the respondents was identified as MelvinBuceta.
In her two-page complaint, Ai-Ai related how her sonpurchased some items on the said store before being confronted by the two storeemployees. The attendant thought that Ai-Ai's son was attempting to shopliftbecause the boy went outside with an unpaid candy still in his pocket, notknowing that the boy actually just wanted to ask his friends if they neededanything else. From there, the attendant reportedly took the boy to the storageroom where he threatened him if Ai-Ai's son did not admit to the crime.
"Naawa ako sa anak ko dahil for a 16-year old, bakitkailangan nila magtulong-tulong for him dahil sa kendi?" Ai-Ai said. She alsotold ABS-CBN News that her son revealed the incident only during the Christmasbreak.
"Sabi ko hinihingiko lang naman yung middle initial nung tao. Sabi niya hindi ko po maibibigaysa inyo kasi Christmas party po namin, sabing ganoon. At huwag kayong tatawagkasi Christmas party namin," Ai-Ai explained.
Upon knowing her son's story, she immediately tried to getin touch with the manager of the Mini-Stop branch, only to find out that Bucetawas no longer connected with the branch. Atty. Guanzon disagrees, however. She said that Ai-Ai's son saw Bucetaenter the same Mini-Stop branch a few days ago. This prompted the comedienne toimmediately file a complaint straight to the NBI in behalf of her son.
ADVERTISEMENT - CONTINUE READING BELOW
At press time, PEP (Philippine Entertainment Portal) is still waiting for the official statement of Mini-Stop management.