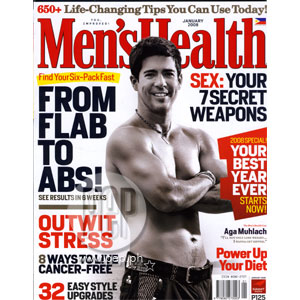 IMAGE 0
---
Men's Health magazine opens the year with a big splash aswakeboarding enthusiast Aga Muhlach shares the benefits of staying fit andliving right. The former matinee idol talks about the motivation that drove him tosucceed in losing 60 pounds: finding something to be passionate about. Withthat, he took the plunge by getting hooked on the activity that he loved themost—water sports.
Aga, a longtime jetski racer, discovered that passion in theform of wakeboarding. "Any water sport para sa akin is nice. The fact that yougo out of town, you leave Manila, that's the best. You're out of this ciudad;out of all this chaos. It's always a date para sa akin when we go out of town:me, my wife, and the kids."
Before, Aga used to weigh 220 pounds because of hisyear-and-a-half vacation from showbiz work. His much-deserved rest from thebusiness became a liability as he stopped working out and gained unwantedweight. The insecurities he felt affected his social life as he turned downinvitation after invitation to dinner parties from friends and the like. To putit simply, he didn't want to be seen.
But all of that is now a thing of the past because the once220 pound heartthrob is now tipping the scales at 160. The former Bagets staris once again in top form, all of that thanks to a healthy diet, discipline, andwakeboarding.
As Aga would say, "Exercising is really important. Youshould make it a part of your life already until the day you die. It keeps youyoung; it gives you that feeling of security. Kahit piso lang ang pera mo butif you feel good and you know you look good, then you're on top of the world."
ADVERTISEMENT - CONTINUE READING BELOW
Like Aga, you can enjoy the world of wakeboarding byfollowing these simple steps to avoid kissing the water bubbles: One, sitstill; two, sit comfortably; three, let it happen; and four, grip it. Toexperience it firsthand, visit the top wakeboarding hotspots the country has tooffer: Lago de Oro in Batangas and Camsur Watersports Comples in Camarines Sur.
Grab yourself a copy of "Men's Health" to checkout more ways to become a fitter and stronger you. After all, summer is fastapproaching and washboard abs leave more than a lasting impression.