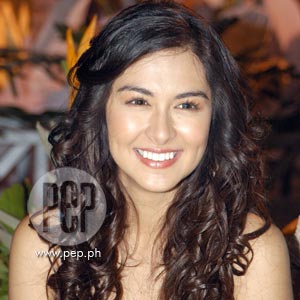 IMAGE 0
---
Television viewers are bombarded with numerous shows year inand year out. And once in a while we are given characters that are so memorablethat they become part of our everyday lives.
We follow their adventures and anticipate every twist and turnthey encounter. We get excited when something new happens to them. We cry withthem when tragedy strikes. We're happy for them when good fortune smiles.But in the end, what matters is the satisfaction of watching their lives unfoldbefore our eyes.
We look at the stars and their television characters of thepast year. They are the stars who left an indelible mark with the charactersthey portrayed and left us longing for them to be part again of our dailyviewing habit.
Kim Chiu and Gerald Anderson (Sana Maulit Muli)
The love team that people followed right after their debutin the hit show, Pinoy Big Brother Teen Edition, Kim and Gerald werefinally given a mini-series of their own. And both did not disappoint theirfans when Sana Maulit Muli premiered at the start of 2007.
Childhood friends Jasmine 'Poknat' Sta. Maria (Kim Chiu) andTravis 'Bokbok' Johnson (Gerald Anderson) promise to write each other as they getseparated upon their arrival in Manila. But fate intervenes and they struggleto have their destinies spun together. Time travel allows Travis to correctthings and make their relationship work out for the better. In the end, Poknatand Bokbok end up together.
Kim and Gerald were later rewarded with a movie I'veFallen for You, which was directed by Lino Cayetano, and shows in ABS-CBNlike Gokada Go and Love Spell presents Cindy-rella. "Kimerald"fans have something to be giddy about as more shows are being lined up for themin 2008.
ADVERTISEMENT - CONTINUE READING BELOW
Jennylyn Mercado & Nadine Samonte (Super Twins)
"Kapangyarihan ngAraw! Taglay ay liwanag. Kambal na lakas. Kami ang Super Twins!" was thetagline of the hit fantaserye.
The telefantasya from GMA-7 was followed by kids all hopingto transform like child stars Nicole Dulalia and Ella Cruz, the lead starsof Super Twins. Withtheir powerful rings, Sha-Sha (Nicole) and Tin-Tin (Ella) transform intoteenage superheroes Super S (Jennylyn Mercado) and Super T (Nadine Samonte),respectively. The twins were guided by a patient Eliseo (Dennis Trillo) whoforesaw trouble brewing. His twin brother, Eliazar (also played by Dennis)sought to have possession the powers of the ring and conquer the world.
Dressed in sailor costume, Jennylyn and Nadine with alteregos Nicole and Ella, were adored by kids because of their passionate search tosave their mother as well. The series ended on a high note, leaving viewerswishing that the Super Twins would fly again.
Jennylyn recently made news with her pregnancy by boyfriendPatrick Garcia She will be on hiatus from the Kapuso network. Fans are hopingto see Jennylyn once again on the boob tube after she delivers her baby. Nadineis part of the cast of the hit teleserye, Marimar, where she playsInocencia.
Eliza Pineda (Maria Flordeluna)
A remake of the dramaseries, Flordeluna that made Janice de Belen popular in the 80's alsomade a star out of Eliza Pineda. Eliza's acting capabilities were already beingpraised when she became part of another ABS-CBN teleserye Mga Anghel naWalang Langit. She was given a chance to shine in Maria Flordelunaand pit acting talents with drama luminaries Albert Martinez, Liza Lorena,and Eula Valdez.
ADVERTISEMENT - CONTINUE READING BELOW
According to Eliza, MariaFlordeluna's last episode scored high in the Davao Cityratings and in the nationwide survey as well. "Mayisang viewer nga po sa Davao ang inatake dahil sa sobrang na-carried away nungnamatay si Flordeluna. Namatay din po siya," Eliza said after the end ofthe series.
Eliza will star in the upcoming Kung-Fu Kids,also on ABS-CBN.
Kokey (Kokey)
When the lovable alien hit the boob tube in August, no one expected that Kokey would become abig star. The television series was a remake of the 1997 movie by Romy Suzara,which starred Carlo Aquino, Ricky Davao, and Cherry Pie Picache.
But Kokey would endear himself not only to young orphan Bong(Joshua Cadelina) but to millions of young viewers. Viewers would watch out forthe misadventures of the two, who go on a search of the parents of Kokey whilethwarting of threats by his mortal enemy, Korokoy.
It also helped that Kokey appeared in practically allABS-CBN shows. He even became part of the music album, ASAP Supah DanceAlbum helping create a dance craze for fans to follow. Kids would evenimitate his manner of speaking, a combination of sing-song and weird accent.
A lot of fans were saddened when the show ended lastNovember. " I shall return," Kokey promised and left viewers to anticipate his comeback.
Yasmien Kurdi and JC de Vera (Pati Ba Pinting ng Puso/ Pasan Ko angDaigdig)
After her successful stint with the primetime series Bakekang,Yasmien was given her first solo soap in the afternoon slot of GMA-7. PatiBa Pintig ng Puso? was a remake of the 1985 Viva movie that starred SharonCuneta and Gabby Concepcion.
ADVERTISEMENT - CONTINUE READING BELOW
"Biglaan ngalang ito. Ibinigay sa akin kung kailan lang. Pinanood ko muna ang pelikula niAte Sharon tapos nagustuhan ko ang movie kaya nag-go na rin ako. I will just domy best na lang para ma-earn ko ang title," Yasmien said at the presscon of theshow where she was introduced as GMA-7's new Drama Princess.
And Yasmine and herteam-up with JC de Vera did not disappoint network executives. The two werelater cast in another remake of a Sharon Cuneta movie, Pasan Ko ang Daigdigwhere the two got to work with director Joel Lamangan and award-winningactress Gina Alajar.
Krystal Reyes and Eunice Lagusad (Princess Charming)
Both Eunice and Krystal came into our boob tube via thedrama series Bakekang in 2006. Because of their popularity during the series, they were given a new show in the afternoon drama program PrincessCharming. Again they charmed the viewers with theiracting talent.
Krystal got an even bigger break when she was given Mga Matani Anghelita. The series was a remake of a Julie Vega movie and the serieswas perfect for her because of their similarities. The 10-year old childactress was very grateful that the show was given to her.
"Hindi nga po ako nakapanood noong pelikula kasi wala na yata silang makuhana kopya. Ikinuwento na lang po sa akin 'yung pelikula at kung sino si JulieVega. Gusto nga po nila ay magbigay ako ng sarili kong style sa pag-arte nahindi ko kinokopya si Julie Vega. Naiintindihan ko naman po ang kuwento nila atginagawa ko po ang makakaya ko para matuwa po sila sa akin," Krystal said.
ADVERTISEMENT - CONTINUE READING BELOW
Sunshine Dizon (Bakekang)
Bakekang was first introduced to us by Carlo J.Caparas in his serialized comics in the early '70s. It was made into a movie in1978 by Nora Aunor. And this was introduced to us in September 2006.
The question of who would portray the title role in Bakekang was very muchtalked about. The choices were Jean Garcia or Angel Locsin or Jolina Magdangal, but Sunshine Dizon eventually got the role.
"I hope I become a better person sa pagganap ko sa roleni Bakekang. It's a wonderful experience sa akin at labis ang pasasalamat ko saGMA-7 na ipinagkatiwala sa akin ang ganitong role, kaya naman pinagbuti ko angpagganap. Nakita naman natin kung ano ang kanyang [Bakekang] character, palabanpero mabait, at wala siyang hinangad kundi ang kabutihan ng kanyang mga anak.Kung may nasaktan man siya, binabawi niya 'yon," Sunshine said of her characterand about being given the chance for her first solo starrer.
Sunshine proved her mettle in portraying a 40-year oldwoman who has two rivaling daughters (played by Yasmien Kurdi and Lovi Poe)."Natutuwa ako na kung minsan nasa labas ako, may biglang lalapit sa akinna nanay at sasabihan ako na, 'Ganoon talaga ang mga anak. Ang anak ko ngaganito, ganoon.' Ang feeling ko, na-convince ko sila sa pagpu-portray ko ngrole."
Sunshine would later team up with Jean Garcia and JennylynMercado in the suspense horror series La Vendetta.
John Lloyd Cruz & Bea Alonzo, Sam Milby & AnneCurtis (Maging Sino Ka Man)
ADVERTISEMENT - CONTINUE READING BELOW
The series that ended May 2007 prompted a return to boob tube last December.
The saga which centersaround the four characters of John Lloyd, Bea, Sam and Anne was closelyfollowed when the drama series began on October 2006. It's dramatic one-linerswere something to watch out for in the first season of the show.
"I never said that I loveyou," JB (Sam) said to Celine (Anna).
Another one goes, withEli (John Llloyd) to Jackie (Bea): "Ikaw ang puso ko. Ikaw ang buhay ko. Ikawlang, Jackie."
The show and the cast members received citations fromvarious organizations. Philippine Movie Press Club (PMPC) chose the show as theBest Primetime Drama Series. John Lloyd was awarded as Best DramaActor.
The four actors continue to be adored in Book 2 of the series, evenif the cast has been expanded with the addition of notable drama actors andactresses like Philip Salvador, Rosanna Roces, and Angelica Panganiban. Thesecond season lets them go deeper into their respective characters and explore morepossibilities in the continuing saga of the Madrigals and Roxases.
Derek Ramsay (Ysabella)
Derek was a relatively unknown actor before thisbreakthrough role was given to him by ABS-CBN. As Mito Valenzuela, the sexychef captured the heart of Ysabella (Judy Ann Santos), forming a lovetriangle with Ryan Agoncillo.
This is first lead role for Derek who was first known forhis hosting skills as VJ on MTV Philippines and host of U Can Dance. Hetested his acting mettle when he starred as villain in Ang Panday and in SuperInggo. And now he's made it to doing more lead roles.
ADVERTISEMENT - CONTINUE READING BELOW
"I'm so happy,kasi kung hindi sila pumayag at hindi nila ako gustong makatrabaho, I wouldn'thave gone this far. Sa point na ito, I learn the value of pakikisama andfriendship in the industry. And you will really be appreciated for what youare. Basta, gawin mo lang nang tama yung ini-expect sa 'yo," Derek saidabout working with Ysabella co-stars Judy Ann and Ryan.
More blessingsfollowed suit for Derek. He signed a four-picture contract with StarCinema in October 2007. He was tapped to join Book 2 of Maging Sino Ka Manwhere he stars alongside his real-life girlfriend Angelica Panganiban. Andhe's looking to return with Judy Ann Santos on her next teleserye.
Marian Rivera (Marimar)
Undoubtedly, the biggest star of 2007, Marian Riveracaptivated everyone for her role in Marimar.
When GMA-7 announced that it had acquired the rightsfor the famous Mexican telenovela, everyone assumed that the title role would go to AngelLocsin. But Angel refused, and an audition was called by the networkexecutives. The new primetime-series queen was crowned when MarianRivera was chosen for Marimar.
"Hindi mabubuo ang primetime soap na ito if hindi namin nakita ang bagongMarimar. And since then, everything fell into place. GMA'7's next big star andour very own Pinay Marimar, Marian Rivera!" declared GMA-7 presidentAtty. Felipe Gozon during the launch of Marimar.
And Marian did not fail. Marimar continues to earnhigh points in the ratings and has had a loyal following every night. Even if itwas a remake, Pinoys still followed this version of the Mexican teleserye in its every plottwist and turn. Marian as Marimar has endeared herself to television viewers of all ages.
ADVERTISEMENT - CONTINUE READING BELOW
Many await with bated breath the ending of theshow this March. But they also anticipate the next show of Marian Rivera,whether she will fly as Darna or swim as Dyesebel.