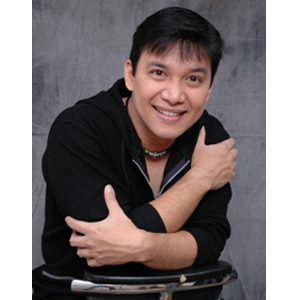 IMAGE 0
---
Richard Reynoso's showbiz career has always been marred with confusing chronological details and trivia. One notion is that he was part of the now defunct youth variety show, That's Entertainment.
"That's one of the biggest misconceptions about me," smiles the former balladeer, shaking his head as he fidgets on the green sofa in the airy living room of his Makati residence one rainy Saturday afternoon.
"I was part of GMA Supershow not That's [Entertainment]," Richard explained. "Supershow kasi, just like That's Entertainment, was being hosted by Kuya Germs [German Moreno]. So, I think doon galing 'yong confusion."
Richard John P. Reynoso gained popularity for crooning the most memorable and heart wrenching Tagalog ballads. But he actually began his career on the wrong "note" when he was just starting to deliver songs in Filipino. He used to be so enamoured with English songs, which ruled the airwaves when he was growing up, that Tagalog songs ironically seemed like a foreign tongue.
He recalled doing a solo spot number when he was still a choirboy in the local church. With the spotlight solely on him, the young Richard fervently sang the middle part of the praise song, "Papuri sa Diyos." Despite the accent brought by the English pop songs he listened to incessantly, Richard managed to hit the right note—but not for long.
"Instead of saying maawa ka sa amin, I said, mahawa ka sa amin," he recalled. People at the mass immediately noticed the blunder and erupted in laughter. But some strict devotees threw him mocking stares, as if they were ready to stone him for messing up the hymn.
ADVERTISEMENT - CONTINUE READING BELOW
"Na-trauma ako," revealed Richard to PEP (Philippine Entertainment Portal) with a slight grin. "Never na ulit akong kumanta ng Tagalog and nag-solo."
GROOMED FOR THE AIRWAVES. Yet Richard never lost his focus and continued to sing—both for the love of it and for recognition.
It was not an easy climb. But like any hard worker, Richard knew that the best way to reach the top was by being consistent and exploring all possible options.
His flight to success started in 1983 when he clinched First Place in the Tagaytay-Mendez Academy musical competition. Inspired and more determined, he joined Bagong Kampeon the following year (1984) and wound up finishing Third Place.
From then on Richard became a fixture in different singing competitions, winning more than one singing tilt every year. Aside from singing, Richard set his eyes on television and in 1986—besting 250 other applicants—he was included in the cast of PTV-4's Chico-Chica, which was conceptualized to counter Kuya Germs, That's Entertainment.
Richard stayed on the show for only a year. But the show was instrumental in making him comfortable singing Filipino tunes as well as facing the camera. He then moved to GMA-7 to host Date-A-Star (1988-1989).
If Chico-Chica was the training ground for Richard to sing Tagalog songs properly, his inclusion in Armida Siguion Reyna's musical, Aawitan Kita, in 1988 polished not just Richard's diction but instilled in him a deeper appreciation forlocal music.
Juggling both his singing and hosting duties, Richard became so prolific in both that he began hosting a lot of events, including beauty pageants which earned him the tag "Dashing Debonair", which also required him to display his vocal prowess. Movie production outfits then started getting Richard to sing movie theme songs as well as act in some of the films.
ADVERTISEMENT - CONTINUE READING BELOW
The singer admits he had some reservations in being identified solely with movie theme songs. "Ang isip ko noon, hindi ba ko pinagkakatiwalaan ng mga 'to, ba't ayaw akong bigyan ng album," he thought, restlessly.
Looking back, Richard did realize that recording movie themes helped him understand the significance of emotions in rendering a song, an important insight that would imbue his songs years later.
Strange as it sounds, Richard was probably the only singer in the history of Original Pilipino Music (OPM) who became a household name even before he had a record out in the market. He even served as a front act to two big international performers—Tiffany and The Jets—when both held separate concerts here in Manila in 1989.
BREAKING THE CHARTS. By 1990, Richard—already a popular singing star—was ready for his long-overdue debut album. Contrary to popular belief, Richard made it big as a recording artist during the early '90s, not during the '80s.
Bolstered by the heartbreaking single, "Hindi Ko Kaya," his album Puwede Ba? (Alpha Records) climbed the local music charts with the single perfectly hitting the sentimental heartstrings of the masses.
"Sarap!" exclaimed Richard, recalling his exhilaration in hearing himself on the radio every hour of the day.
"Alam mo there's nothing more beautiful than actually hearing your song being played on the radio for the first time," he said.
It was also in 1990 that Richard co-hosted the Sunday-afternoon game show, Family Kuwarta O Kahon with Pepe Pimentel. After a year, he was offered a slot in the competing program, German Moreno's GMA Supershow. Recognizing that Richard's singing and hosting chops perfectly fit the Kuya Germs format, Tito Pepe gave his blessing and sent Richard off to the other station.
ADVERTISEMENT - CONTINUE READING BELOW
Puwede Ba? earned a gold-record award before eventually reaching platinum status after a couple of months. With the record still doing very well, Richard released his second record, Bawat Sandali, also under Alpha Records.
Armed with another hit single (and perhaps his more memorable one), "Paminsan-minsan," Bawat Sandali was as successful as its predecessor, achieving gold-record status before shortly reaching platinum.
Interestingly, "Paminsan-minsan" almost never made it as a Richard Reynoso song. The first time Richard heard the song while in the middle of producing Bawat Sandali, it had already been given to a group. Richard admitted that he was heartbroken at the thought that he could never record the song himself.
But Richard was destined to own "Paminsan-minsan." At the last minute the group decided to drop the piece and handed it instead to the balladeer. Richard sang it for his second album and, fortuitiously, it became an OPM and karaoke staple.
"Yong time na 'yon, ang sarap," he reminisced of his heyday. "'Pag labas mo pa lang tilian na 'yong mga tao, intro pa lang tilian na 'yan. Minsan nga, hindi ka pa lumalabas may ibang kumakanta, pangalan mo na ang sinisigaw, e..." he paused before continuing, "Nakakahiya 'yon [embarrassing]."
He smiled, "Lalo na kung medyo nauna pa sa 'yo yong nagpi-perform, nakakahiya 'yon. Pero wala kang magagawa, e. Panahon e, panahon nga yon, e."
SLOWING DOWN. For all his youth in the heyday of his singing career, Richard understood pretty well that fame and money in showbiz are fleeting things. Right from the start, he had no illusion about enjoying all that indefinitely. He never fancied working himself to the bone to keep his name afloat. That was why he saved all his earnings to put up his own six-storey building, with his family occupying two floors.
ADVERTISEMENT - CONTINUE READING BELOW
With the death of his father in 1995 due to cancer, Richard's passion for performing waned. A Marketing Management degree holder at the Philippine Christian University, the famous crooner made his foray into the corporate rat race while sporadically appearing on television and dabbling in other side projects.
Nonetheless, Richard never completely gave up singing as he frequently held shows abroad, the last being at the La Sagesse Theater in Lebanon back in 2003. Two years ago, he held an intimate concert at the Music Museum in Greenhills, San Juan, dubbed as Richard Reynoso One Special Night. Minus all the fanfare that marked his early career, Richard shared that he is happy simply doing what he loves best—singing and performing.
Now living a peaceful life with his flight-attendant wife, Maria Reina Amor, who is currently pregnant with their second child, and their 7-year-old daughter Daniela Ysabela, Richard said that he is pleased with whatever contribution he has made to Original Pilipino Music.
All in all, Richard made six studio albums: Puwede Ba? [1990], Bawat Sandali [1991], Remember Me? [1992], Nag-aalay [1993], Richard Reynoso Na Naman [1996] and the gospel album, Ako'y Narito [2001]. Two greatest- hits collection records were also released in 1992 and 2001.
Hearing his songs on the radio still evokes the same kind of rush, according to him. But asked if he's itching to make a comeback or at least cut another album to re-introduce himself to the younger generation, Richard simply shook his head.
"If you think about it, it takes a certain amount of maturity for someone to sit back and admit na your time is up. For most of us na naranasan kung paano sumikat, mahirap tanggapin 'yon," he said seriously.
ADVERTISEMENT - CONTINUE READING BELOW
"Pero ako, okay na ko, knowing na nagawa ko yong pangarap ko noong bata ako. I still hear my songs on the radio and may mga nag-revive na rin... I'm happy, proud and humbled at the same time," Richard continued pensively.
He recalled being invited to a Sunday musical variety show, along with some of his contemporaries, for a tribute. As the young ones took turns singing the tunes popularized by Richard and some of his peers, a singer-friend apparently was not comfortable playing backup to the youngsters being cheered and applauded by the audience. Sensing his friend's dismay, Richard leaned towards him and whispered sincerely, "Pare, ibigay mo na sa mga bata."
Truly an admirable act of courage and humility, Richard Reynoso's letting go of showbiz fame.