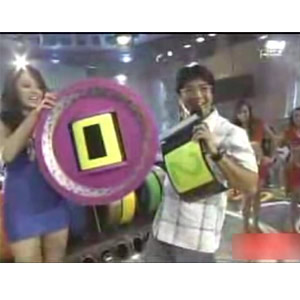 IMAGE 0
---
The Department of Trade and Industry (DTI) filedadministrative charges against ABS-CBN after the agency found irregularities inthe defunct "Wilyonaryo" segment of the noontime show Wowowee.
It was on August 20, 2007 that "Wilyonaryo" becamecontroversial because of the two numbers, "0"and "2," that contained the violet"jackpot" wheel of the said segment.
On September 13, 2007, the DTI organized a fact-finding teamto investigate the incident. The team was composed of the Consumer Welfare Trade Group, Bureau ofTrade Regulation Protection of DTI, representatives from Movie andTelevision Review and Classification Board (MTRCB), Kapisanan ng mga Brodkasterng Pilipinas (KBP), and a consumer organization.
The panel probed the controversy for two months andreleased its recommendations last November 9.
Last night, January 15, Saksi reported that DTI-National Capital Region Area 3, which has jurisdiction over ABS-CBN inQuezon City, filed a case at the Office of the Regional Caretaker ofDTI-NCR, based on investigation conducted by the fact-finding panel.
DTI-NCR, which serves as the court in the case, gaveABS-CBN Network 10 days to answer the charges.
Assistant Secretary Angel Pelayo, DTI-NCR director, saidtheir agency would wait for ABS-CBN's reply to the charges. She reiterated, "Noong January 11, nagsampang formal charge ang Area 3 director ng DTI-NCR sa opisina ko, and the formalcharge is versus ABS-CBN Broadcasting Corp. Nag-send na ng summons, and we arewaiting for their reply."
DTI, however, refused to disclose the details on the chargesand the recommendations of the fact-finding team.
DISAPPOINTED. On the other hand, the network expressed disappointment with the DTI's charges through the following official statement sent to the media:
ADVERTISEMENT - CONTINUE READING BELOW
"ABS-CBN is extremely disappointed with the charges filed bythe Department of Trade and Industry... ABS-CBN categorically denies anywrongdoing or violation of law.
"ABS-CBN reiterates, there was a design flaw in the wheelsbut there was never any intention to gain any advantage over contestants orcontrol the outcome of the contests.
ABS-CBN will answer the charges and is confident that itwill be absolved of any liability."
KBP CLEARS WOWOWEE.Meanwhile, a press release sent toPEP (Philippine Entertainment Portal) by ABS-CBN yesterday, January 15, stated thatKBP has cleared Wowowee over the "Wilyonaryo" scam.
KBP's legal counsel, Atty. Rudolph Jularbal, saidthat their Standards Authority Committee found that there was no cheating afterinvestigating the equipment used in the game and interviewing the Wowowee'sproduction staff.
Moreover, the KBP also reviewed the tape of the episode anddetermined that Wowowee host Willie Revillame was genuinely surprised atthe mistake.
In the end, ABS-CBN welcomed KBP's decision and stated,through its Corporate Communications Head, Bong Osorio, "We've always toldthe truth. And the truth will always come out."
ABS-CBN is a member of KBP.