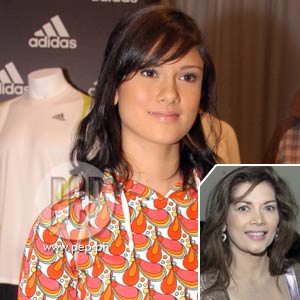 IMAGE 0
---
Young actress Bianca King, along with her parents Suzanne and Brian King, granted an interview with 24 Oras last night, January 16, to defend herself against Jean Saburit's claim that sheis a bad influence on her daughter, Nicole Anderson.
At the time 24 Oras called Jean Saburit, the actress was cryingbecause Nicole had not come home yet. She also expressed resentment against Bianca for nottelling her that Nicole was with her.
Bianca, however, denied this claim. In an interview with Lhar Santiago, the young actress said, "On the day that she [Nicole] had me pick her up, she texted bothher parents, so they both knew that she was with us, with the family..."
Suzanne King, Bianca's mother, supported her daughter with herown explanation. She said, "With Jean,I did text her back but she didn't reply, so I didn't... You know, if I sent it tothe wrong number. I sent it twice againbut she did not even call. Now, Nicoletold me that she agrees and it's okay with her that she's with us because sheknows us."
Bianca also answered Jean's allegation that she is a badinfluence on Nicole. The 20-year-oldactress said, "We could not dictate anything to her and in any way becauseNicole is 18. She has the mind of herown to decide at her peace how she wants to be with her life."
Meanwhile, Bianca's German father, Brian King, defended his daughter bydescribing Bianca as a good daughter. "When my daughter was four orfive years old, I was her walking hero. Well, now, about 17 years later, she's my walking hero. She does everything for her family, shehelps us. She's not only my daughter,she's also my friend," said Brian.
ADVERTISEMENT - CONTINUE READING BELOW
Bianca admitted that she is bothered by the negativecomments about her concerning this issue between Jean and Nicole. She reiterated that she nevermeddled in their problem
She said, "Hindi po siguro kami nakikisawsaw in anyway, kasi all we would do during the time that Nicole was really under our roofis encourage her to make peace with her mom."
In the end, Bianca left a message for Jean. She said, "Sorry for any pain your feelingand we hope that whatever issues that you have with Nicole, that you both beable to settle it soon because she needs you."
GMA-7 News tried to contact Jean Saburit again but the actressrefused to give another interview. The actress said that she would consult hislawyer first before making any further statement.