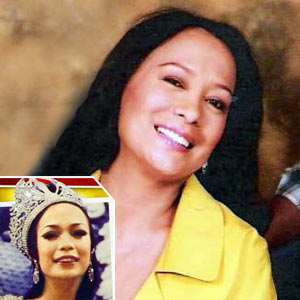 IMAGE 0
---
Crowned and celebrated beauty queens have a special place in the hearts of Filipinos. Our society puts a premium on women who embody beauty-both inside and out. Men gaze at them and fantasize blissfully. Women look up to them as models of grace, femininity, and confidence. Filipinas who win in international beauty contests land on the front pages and are raised on a pedestal as national symbols.
The "idol phenomenon" in the Philippines is so intense that "everybody almost worships the winner, moreover a world beauty title holder," wrote newsman Felix Manuel in Manila Standard Today (February 26, 2005).
In a similar vein, Nicholo Paulo Ventura, moderator of pageant Web sites and a sociology senior at the University of Santo Tomas, says in his case study on beauty pageants, "A Filipina winning a beauty title abroad is already a good reason for poverty-stricken Filipinos to smile."
Before a contestant can win the crown for perfect beauty, however, she hurdles many trials. She must have the discipline to adhere to a strict beauty regimen and rigid dietary requirements. Modeling lessons are about walking regally, whether in a skimpy swimsuit or fabulous evening gown. The potential beauty queen must also improve communication skills and overcome stage fright during interviews with the judges.
Given these challenges, what entices women to join beauty contests?
According to journalist Manuel, who's also a beauty expert, "A beauty title is a good credential on a lady's resumé! It's also a sure passport to getting job offers, be it in modeling, in the movies or even on television."
ADVERTISEMENT - CONTINUE READING BELOW
Indeed, several of the most beautiful faces to grace the boob tube and the big screen today came from beauty pageants.
PEP lists down the top beauty queens who have successfully established a name for themselves in the showbiz industry. They have gained more fame not only for their beauty and grace but for their talent in the performing arts as well.
Presenting the beauty queens who turned showbiz celebs, in alphabetical order:
Alma Concepcion. Her filmography dates back to 1994, when she competed in the Bb. Pilipinas beauty pageant while still a Tourism senior in the University of Santo Tomas. Alma Concepcion was crowned 1994 Bb. Pilipinas-International, while Charlene Gonzalez was named Bb. Pilipinas-Universe.
Alma first appeared in Massacre Files (1994) and was last seen in the GMA-7's Daisy Siete: Ulingling. In 1996,Alma was even nominated for Best Supporting Actress in the Gawad Urian. She said: "On my second movie, Sa Ngalan ng Pag-ibig, I got a nomination. I didn't consider it as work because I find it easy." ( PEP Finder, March 6, 2007) For this Maryo J. de los Reyes film, Alma played the role of a mistress to Christopher de Leon.
Alma was a contract star of Regal Films and she starred in the sexy flicks, Halik (1998) and Kamay ni Eva (1999).
Aside from being a single parent to her son Cobie, Alma keeps herself busy by attending to her restaurant. She runs the Santolan Road branch of Persiana Grill, known for its Middle Eastern food, like kebab and shawarma.

Gloria Diaz. During the Miss Universe pageant in 1969, host Bob Barker asked the last, crucial question to Ms. Gloria Diaz: "In the next day or so, a man will land on the moon. If a man from the moon landed in your hometown, what would you do to entertain him?"
ADVERTISEMENT - CONTINUE READING BELOW
She immediately answered, "Oh! Uh, just the same things I do. I think if he has been on the moon for so long, I think when he comes over he wants to change, I guess."
For her quick wit and unparalleled beauty, Gloria Diaz became the first Miss Universe from the Philippines.
Gloria's launching film was director Celso Ad Castillo's Ang Pinakamagandang Hayop sa Balat ng Lupa in 1974. Over the years, she has proven herself fully capable in drama and comedy roles both on the boob tube and the big screen.
Her box-office mettle and acting prowess earned her the Best Supporting Actress trophy from the Filipino Academy of Movie Arts and Sciences (FAMAS) for her role as a spinster adoptive mother in Nasaan Ka Man (2005).
Her showbiz career is still going strong. She played Charito, the mother of Ryan Agoncillo in the blockbuster hit Kasal Kasali Kasalo (2006) and its sequel Sakal Sakali Saklolo (2007). Gloria's performance as the difficult mother-in-law of Judy Ann Santos in Kasal Kasali Kasalo got her a Gawad Urian nomination.
With her list of film and TV credits now reaching almost 60, the first Miss Universe is not slowing down anytime soon. She is slated to be part of the comedy TV series Utoy, making Ms. Gloria Diaz the epitome of a beauty queen who continues to reign in the entertainment scene.
Alice Dixson. When Jessie Alice Salones Dixson joined the Bb. Pilipinas competition in 1986, she bagged the special awards of Miss Photogenic and Miss Talent, aside from being named Bb. Pilipinas-International. The talented beauty queen became widely known for her screen name Alice Dixson. She became a household name for playing Faye, the fairy wife of Vic Sotto in the top-rating '80s sitcom Okay Ka Fairy Ko. Her popularity increased further when she was tapped to play the mermaid Dyesebel in the 1990 film opposite Richard Gomez.
ADVERTISEMENT - CONTINUE READING BELOW
Despite support from her fans, Alice decided to give up her showbiz career for love. Her then fiancé Ronnie Miranda was jealous of Vic Sotto's closeness to his onscreen partner. Alice decided to leave Okay Ka Fairy Ko and migrate to Canada after marrying Ronnie.
However, the limelight beckoned Alice once more and in 2002, she came back to the Philippines to shoot the TV series Ang Iibigin Ay Ikaw, starring with Christopher de Leon and Richard Gomez. This was followed by Hanggang Kailan (2004) where she shared top billing with Christopher de Leon and Lorna Tolentino.
Her last appearance on the big screen was in the 2005 Metro Manila Film Fest entry Enteng Kabisote 2: Okay ka fairy ko...The legend continues. In the original TV series, Alice played Faye, the love interest of Vic Sotto; in the movie version, she played Ina Magenta, the mother of Faye.
After experiencing popularity from winning a beauty pageant to performing memorable roles in various projects, Alice Dixson can definitely say-to quote her famous shampoo commercial-"I can feel it!"
Charlene Gonzalez. The 1994 Bb. Pilipinas pageant was very memorable for Charlene Gonzalez not only because she won the Bb. Pilipinas-Universe crown; it also paved the way for her to meet her future husband. Although Aga Muhlach had known Charlene since she was 11 years old, he took special notice when she joined the Bb. Pilipinas pageant where he was one of the judges.
At the Miss Universe 1994 pageant held in Manila, Charlene stood out for her witty answer to the question, "How many islands does the Philippines have?" She boldly asked back: "High tide or low tide?" In the end, Charlene won the Best National Costume award and was one of the top 6 finalists.
ADVERTISEMENT - CONTINUE READING BELOW
Charlene was fawned over by the public and became a part of local tinseltown. She started out in the '90s sitcom Oki Doki Doc where she was paired with the matinee idol Aga. He proposed to her during a Singapore trip in 2000 and they got married in Baguio City the following year. They are now parents to twins Atasha and Andres.
In her launching film, Charlene played the lead role in Ikaw ang Miss Universe ng Buhay Ko(1994). But her biggest break came when she was tapped to host ABC-5's Eezy Dancing and ABS-CBN's Keep On Dancing. For almost seven years, she hosted the lifestyle show At Home Ka Dito.
Charlene has shown that beauty queens can certainly cross over to other fields in entertainment by honing their talents and by having connections in the industry.

Ruffa Gutierrez. From the moment Ruffa Gutierrez was born, she was already part of the local entertainment scene. Being the unica hija of the 60's matinee idol Eddie Gutierrez and actress-turned-talent manager Annabelle Rama, Ruffa was destined to be part of the glamorous world of showbiz.
She started out by hosting the GMA Supershow with German "Kuya Germs" Moreno. Ruffa brought honor to the country when she was named Second Princess and Asia's Queen of Beauty in the Miss World Beauty Pageant in 1993. The statuesque queen then turned her sights on local showbiz and played the title role in the film Loretta (1994) and was part of the fifth edition of the Shake, Rattle and Roll series.
ADVERTISEMENT - CONTINUE READING BELOW
But she suffered a setback when she was involved in the 20th Metro Manila Film Festival scandal. She was able to bounce back after the trophy-switching fiasco and regained her prominence in showbiz.
Her grand wedding with Turkish businessman Yilmaz Bektas was big news. However, the four-year marriage ended and became controversial when Ruffa and Yilmaz exchanged harsh accusations in public. To date, they have remained civil towards each other, mainly for the sake of their two growing daughters, Lorin and Venice.
Ruffa was originally a GMA-7 talent, like her twin brothers Richard and Raymond. However, she transferred to the Kapamilya network where she eventually replaced Kris Aquino as co-host in the talk show The Buzz.
She was also handpicked to host Philippines' Next Top Model, the local version of the reality series America's Next Top Mode.
Ruffa was last seen on the big screen for the MMFF entry Desperadas (2007). She is currently shooting her next movie, Monster Mom, which also stars her formidable mother, Annabelle Rama.
Melanie Marquez. The multi-talented Melanie Marquez is passing on her knowledge to the next generation of beauty pageant contestants. She is best known for winning the Miss International beauty pageant in Tokyo, Japan, in 1979.
Being a former model, Melanie has earned for herself a reputation for grooming some of the most beautiful women in pageant history. These include trained Ruffa Gutierrez, Miss World 1993 2nd Princess; Charlene Gonzales, Miss Universe 1994 finalist; and Miriam Quiambao, Miss Universe 1999 1st Runner-up. She is also known for establishing her own school for aspiring models, beauty pageant contestants, and actresses.
ADVERTISEMENT - CONTINUE READING BELOW
Aside from taking part in around 25 movies and TV shows, Melanie has also tried her hand at producing films, namely, Inay (1992) and Angel on Fire (1995). As a celebrity endorser, Melanie is the face of a popular skin whitening product. She was last seen on television in the show Love Spell: Line to Heaven in 2007.
Melanie is living proof that beauty queens stand out for their well-rounded personality, not just their face value.
Pilar Pilapil. In her glory days, Bb. Pilipinas 1967 Pilar Pilapil was linked to the late Fernando Poe Jr. and Dolphy. Although they were both much older than Pilar, she felt a deep connection with the two men in her life. However, their romance did not blossom for various reasons and Pilar chose the late former vice president of the land, Salvador "Doy" Laurel as her partner. They were blessed with a daughter whom they named Pia.
Pilar's filmography spans three decades and she has received a Gawad Urian Best Best Actress Award for the 1986 film Napakasakit Kuya Eddie. As a freelancer, she is able to work in the two leading networks. She appeared in Marimar as Dolores Aldama and is now cast as Lady Elle in Lobo.
During the January 23 press conference of Lobo, she still exuded the elegance and poise of a beauty queen. When asked what made her accept the role of a fashion icon in ABS-CBN's upcoming soap opera, Pilar said, "Showbiz is very dear to me...and also because I believe in this project."
ADVERTISEMENT - CONTINUE READING BELOW
She added another feather to her cap when she released her tell-all book titled The Woman Without a Face. Pilar became a celebrated author when she shared her colorful life story in her book launched in March 2006.


Miriam Quiambao. Miriam Quiambao endeared herself to the public when she bounced back after a fall (literally!). During the pre-pageant night of the Miss Universe Pageant, the 1999 Bb. Pilipinas-Universe title holder fell flat on her bottom onstage but quickly regained her composure.
In fact, her quick recovery was used to her advantage since she ended up being first runner-up in that same year's Miss Universe Pageant. The incident cinched for her an endorsement for a donut brand that asked her to shoot a commercial wherein she fell on the floor and donuts went flying all over the place.
Miriam is best remembered for hosting Extra! Extra! (which was reformatted as Extra Challenge)with co-host Paolo Bediones. She was also a host of the lifestyle segment of the morning show Unang Hirit.
She temporarily left showbiz to be with her Italian husband Claudio Rondinelli but she came back when her marriage fell apart. She was again paired with Paolo in the travel show Pinoy Meets World. She now hosts Palaban (with Winnie Monsod and Malou Mangahas) on GMA-7.
With poise and quick thinking, women can definitely surpass embarrassing moments-just like Miriam.
Precious Lara Quigaman. Bb. Pilipinas-International Precious Lara Quigaman won the in the Miss International beauty pageant held in Tokyo, Japan, in 2005. The last Filipina to take home the crown was Melanie Marquez in 1979. This makes Precious the fourth Filipina to be named Miss International winner after 26 years of waiting.
ADVERTISEMENT - CONTINUE READING BELOW
Precious first appeared on the GMA-7 shows Encantadia and Bubble Gang but is now more active in rival station ABS-CBN. She is currently one of the hosts of Wowowee and a mainstay of the sitcom That's My Doc where she is paired with Aga Muhlach. She also appeared in the indie film Umaaraw, umuulan (2006), where she played Ryan Agoncillo's woman of his dreams.
All these prove that Precious is definitely a gem of a woman!
Joanne Quintas. Like fellow beauty queen Alma Concepcion, 1995 Bb. Pilipinas-Universe Joanne Quintas was launched in the Joey Reyes film Massacre Files (1994). This movie tells the story of a group of coeds played by Joanne, Alma, and Rochelle Barrameda.
Since then, Joanne has been playing character roles in movies such as Abakada Ina (2001) and in TV shows such as Anna Karenina.
This carefree and outspoken beauty queen and actress is also a professional makeup artist for Shu Uemura and a business owner of Warehouse 135, a club in Makati. Joanne also became the 2003 Mrs. Philippines-World title holder after she became the mother of three children.
Her last TV appearance was for the GMA-7 TV series Impostora, where she played the stereotypical yet much-needed onscreen sidekick who provided comic relief during heavy dramatic scenes.
Joanne makes it a point to maintain her youthful appearance so that she can represent the Philippines not only during her youth but even after reaching motherhood.
As in any beauty pageant, we're sure that you have your own runners-up to this Top List of beauty queens-turned-showbiz icons. Feel free to discuss them in the comments section below.
ADVERTISEMENT - CONTINUE READING BELOW