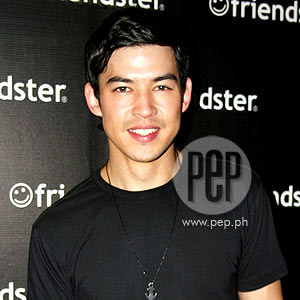 IMAGE 0
---
Jon Avila was hesitant at first to reveal his Valentine's date at the launching of the Friendster Fan Profile at Taguig City yesterday afternoon, January 23. But the former Pinoy Big Brother celebrity housemate has something planned for his special girl.
"I'm not sure. I'm thinking, I'm gonna cook. Siguro, in an intimate location," was his short answer.
But how does a heartthrob like Jon woo a girl?
"Sweet text. Just to let them know I'm thinking about them. You know, buy little gifts, you know, like small things, simple things. I appreciate the simple things," he said.
But when pressed if PBB host and ex-special guest housemate Mariel Rodriguez will be Jon's date for the special occasion, Jon hesitated.
"I wanted it to be her. We're still in the process of getting to know each other. It's fun. We're having fun," the 22-year-old model said.
"Everyone has their special someone in their life. I'm not really with anyone at this time." Jon said he is busy with his goal of making the transition from model to actor. "This what I wanted to do in the first place a few years ago. I mean, it's about time na."
LEARNING TAGALOG. Jon was dubbed as the "English Outcast during the PBB Celebrity Edition 2 last year. He disclosed his difficulty in learning Pilipino. "I'm really going for it. I'm trying to give it a go. But the thing is mahirap i-memorize yung mga Tagalog lines. So, I'm more concentrating na on delivering the lines properly. My acting skills will take a bit... Well, my acting skills are there but the language barrier..."
ADVERTISEMENT - CONTINUE READING BELOW
The model-actor is trying his best though.
"I'm reading komiks. I'm reading tabloids, not on a regular basis. But minsan, hindi ko naintindihan what I'm reading. But it helps to read. My technique... actually, I got told by a studio director na to read komiks, 'tapos you record your voice in the mirror. That's one thing now I'm trying to do every night para I can learn the language.
"It takes practice. The best way it is to speak. Panay ako Tagalog nang Tagalog. I mean. I'm trying to speak my best Tagalog right now. I mean, every time I have a conversation, I practice it naman."
Jon is also happy that he has a lot of relatives here, especially in Bulacan.
"Actually, I'm going tonight to visit them. They're gonna pick me up and take me to Bulacan. I miss my Mom na rin. She's in Bulacan. I'm actually seeing her tonight. She's making kulit na, 'C'mon visit.' The church is holding a party for me because they supported me through PBB. You know, I want to give something back and I'm gonna stay at the party," he narrated excitedly .