Metro Manila and 12 more regions and provinces are under enforced quarantine for another two weeks.
The Enhanced Community Quaratine has been extended to May 15 from its original end date of April 30.
Regions under ECQ include Metro Manila, Central Luzon, and Calabarzon.
The ECQ covers the provinces of Benguet, Pangasinan, Mindoro Island, Albay, Catanduanes, Panay, Cebu, Davao del Norte, Davao de Oro, and Davao City.
Since March 17 when the ECQ was enforced, residents of these areas have been asked to strictly obey rules that, as our officials put it, can serve as our small contribution to help "flatten the curve" of COVID-19.
Here is a refresher of the ECQ rules that are the "new normal" for the next two weeks.
1. First and most important rule: Stay at home. Do not leave the house for anything non-essential.

Violators of the enforced quarantine will be apprehended. From March 17 to April 21, the Philippine National Police (PNP) has recorded a total of 136,517 quarantine violators nationwide.
In a virtual press briefing on April 21, PNP Chief Police General Archie Gamboa said 99,986 got warnings from authorities, roughly 6,000 were fined, and more than 30,000 were arrested.
The PNP Chief added that they will no longer issue warnings against violators. All violators will be arrested.
2. Only one person per household can go out of the home to access the household's basic necessities.
Establishments allowed to operate during ECQ—such as supermarkets, drugstores, and banks—have reduced operating hours. So check their social media accounts for regular updates on schedules.
Supermarkets usually open at 10 a.m. Be there by 8:30 a.m. This is because you have to be ready for a long queue—of people standing one meter apart—and are likely to wait an average of one hour-plus before you get to the entrance.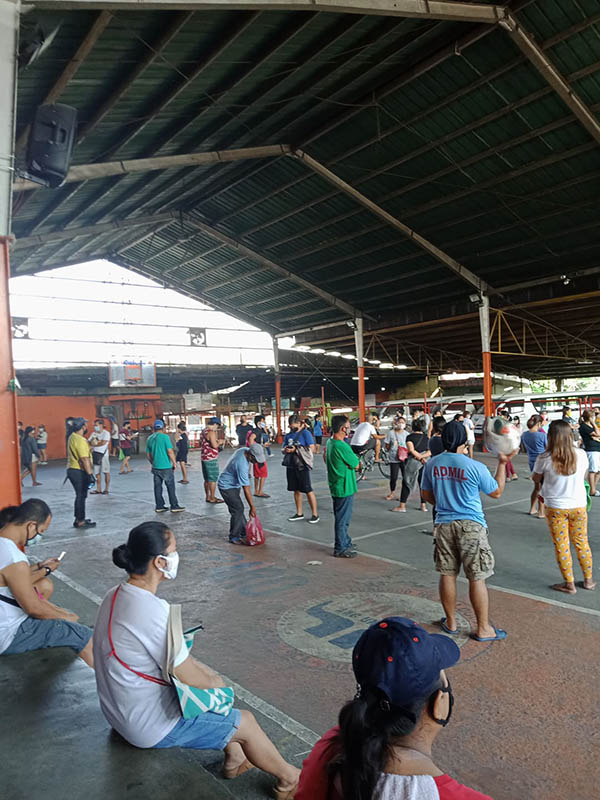 Most supermarkets implement the "one entry, one exit" policy. A shopper has to wait for another customer to leave the store, before he/she is allowed in to start his/her own grocery shopping.
With this in mind, allot a total of three to four hours for your next trip to the grocery store.
If you opt to do it hassle-free, online grocery shopping is an option.
Supermarkets are open until 7p.m., while most banks close at 3 p.m..
3. In supermarkets and groceries, children, expectant mothers, and senior citizens are not allowed entry. These groups are among the most vulnerable to the novel coronavirus disease and must remain inside their homes.

As for banks, go to their website to find out their rules covering senior citizens and expectant mothers. If there are helplines, call and ask for information before physically venturing into the bank.
4. When stepping out of the house, always wear your mask and bring your local government-issued quarantine pass.
Some local government units (LGUs) are very strict about the quarantine pass, and will actually ask for a valid ID to verify if it really belongs to you.
Always bring at least one government-issued ID whenever you leave the house.
It is also advisable to buy food and do grocery shopping within your barangay or in areas closest to your home. To avoid trouble, you should not cross cities to access basic necessities.
5. Strictly observe social distancing. This means staying away from crowds. It also means being at least one meter away from each other wherever there are people.
Some local governments came up with M-W-F, T-Th-S schedules for their barangays. These indicate the days when people are allowed to go market to buy fresh produce. They do this to prevent overcrowding, but they should explain the system to residents.
It is also important to remember that most LGUs are alert about temperature checks and physical distancing in wet markets.

If you feel feverish, don't go. If you are sneezing and coughing, don't go. If you have a running nose, don't go. Even if you pass the temperature drones, people around you may ostracize you.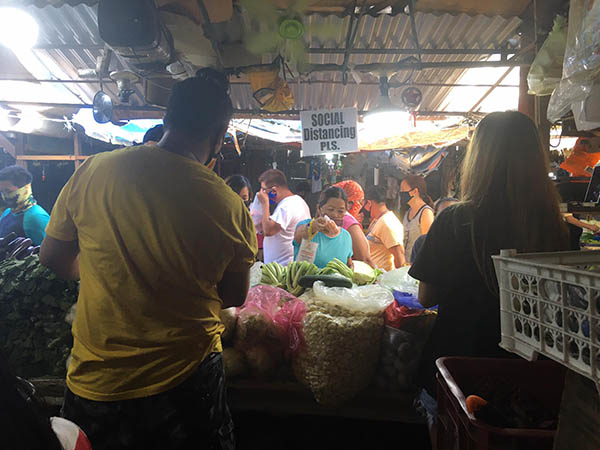 Some markets also practice the "one entry, one exit" policy. Again, this means one has to be ready to patiently wait in line to get in—yes, even in a wet market.
6. Local government units are strictly implementing curfew hours from 8 in the evening to 5 in the morning.
Walk the dog, take out the garbage, clean your sidewalk, prune trees in front of your house—do all the things you need to do before 8 p.m.
In case of an emergency and you need to leave the house past curfew time, bring a valid ID and inform the barangay tanod or the police officer guarding your community about the emergency.
Frontliners who might still be out on the streets after curfew will have to show their company ID to law enforcers.
Authorities strictly enforce curfew hours. Violators will be arrested.
7. Only Authorized Persons Outside of Residences (APOR)—namely, frontliners, employees of essential services, emergency responders, media and others—are allowed to pass quarantine control checkpoints.
If you fall under the APOR list, verification will be demanded. Be prepared to show a company ID, or a certificate saying you are authorized by the company to travel to and from work.
A medical emergency, of course, is always the exemption.
But if you are not an APOR and your "essential travel" takes you to EDSA, you are certain to be given a ticket by enforcers of the Philippine National Police-Highway Patrol Group (PNP-HPG).
Enforcers will confiscate your license and most likely slap you with a fine of PHP1,000.
The PNP-HPG will flag down—and issue tickets to—vehicles carrying an APOR if he/she has a companion who is not an APOR, even if it is the driver.
"Kapag may pasahero tayo na hindi awtorisado, maigi po na bumalik na lang tayo, dahil 'yan po ay matitiketan tayo," PNP Spokesperson Police Brigadier General Bernard Banac said in an interview with DZBB on April 13.
All told, avoid all this by not getting behind the wheel—unless truly needed—for now.
The rules make sense. We need to do our best to help flatten the curve.