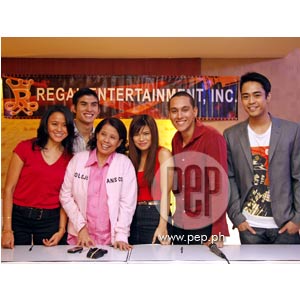 IMAGE 0
---
Regal Entertainment celebrated Chinese New Year with asurprise.
Regal matriarch Lily Monteverde presented her four newestadditions to the famous Regal babies last February 7, at the ImperialPalace Suites in Timog Avenue, Quezon City. They were Denise Laurel, Eri Neeman, Brent Javier, and Carlos ErmitaAlvarez.
"These are my angels," said the movie producer, describingher new talents. Mother Lily said thatas Regal talents, these four young actors will have two to three projects" this year.
Standing beside her mother, Regal producer RoselleMonteverde-Teo talked about how Regal would project these new talents to theviewers.
"Definitely, the youth of now," said Roselle about theirplanned packaging for the four Regal babies. "Role model for the youth. Sanathey'll be able to portray roles na parang ano...puwede silang maging superhero safantasy, mostly wholesome. Puwede ringromantic comedies."
Roselle also described how she felt about the newest batchof Regal babies. She said, "Excitedkasi siyempre may kanya-kanyang look sila, they have their own characters napuwede talagang abangan."
Then, a reporter asked a message from Mother Lily for thefour new talents. The Regal Matriarchsaid, "Welcome to the...," then pause for a while. The reporter suggested "family" but Mother Lily thought, "No, itis too formal."
In the end, Roselle told Denise, Eri, Brent, and Carlos,"Welcome to the craziness."