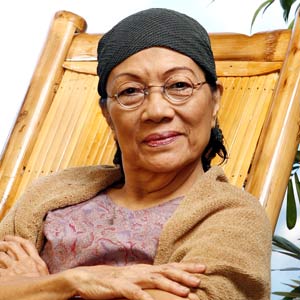 IMAGE 0
---
Movie critics, and even showbiz celebrities themselves,admit that the Philippinesalready has too many actors. A newcomer can easily go down if he/she does nottake care. There are always others who awaittheir turn patiently and can immediately replace them. The worst that canhappen is when viewers forget these talents in a snap, especially when theyhave not yet made a mark in the industry.
On the other hand, there are those who have been in showbizfor many years and have constant movie and television projects. They take on supporting roles that are vitalto a story but their acting skills are not recognized. Since viewers are more focused on the leadactors and actresses, most of these secondary actors remain in their shadow.
Tiya Pusit and Eugene Domingo, for example, are bothincredible comediennes yet they were given an award only last year. Although, for some actors, awards do notreally matter as long as they do they job well, the public recognition inspiresthem to work harder and be more easily recognized by audiences.
Starting off with two actresses, PEP now gives you the otheractors who also deserve your attention while you're watching a local movie orTV show. Do you remember them?
Ronaldo Valdez. RonaldoValdez is the famous father of actor-singer Janno Gibbs, who is fond of imitatinghis father's actions.
For younger generations, Ronaldo is better known as a comedyactor. But this veteran actor hasalready played different roles, like villains in his earlier years and dramaticroles in the teleserye Mula sa Puso (1997) and Sa Dulo ng WalangHanggan (2001).
Ronaldo's ability to do dramatic roles has been proven byseveral awards and nominations for Best Supporting Actor. He won in Gawad Urian and FAMAS for MayMinamahal (1994), and in the FilmAcademy of thePhilippines (FAP) Awards for the movie Nasaan ang Puso (1998).
ADVERTISEMENT - CONTINUE READING BELOW
In 2006, Ronaldowas seen in a different movie genre. Heplayed a secondary role as Fred, the father of Kris Aquino and ClaudineBarretto, in the horror-suspense movie Sukob. Although it was just a supporting role, his character was significant inrevealing the origin of the family curse.
His role as Nene Mulingtapang in Bahay Mo Ba 'to? (2005)was perfectly combined with that of the more popular comedienne Tessie Tomaswhose character was Baby Mulingtapang-Benoit. Their team-up not only made the viewers laugh but also taught somelessons about siblings.
Ronaldo now plays the role of Lolo Pepe in the telefantasya Kamandag.He is the father of Alicia (Eula Valdez), who is the mother of Vergel/Kamandag.
Eva Darren. Evastarted appearing in movies during the early '60s, mostly in supportingroles. Unlike Tiya Pusit, recognitionfor Eva's acting talent did not take more than a decade. FAMAS which gave herthe Best Supporting Actress for the movie Ang Pulubi (1969).
Eva usually plays the role of a mother. In 1998, the veteran actress was againnominated for Gawad Urian Best Supporting Actress in the movie Ligaya angItawag Mo sa Akin (1997). Eva playedthe mother of Ricky Davao, a loving husband to his wife (Rosanna Roces), wholeft him for another man (Gardo Versoza).
Another memorable mother role of Eva was in the hitteleserye Pangako Sa'Yo (2000). She played the adoptive mother of Yna Macaspac (KristineHermosa). As a mother, she saw thehardships that Ina went through in the hands of the powerful landlady ClaudiaBuenavista (Jean Garcia).
If not a mother, Eva would be the trustworthy householdmaid. In the recently concludedsineserye Patayin sa Sindak si Barbara, Eva was the old "kasambahay" whowas also a fortuneteller. She predictedthat something bad would happen to Barbara (Kris Aquino) and told that heryounger sister Ruth was trying to take revenge.
ADVERTISEMENT - CONTINUE READING BELOW
This year, Eva will be part of the movie Ate, whichstars the sisters Ara Mina and Cristine Reyes.
Daria Ramirez. DariaRamirez is the mother of comedian-actor Keempee de Leon. She's been part ofseveral movies since the '70s, mostly drama films like Lumayo Ka Man sa Akin(1992), Paminsan-minsan (1992), and Goodbye America (1997).
Like Eva Darren, Daria Ramirez was also known as an actresswho could play the mother role effectively. For almost five years, people who followed the teen-oriented Sunday showtitled Tabing Ilog knew Daria as Aling Esper, the mother of Eds orPonyang (Kaye Abad).
Although she gets only supporting roles, Daria has alreadybeen acknowledged for her fine skill in acting.She may not be a very popular actress but Daria already has two GawadUrian Best Supporting Actress Awards for Aguila (1980) and Sino'ngKapiling? Sino'ng Kasiping? (1977).She also had four nominations under the same category, three of whichwere in Gawad Urian (for the movies Damong Ligaw (1997), Hubad naBayani (1977), and Nunal sa Tubig(1976); the other nomination was from the Film Academy of the PhilippinesAward for Panaghoy sa Suba.
Daria's last project, which also required her to be amother, was the movie Batanes that topbilled Iza Calzado and Taiwaneseactor Ken Zhu.
Soliman Cruz. Soliman Cruz is more popular outsidemainstream filmmaking. Most of hisrecent projects are independently produced films.
Soliman bagged the Best Performance by an Actor in a SupportingRole when he perfomed as the father of Maxi, the teenage boy in the highly popularindie film Ang Pagdadalaga ni Maximo Oliveros (2005).
The following year, Soliman got busy with different indiefilms. Some of these were Lasponggols,Rotonda, Kubrador, Imahe Nasyon, Seroks, and Selda.
Soliman proved that he can also do good in mainstream movieswhen he was cast as the father of Judy Ann Santos in Kasal, Kasali, Kasalo (2006). His stint in this movie earned him anomination in the 2007 Gawad Urian for Best Supporting Actor.
ADVERTISEMENT - CONTINUE READING BELOW
His role was followed by another movie, of course, when StarCinema did the KKK sequel Sakal,Sakali, Saklolo last year in time for the 33rd Manila FilmFestival.
Right now, Soliman is part of GMA-7's fantaserye Kamandagas one of the Ambog, a half-human and half-ape creature.
Susan Africa. Susan Africa became popular in the longest-runningteleserye, Mara Clara (1993). Shewas the troubled mother of long-suffering Mara (Judy Ann Santos).
Unlike the artists mentioned earlier, Susan has not won anyaward. Yet her many projects over the past decade are proof enough of hercompetence as an actress.

Susan always gets a role in teleseryes, especially inABS-CBN. After Mara Clara, shebecame part of some popular primetime soap operas like Sa Dulo ng WalangHanggan (2001), It Might Be You (2003), Krystala (2004), Palimosng Pag-ibig (2007), and Walang Kapalit (2007).
She is now part of the fantaserye Lobo, which openedlast month in ABS-CBN Primetime Bida.
Juan Rodrigo. JuanRodrigo started in showbiz in the early '80s.His early projects include memorable films like Annie Batungbakal (1979),Kisapmata (1981), and Moral, which earned him the Best SupportingActor Award from FAMAS in 1983.
Mara Clara followers would also remember Juan asAmante, a disciplinarian to his daughter Clara (Gladys Reyes) and a loving husband.
Juan Rodrigo also played supporting roles in severaltelenovelas. Among these primetime soapoperas were Mula sa Puso (1997), Saan Ka Man Naroroon (1999), PangakoSa'Yo, Sa Dulo ng Walang Hanggan (2001),Forever in My Heart (2004), and Ysabella (2007).
Juan started the New Year by playing the character of DonAugusto, father of Rosita (Nadine Samonte), in the afternoon teledrama MagingAkin Ka Lamang.

Nonie Buencamino. AlthoughNonie Buencamino already has received several distinctions from knownaward-giving bodies in the country, some viewers do not recognize him becausemost of the characters he played were only secondary.
ADVERTISEMENT - CONTINUE READING BELOW
He became part of the multi-awarded film Milagros in1997, which also gave him an opportunity to grab a Best Supporting Actor awardfrom Star Awards. Nonie also bagged thesame award for the movies Batad sa Paang Palay (2006)and Sibak(1994).
Nonie is also a regular in the indie scene. Among the independently produced films heparticipated in were Cinemalaya's ICU Bed #7 (2005), Gawag-Kalinga film Paraiso:Tatlong Kwento ng Pag-asa (2007), and Ataulfor Rent (2007)
Today, Nonie is part of the cast of GMA-7's E.S.P.,which replaced Magpakailanman shown every Thursday.
Irma Adlawan. IrmaAdlawan first became prominent in theater. However, armed with her training onthe stage, Irma easily made it to movies and television.
Irma's remarkable performance in the sexy dramatic movie Tuhog,which stars Ina Raymundo and Klaudia Koronel, won her a Best Actress Award fromGawad Urian in 2001.
In another indie drama, Irma was nominated as Best Actressin the 2006 FAMAS Awards for her character Marta in the movie Mga PusangGala. Marta was the tenant-neighborof Boyet (Ricky Davao) and they both intended to take revenge on people theyused to love.
Irma also performed well in the soap operas Encantadia(2005), Maging Sino Ka Man (2006), Marimar (2007). Presently sheplays the character Clara Rivero in Lobo.
Pen Medina. Pen Medinawas in PEP's Top List of villain roles. Among the featured artists, Pen may oneof the busiest supporting actors in television today yet he does not get muchattention from the audience.
Pen is currently plays a part in the new fantaserye JoaquinBordado and in the suspense show E.S.P., which replaces the Thursdaydrama Magpakailanman.
His role as a bully to Cogie Domingo in the movie Death Row earned him an award from Film Academyof the Philippinesfor Best Supporting Actor. His stint in Muro-amiearned him recognition as Best Supporting Actor in the 1999 Metro Manila FilmFestival and two other nominations in the FAP Awarda and Gawad Urian.
ADVERTISEMENT - CONTINUE READING BELOW
Other films he joined that got him nominated for movieawards were Sakay (1993), Segurista (1996), Ligaya ang ItawagMo Sa Akin (1997), Lagarista (2000) and Ebolusyon ng IsangPamilyang Pilipino(2004).
Caridad Sanchez. Caridadcan be considered as the most veteran among the actors featured in this Top List. Starting out in the late '50s, Caridad has donemore than 70 films, mostly in supporting roles.
Caridad had 12 nominations for Best Supporting Actress in theFAMAS Awards and in Gawad Urian. She haswon two Best Supporting Actress awards from FAMAS for the movies Maalaala MoKaya: The Movie (1994) and Bagong Buwan (2001). Star Awards for Movies gave her a LifetimeAchievement Award in 1999.
Today, Caridad often gets the role of either a grandmotheror an old mother.
In the CineManila entrySaan Nagtatago si Happiness, Caridad played the character ofSotela Esteban, the mother of the main character named Tikyo. In the teleserye Marimar, the dramaactress played the role of Marimar's(Marian Rivera), Lola Cruz, the wife of Lolo Pancho (Leo Martinez).
The latest project of Caridad was the recently concludedsuspense-drama titled La Vendetta.Here she was seen as Nana Mildred, an old trusty nanny who knows thedarkest secret of the Cardinale family.
Other actors that the PEP staff short-listed were BembolRoco, former sexy actor Allen Dizon, Allan Paule, Ronnie Lazaro, Joel Torre and JaclynJose. These actors always play supportto the main actor but viewers probably are more familiar with them, compared tothe actors in this Top List.