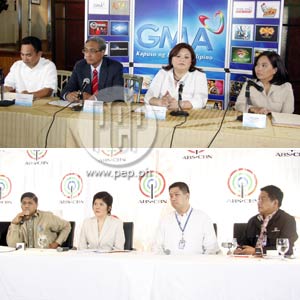 IMAGE 0
---
Quezon City Regional Trial Court Branch 95 presiding Judge Henri Jean Paul Inting ordered ABS-CBN to refrain from airing "damaging" statements against GMA-7 in connection with the ratings manipulation controversy that started late last year.
The Temporary Restraining Order (TRO) issued by the court was in connection with the request filed by GMA-7 against the Lopez-owned network. GMA-7 protested that it is being subjected to trial by publicity through the relentless flow of public statements by ABS-CBN, which accuses the Kapuso Network of having a hand in the alleged bribery of the panel homes in the areas of Bacolod, Cebu, Davao and Iloilo to boost its ratings.
The TRO states: "...if the defendants' [ABS-CBN] continuous airing of the alleged defamatory statements which are now subject matter of a civil complaint in court, will not be restrained, then it may undermine the right of the Plaintiff [GMA-7] to a fair trial and due process.
ADVERTISEMENT - CONTINUE READING BELOW
"The nature of judicial proceedings requires that the conclusions to be reached in a case will be induced only by evidence, and argument in open court, and not by any outside influence."
The court clarifies that the Order only prohibits the release of defamatory statements and not the actual coverage of the court hearing and its developments.
A TIMELY ORDER. GMA-7 lauded the court's decision and expressed hope that ABS-CBN will now strictly confine all arguments inside the courtroom.
"The Temporary Restraining Order issued by the court is a timely order because of the continuous airing of defamatory accusations by ABS-CBN against GMA Network. I hope ABS-CBN would be quiet now and would respect the TRO issued by the court. If ABS-CBN says nothing against GMA Network, then GMA Network would have nothing to say in response because GMA only acts in defense," said GMA Network legal counsel Gene Asuncion.
ADVERTISEMENT - CONTINUE READING BELOW
GMA-7's legal team emphasized that a media organization with a broad medium must not take advantage of its capability and means to air its side, especially on matters that are already laid before the proper forum.
Dick Perez, GMA Network Vice President for Legal, stressed this point saying, "The issue is not about prior restraint or press freedom but about fairness. A media organization, which is a party litigant in a case, cannot invoke press freedom to present its case in public."