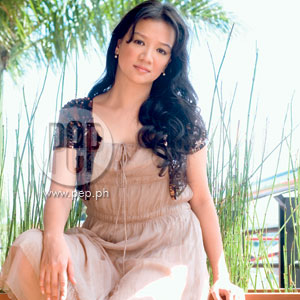 IMAGE 0
---
2006 is shaping up to be huge for Color It Red, which means that vocalist Cooky Chua will be one busy woman. The 1990s alt-rock band's self-titled latest album is now reigning on music-store racks, and the band itself is currently busy doing mall tours. Good news for those in need of a Cooky fix.
Let's check the Sorely Missed Gauge Meter. You know you've been gone too long when you've morphed into a reference point, as in: "Parang Cooky Chua," and "Nagku-Cooky Chua, 'di naman bagay," and "Feeling niya Cooky Chua siya?"

Yes, Cooky Chua is now a noun, a much-favored standard of measurement for music critics and listeners who long for "another Cooky Chua" to come along or, better yet, for the return of Color It Red's brandy-swigging, raspy-voiced Goth Angel in black. But Cooky, though undetected by the mainstream radar in the last few years, was never gone.

"Ang problema sa Color It Red," Cooky says, explaining why fans always wrongly assume the group has disbanded, "matagal kaming gumawa ng album. Minsan, four, five years."

As she speaks, CIR's chanteuse is at the Music Room, a videoke bar in Greenhills, having her face done for a YES! fashion shoot.

Having her face done. Fashion shoot. That doesn't seem very Cooky-ish. But the YES! crew has successfully persuaded the hesitant rock momma to temporarily trade in her trademark simple black outfit for more lively and colorful ensembles. You're seeing the stunning result on these pages.
It's been quite a while since Color It Red released its experimental third album, Pop Fiction.
That last studio outing was in the year 2000, when Cooky and company bravely took elements from genres like hip-hop and jazz and came up with creative new sounds. But promotion for the album was not handled well, and fans believed CIR had lost its fire in the fog of fame.
ADVERTISEMENT - CONTINUE READING BELOW
Eleven years ago, Color It Red emerged from the rock underground scene to become one of the most popular bands in contemporary Pinoy rock. Its best-selling debut album under Alphanumeric Records, Hand Painted Sky, put the band in Pinoy rock anthologies, thanks largely to "Paglisan," a haunting love elegy that forever imprinted Cooky's sigh-singing, with eyes closed, in this generation's consciousness.

Today, Color It Red is still anchored by Cooky and her fellow founding member, acoustic rhythm guitarist Barbi Cristi. And still on board are bassist Bo Pip Paraguya, who joined the band when it made its first album, and (from Pop Fiction days) Ariel Policarpio on lead guitar, Sam Salazar-Baja on keyboard, Jayvee Torres on drums.

After six years of endless bar-hopping, gig-playing, and genre-fusing, the band's ready to make some glorious noise once more.

"Itong fourth album, mas malapit do'n sa first, in the sense that mas back-to-basics ang sound nito," says Cooky, who also writes the melodies of CIR tunes. "Naglagay kami ng konting jazz, pero hindi straight jazz."
To the anthemic and socially conscious music of the times, Color It Red contributes two new songs. "Sweet Freedom" cries for our nation's loss of the historic Balangiga church bells, while "From the Other Side of the Sea" (a poem by Marra PL. Lanot that Cooky set to music) laments the thankless, finger-searing service provided by fatigued women in "sardine-can shanty" who "Sew and press the sunset / Rays for your coat / [So that] You may / Dazzle in the snow."

This writer's personal favorite is "Stay," where Cooky oozes with red-blooded sensuality and earthy confidence. Finally, here's another song that evokes the old soul made unforgettable by "Paglisan," and at the same time introduces us to a more mature Cooky Chua and an even more introspective Color It Red.
ADVERTISEMENT - CONTINUE READING BELOW
We all loved the Cooky Chua of yore—the effortless and sincere singing, the alcohol guzzling, the undiluted, cosmetic-free beauty. Now she's in her 30s. The voice is still raspy yet full, the signature Emperador lapad is still a constant gig companion, and—as the photos on these pages attest—the singer is still enchanting and definitely here to rock.