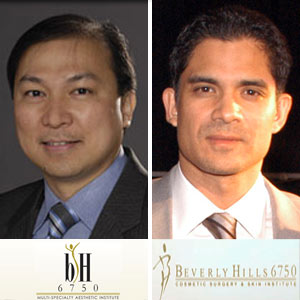 IMAGE 0
---
Dr. Eduardo Santos, who took over as managing director afterDavid Bunevacz stopped showing up at Beverly Hills 6750, said he had trustedBunevacz. Particularly in the first few months of working together, the doctorsaid he had no reason to be suspicious of their president.
However, he said he did notice a certain looseness in David'sspending habits."I noticed that he's kinda lax with the way he spendsmoney," the doctor said cryptically.
The clinic's general manager, Suzette Lopez, added her ownprofile of David: "He's a very smooth talker. He's very nice. He's verygenerous. He would treat everybody to Starbucks. Very generous."
PEP asked: Did David's lifestyle, which included buying aPorsche Cayenne on the same month he would buy his wife a BMW X5, not raisesuspicions among his business partners? And what of reports about the couple'sbusiness trips abroad on first-class accommodations, parties in Hong Kong, andexpensive pieces of jewelry, which were said to have reached the clinic?
ADVERTISEMENT - CONTINUE READING BELOW
Dr. Santos said the lifestyle was "higher than what weknew," but was not cause for suspicion, at first. "You know," he explained, "Davidhad this thing about being successful with other business investments. [He was]supposed [to have] investments in other business interests, which include his businessof consultation, business with LGUs [Local Government Units].
"He was allegedly involved with the mining business. Hewas also due to make a windfall, stuff like that…So he was able to carry offthis lifestyle. And you know, the way [he] and the wife project themselves: Theylook money. They look money."
Dr. Abe Marinduque, for his part, made this comment: "Whenthey started coming out with the BMW sa Celebrity Duets, I never had anysuspicion. Until a friend of mine said, 'You should get your company audited.David seems to have a lot of money.' But [I replied], 'Bakit niya 'kololokohin, e, I see him every day here. He can make you believe anything."
ADVERTISEMENT - CONTINUE READING BELOW
THE LEGAL CASES. Was it the BMW X5 that eventually ledto the filing of cases against Bunevacz?
Dr. Santos said yes. "It was triggered by that. You know,in a corporation, usually corporate policies dictate that you should have anexternal audit on a yearly basis. And it was also about time to have one done.But again, it was kind of postponed. Again, what triggered it was theflamboyant lifestyle, so when that was noticeable, our board of directors calledfor a rapid external audit. We [did] it already. These are things that are toonoticeable."
The company—represented by one of its directors, TyroneOng—formally filed their first estafa case against Bunevacz at the Quezon CityProsecution Office on February 1.
The Complaint-Affidavit stated: "The result of thepreliminary audit report was shocking. The auditors flagged down as anomalousseveral check disbursements of corporate funds that were signed and/orauthorized by respondent [David Joseph I. Bunevacz], principally because thesedisbursements were for purposes not at all related to the operations of thecompany."
ADVERTISEMENT - CONTINUE READING BELOW
Two checks were issued to Klassik Motors: Check Numbers0001228562-0001228563, dated March 10, 2007, amounting to Php 175, 000 each.
According to the Complaint-Affidavit, since "no motorvehicle" purchased from Klassik BMW was ever listed as a company asset, and theBoard of Directors never ratified or approved the disbursement of the specificchecks mentioned, Beverly Hills 6750 deemed the transaction "anomalous."
The company demanded, through a "respondent letter" datedDecember 19, that David return and pay his disbursements of company fundsamounting to "one million eight hundred twenty one thousand five hundred eightyone pesos (PhP 1,821,581.00)."
Dr. Marinduque enumerated the process: "The first demandthat we sent him was 1.8 million pesos because that represented the first dayof the audit. So there are several checks [discovered on] the first day of theaudit. There were several checks amounting to 1.8 million. As far as I know,[these were discovered] if not the first day, the first couple of days. That'swhat we sent him [the demand letter to explain those unexplained checks] in thefirst demand letter."
ADVERTISEMENT - CONTINUE READING BELOW
Then the cosmetic gynecologist summed up: "But when wefinished our audit, our official audit, there were a lot more [checkdisbursements]. Voluminous! So we have several others."
Dr. Santos seconded that: "There were many glaringmisappropriation of funds. It's a very glaring…down payment for the X5, mga500,000 of the company assets, mga travels—first class—with family and childrento Amanpulo…"
The clinic's second estafa case against Bunevacz was filedon February 11 in Manila. "The substance of the complaint," according to Dr.Santos, "is basically funds which were used, pay to cash, with no liquidationor no receipt."
"And marami pang iba," Dr. Abe picked up. "And we'retrying to audit na nga, 'no. And we found out that some of the patients directlypay him. [But] in our books, those patients have not paid!"
These patients, Dr. Santos disclosed, were "prominentpeople. The quotation comes from us, and the payment is made directly to David.It doesn't really enter the corporate funds. And then he'd come here, 'Oh,that's complimentary, that's complimentary' [he'd say about those treatments.So now] we try to find out."
ADVERTISEMENT - CONTINUE READING BELOW
BETRAYAL, BETRAYAL. PEP asked: Before the clinicelevated its issues against David Bunevacz to the courts, what was it like inthe clinic? How was the morale among the top brass? At the question, the atmospherein the room turned somber.
Dr. Santos said he felt disbelief and betrayal: "Betrayed,that we were deceived, and how...you know, we have thought perhaps the problemstarted during the latter part of last year when he started to show a moreflamboyant lifestyle. But what is very hurting is that, at the very start pala,meron na [betrayal]."
Suzette Lopez, who as general manager dealt with the Bunevaczcouple almost every day, confessed: "Up to this time, I am still in denial.Every single day, how could I have not known? It was just totally impossible.Until now, I can't believe he's not there [pointing to the seat which Davidused to occupy]. And we're all professionals here, we're not used to that. I amnot used to the glaring of the [TV camera] lights…Omigosh! All unbelievable!"
ADVERTISEMENT - CONTINUE READING BELOW
Dr. Santos recalled telling Dr. Marinduque recently, whenthey were in a mall: "Tayong mga doktor, hindi tayo sanay na nagsisinungaling.We're not familiar with this. What we're familiar with is telling our clientsthe recommendations, what is good for you, and then we're very used to thank you's[from] people who are very grateful for the services that were rendered tothem. Pero yung personality na nagsisinungaling, hindi."
Dr. Marinduque added in a grave tone, "We're very, verydisappointed because of the way things turned out. But I'm still very, veryhopeful because we're strong as a company and we're here to stay."
PEP asked: What was it like at the staff level?
"Well, at first, just like all of us, they couldn'tbelieve it," Lopez answered for the staff. "But now, especially the people whogo daily wage, they're afraid to lose their job, and they think it's notstable. You know, we didn't have a statement for the first two weeks because,even us, we didn't know what to do, we didn't know what to say. But now becauseof Dr. Santos, who holds the group together…"
ADVERTISEMENT - CONTINUE READING BELOW
A dip in sales began happening during the first week ofJanuary, affecting the morale of the staff, the three interviewees admitted.
Dr. Santos put it this way: "Well, it [sales] dipped for awhile. But over the past three weeks, it picked up again. As a matter of fact,for the month of January, uh, it was comparable to our previous performance.So, the key to that… as an organization [is] we had to create a managementcrisis team."
Part of the work of the "management crisis team" was toput a stop of dangerous office gossip that was fast spreading. Dr. Santoscalled for an emergency meeting, and soon after that, he said, "things wentback to normal."
Pointing to his colleagues in the room, the clinic'smanaging director said: "Again, I thank Suzette and Abe for helping gear [up]our company. Out of that [scandal], we were very much concerned about the organizationalhealth, the [morale] of employees, so we kind of addressed that. Everybody isin good spirits now…especially the sales have picked up over the past fewweeks."
ADVERTISEMENT - CONTINUE READING BELOW
After David left the company—the clinic said he tenderedhis resignation; David himself has not said if he resigned or was kicked out—itwas Dr. Santos who assumed his responsibilities. Whereas he had been trained asa doctor and could function as head of medical operations, he is now working atmanagerial and administrative tasks.
"It's been a challenge for me," he said, "but I appreciatethe strong support that Abe and Suzette, and of course, Mia, who's our salesdirector, [have given me]. So we're now a happy management group of four."
The new management team says it has the full support ofthe clinic's board of directors.
For a business only one year and three months old, issueslike misappropriated funds and a spurious affiliate in the U.S. could lead tomajor setbacks. Add to this the media interest, which means that the company'sproblems are doubled by the public exposure.
ADVERTISEMENT - CONTINUE READING BELOW
"The good thing about it is, everybody is still happy,"the clinic's general manager said. "The thing about it [is], everybody isintact. All the doctors, no one has left. They're all intact. The morale is sohigh. We know customers are still in. That keeps us going.
"It's just, of course, when there's bad publicity,especially about these facts nga of this part of the affiliate. You know,that's really gonna affect us. But our morale is high because no one had left.All the chairmen, all the chiefs of the plastic surgeons, are all still intact.We're all here!"
MOVING FORWARD. Most important, the management teamsaid, "We are not closing down!"
In fact, all three interviewees said, they have so muchwork to do. First, they will revise their marketing strategy. The major change isthat they have now dropped all references to a "U.S. affiliate" and are goingbig on the quality of their physicians. Second, the logo has been changed, andso has the website. There will no longer be a focus on Western models andsettings. Third, a marketing group has been hired to focus on repackaging theimage of the company. Fourth, they are also thinking of relaunching the clinic.
ADVERTISEMENT - CONTINUE READING BELOW
Dr. Santos noted with a bit more lift in his voice: "Thebasic strategy is to build on the brand equity being associated with thequality of physicians. Because now, for example, there are two groups out there[Belo Medical Group and Calayan Surgicentre], who are very celebrity-oriented,and therefore, they use that quite strongly. Admittedly, it's[celebrity-oriented promotions] a little bit strong. So if we come in as thethird organization which strives to go to the celebrity route, we might belooked upon as somebody who's just following that particular trend."
Which is why, the doctor said, they have focused onselling the clinic on the strength of its medical staff. "The thrust of ourmarketing group is to create a different brand equity, which is to revolvearound physicians. So on February 15, we're coming up with a print ad featuringthe work naman of Dr. Marinduque. So I kind of identified five products forthis clinic that I want to create as brands and with the correspondingspecialists."
ADVERTISEMENT - CONTINUE READING BELOW
Equally upbeat, Suzette Lopez said: "We're doing so well.We're doing so much. I was asking, 'Ganoon ba tayo kadaming pera na hindi natinalam na kinukunan tayo?' People think we're gonna close dahil wala na kamingpondo, tinanggal na lahat. But that's not the case. It's not the case at all."
They feel that now is the time to capitalize on their "firsts."They claim to be at the forefront of cosmetic gynecology in the Philippines,and have coined the word for it: "gynesthetics." This is Dr. Abe Marinduque's areaof specialization.
Dr. Marinduque himself cited other "firsts": "Ang damingfirsts na hindi na na-market. We never capitalize on our firsts—eye thermage,cosmetic gynecology, laser dentistry…"
When it comes to sales, the new group, however,anticipates a slower run. Dr. Santos said: "David's projections or computationswere, 'Money back at 1.3 years.' Right now, the way I look at it, it is, 'Moneyback in five years.' And five years, you know, is a regular business return.It's not as if it's really not great. Basta over-promise, under-delivery yungnangyari kay David."
ADVERTISEMENT - CONTINUE READING BELOW
Claiming that clinic sales began to go back to theirnormal levels in the second week of January, the new management is excited atthe prospect of sustaining the momentum.
PEP asked: Now that they have confirmed the non-existenceof "Beverly Hills Surgical Institute," do they have plans of dropping the"Beverly Hills" in their company name?
"The name Beverly Hills is a corporate name," Dr. Santosreplied. "Again, as a strategic move, we've already taken upon ourselves toslowly drop it. Actually our print ad on [February 17], will already not be BeverlyHills 6750, though we've created this brand, which has become quite popular.It's also going to be the way KFC went—from Kentucky Fried Chicken, it's KFC.We're going "BH 6750." Nakilala na, e. And we don't want to lose our corporatewebsite which is bh6750 [www.bh6750.com]."
DAYANARA TORRES. PEP also asked: Who is goingto be their endorser when they relaunch? Is it still going to be 1994 MissUniverse Dayanara Torres? Has anyone from the clinic communicated with her yet?
ADVERTISEMENT - CONTINUE READING BELOW
Suzette answered, "Her contract with the clinic hasexpired last December."
Dr. Santos cut in, "That contact was really a contactdeveloped by the [Bunevacz] couple, so, of course, if we make an effort to lookfor her…I don't feel naman we should make an effort to communicate with her…totell what? What do we tell her? But anyway the contract has expired."
Who's going to replace Dayanara?
Dr. Santos said, "We're using some celebrities, in thesense of parang tactical moves, just so we have endorsers on TV. Somenewscasters, perhaps. But yung actual big celebrity to be our formal endorser,it has been broached to us by our marketing group."
During the PEP interview, the clinic said it had not yetmade a list, "not even a short list," of its possible celebrity endorsers.
Finally, PEP asked: After all that has transpired, are yousorry you had been associated with David?
ADVERTISEMENT - CONTINUE READING BELOW
"You know, yes and no," Dr. Santos said, thinking thingsover. "No, because this is still a great concept. He put together this team. Heplucked Suzette out of nowhere [Suzette smiles] through his system ofreferrals. He plucked me out of a referral from a pastor, so I am happy I amhere. I have always believed in this concept. And just happy to have the fullsupport of our investors as well, so we're a solid team. And [yes], because ofthe deception which had happened and this temporary financial setback."
Continuing, the doctor said about David and JessicaBunevacz: "I think also, this business gave them a certain level of, uh,respectability, perhaps. You know, legitimacy, because of, uh, perhaps someprevious background that they may have had, or reputation they have had. It wasa perfect venue for them to achieve that."
By interview's end, the air had turned jovial. Perhaps tohumor us, Dr. Santos turned to us and said: "Thank you for opening our eyes."
ADVERTISEMENT - CONTINUE READING BELOW
Now all three laugh at the whole mess. "We didn't knowBeverly Hills was associated to a beauty parlor," Dr. Santos said with wry wit."Sabi ko sa mga doctor, 'Ano? Associated tayo sa beauty parlor?'"