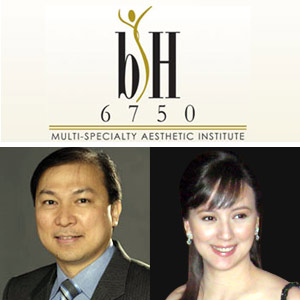 IMAGE 0
---
Beverly Hills 6750, a local high-end aesthetic and cosmeticsurgery clinic, has come under a cloud since December 2007.
First, there was the word war between the clinic's thenpresident, David Bunevacz, and its group of investors, which ended in a media warplus charges and countercharges in court.
Then followed the exposé that the clinic, which was launchedon the power of being the only affiliate outside the United States of Americaof the "famous Beverly Hills Surgical Institute," may have misrepresenteditself because, in fact, there is no such U.S.-based Institute.
PEP (Philippine Entertainment Portal), which broke bothstories, made several attempts to get Beverly Hills 6750's side, through emailand phone calls, as early as December 2007.
The most pressing issue for the clinic was: Why did it sellitself as an affiliate of a non-existent U.S. surgical institute? Its entiremarketing strategy, its media pronouncements, and even its own website harkedto its connections with the Beverly Hills Surgical Institute, which wassupposed to be "favored by the rich and famous in Hollywood."
Yet PEP's own investigation showed that the Institute hadstopped being a big company in 1999, and had in fact totally closed down byearly 2006. How did Beverly Hills 6750 explain the fact that when it waslaunched in the Philippines in late 2006, it was still laying claim to being anaffiliate?
Click this LINKto read SPECIAL REPORT (PART I): Beverly Hills 6750's U.S. partner clinic nolonger in operation.
Unfortunately, the clinic's management studiously evaded ourrepeated requests for either an interview or a statement, or both.
Click this LINKto read SPECIAL REPORT (PART II): Beverly Hills 6750's U.S. partner clinic nolonger in operation.
Then on February 4, 2008, or more than two months after PEPbegan asking for an interview with Beverly Hills 6750, the clinic's generalmanager, Suzette Hahn-Lopez, called PEP. The message was that the clinic nowwanted to talk.
ADVERTISEMENT - CONTINUE READING BELOW
Four days later, on February 8, PEP editor-in-chief Jo-AnnMaglipon and managing editor Karen Pagsolingan went to the Beverly Hills 6750office in Ayala 6750, Makati City, to meet with the clinic's representatives:managing director Dr. Eduardo "Ed" Santos, cosmetic gynecologist Dr. Abe Marinduque,and general manager Suzette Hahn-Lopez.
In the three-hour interview, the clinic representativesadmitted that they had indeed avoided all calls from PEP.
Dr. Santos, who used to be the clinic's medical director,also admitted that they had not been prepared to give a statement at the time.He said they felt ready to speak only after they had put together their legalcase against David Bunevacz.
"You know, that's entertainment," Dr. Santos explained."That's their [the couple David and Jessica Bunevacz] playing field. We don'twant to be drawn into that playing field. And since we're a professionalorganization, we want to respond in a professional manner. And thatprofessional manner is legal.
"Since we filed our first case [against the couple] aboutlast week [February 1], that was the time we felt we can come out. Because ourresponse is legal, and we're filing a second case on Monday [February11]."
Then toward the latter part of the interview, Dr. Santos,who was at first formal and guarded, began to recall those "difficult" dayswith a little more color and detail. He said that when he read PEP's (January7) letter to the clinic stating that its investigation revealed that theso-called Beverly Hills Surgical Institute did not have a valid address inBeverly Hills and did not have even a single telephone number in the entireUnited States, his reaction was:
"Oh, my gosh! Oh, my gosh! P----na! P----na! Sh*t! Sh*t!,"he recalls saying. "And there was a patient at the next door who could be hearingme. That's how devastating this news to us was! The first time we received it,sabi ko, 'What's this? Ano ba 'to?' We really did not know it. It caught uscompletely flatfooted."
ADVERTISEMENT - CONTINUE READING BELOW
Suzette Lopez, who was already the clinic's general manager atthe time, also recalled how PEP's findings affected her: "This is my honestopinion. When you call me and tell me, you know, I don't wanna tell anything. Icannot say anything about David directly. So I denied anything about it. Idon't want to say anything bad about David. I didn't know. As far as he wasconcerned, he was good a person, he was the president, he was the one who runsthis company. I didn't know anything about the board, okay?
"So what will I tell you guys? I didn't even know what youwere saying. So when I sat down with the board, I even asked them, 'What are wedealing with here? I want it black and white. You show me proof. I am themanager here, I need to know.' Ay, ayun na yun.
"I couldn't also jump to any conclusion....And I am not justspeaking about myself...all of us, all the doctors here, of course. Hindi namanbasta sabihin nila, 'Nanloloko si David,' maniniwala na kaagad kami. You know,we're all educated people in here, we have to see black and white. We needproofs."
Dr. Marinduque was equally aghast. He said he had had asuccessful medical practice in the U.S. for 22 years before he was invited tojoin Beverly Hills 6750. He added that he not only joined the latter's medicalstaff, he invested his lifetime's savings in the clinic. With the questionsabout the history of the clinic mounting, and the answers falling into place,he said they were all caught in a dilemma.
"We agonize," the mild-mannered doctor said. "Every day, weagonize if we're going to come out. And tell them...tell the clients. We evensaid, 'We owe our clients the truth.' And so finally, when we had our legalbasis for all of these things, that's when we started coming out. And let metell you, some of these people invested here, like me especially, invested theirretirement in this company, so it was doubly emotional for me. You know thatthis happened, that I was misled by David."
ADVERTISEMENT - CONTINUE READING BELOW
DEVASTATING DISCOVERIES. Dr. Ed Santos and Dr. AbeMarinduque said that, following the PEP inquiry, they proceeded to seek help fromtrusted friends in the U.S. "to investigate for us."
According to Dr. Santos, last January 15 he sent an email toBeth Isidro, his "contact in the U.S." He read to us his email: "I need to knowif BHSI still exists. If it does still exist, are they actually aware of ourrelationship? Or is it now a dissolved corporation? Since when?"
The full report on his queries, he continued, wascompleted on January 25.
An email that Dr. Santos says is the abbreviatedreport of their researcher noted:
(1) The "800 numbers set up under the business name BHSI" and the www.weknow.beauty.com,BHSI's website, are "not connected to any legal business entity."
(2) Inquiries with California State Chamber of Commerce andBeverly Hills Chamber of Commerce affirmed that BHSI is "not registered."
(3) Brea Chamber of Commerce, however, included BHSI in itslisting. The company name was "Beverly Hills 6750," under the "Plastic Surgeon"category, with address at "405 South State College Blvd., Brea CA 92821," andphone number "714-671-0555." The said list also cited a "Tom Oseransky" as thecontact person with email address toseransky@bhdocs.com.
But upon verifying the veracity of the business's contactdetails, it was discovered that a "Rica Donna Beauty Salon has been using thesaid address and phone number for the past three years or longer." Theresearcher of Beverly Hills 6750 surmised: "Tom Oseransky registered BHSI with BreaChamber of Commerce using the beauty salon address and phone number.
(4) There was no license ever issued to BHSI or any businessentity close to such name. To the Business Licensing Department, BHSI isnon-existent or may be illegally operating without the required license."
(5) "The copy of the MOA [Memorandum of Agreement] received by PEPstated a different address for Oseransky [2236 S. Barrington Avenue, LosAngeles, California, USA, 90064, as stated in the Franchise Agreement mentionedby PEP in previous article].
ADVERTISEMENT - CONTINUE READING BELOW
Their U.S.-based researcher concluded: "BHSI does not existas a legal business entity and probably never existed as such. We have beendreadfully misled by its alleged reputable, celebrated, and esteemed existenceand operation in California, as well as the existence of a legit and validaffiliation with such a business entity. It is nothing more than a cheap 800number and ambiguous website."
Dr. Santos noted that on February 1, or barely a week afterthey received the results of their own investigation, Beverly Hills 6750 filedits first estafa suit against David Bunevacz. That was also when, be repeated,"We felt ready to face the press."
BLAMING BUNEVACZ. Beverly Hills 6750 managingdirector Dr. Santos has placed the blame squarely on the company's formerpresident, David Bunevacz.
"Obviously," he told PEP on February 8, "for us, there was acriminal mind behind it, so to speak. There was an obvious deception attemptbecause David had tried to work with the Beverly Hills Medical Group [a differentlocal clinic, which also has "Beverly Hills" in its name]. That did notmaterialize. And when that did not happen, he flew to the States, supposedly tolook for another partner. And when he had come back a week later, he said thathe had found a partner [the Beverly Hills Surgical Institute]. And this wasit."
In 2006 and 2007, David Bunevacz, a Filipino-Hungariandecathlete raised in California, and his wife Jessica Rodriguez, a formerstarlet and a talent manager, were the public face of Beverly Hills 6750. Thepublic may even have believed that the couple "owned" the clinic.
In truth, Dr. Santos said, the clinic was owned by "10investors." As Dr. Santos explained it: "That would be myself and, of course, theinvestors. Two sets of investors, one group is based here, primarily basedhere. [It's] a group of Filipino-Chinese businessmen. Another group representssome interests in the United States, including Dr. Abe, who at that time was inthe United States."
ADVERTISEMENT - CONTINUE READING BELOW
Additional PEP research showed that some of these investorsinclude Juanito Ho, Cedric Lee, Louie Kaw, Dominic Sytin, and Tyrone Ong.
Of David's role in the company, Dr. Santos would explain:"He had the sales pitch. He had a concept. He's the proponent of this project.So, he was able to essentially convince a group of investors to come in. Again,that was his sales pitch. He convinced me to join his team."
The link to the Filipino-Chinese group was also David,according to Dr. Santos. The doctor added that the investors gave David a10-percent share in the clinic. He did not have to put out any money.
Dr. Marinduque explained it further: "He was an industrialpartner because he conceived the company and the concept, so he was givenequity in the company."
Asked what David's salary was, Dr. Santos said, "He had arepresentation allowance of fifty thousand pesos a month and his profitabilitywould have actually kicked in at the time the return of investment could havebeen completed, which he predicted to be at 1.3 years. And thereafter, I'm notsure what the contract stipulated, but he would have received something."
TRUSTING DAVID. Asked to describe how Beverly Hills6750 was set up, Dr. Ed Santos replied: "A lot of it was really based ontrust."
Such was the level of trust, Dr. Santos admitted, that Davidwas made to take charge of the company and its finances. He was made the solesignatory in all of the clinic's financial transactions.
"Again, because it was on the level of trust," stressed Dr.Santos, to which Suzette Lopez and Dr. Abe Marinduque both gave their assent.
PEP asked: Are Dr. Santos and his fellow investors nowsaying that they, all educated doctors or hard-nosed businessmen or both, neveronce questioned David's facts and figures? That they never asked to speak totheir partners at the American institute? That they never communicated with theinstitute at any time during the start-up period and through more than 15months of operation?
ADVERTISEMENT - CONTINUE READING BELOW
In silence, the two doctors and Suzette shook their heads tomean that, indeed, they never once did any of these things.
When PEP noted that the only way the public would believethis, is if the public were to believe that the investors were all naïve, Dr.Santos said that would be about right: "You might say we were naïve, or stupid,but that's the way it happened. We were stupid, but we weren't liars."
The doctor, a University of the Philippines graduate,reiterated that "trust" played a big role: "[The business] was built on a verystrong concept [but it] was also built on a very strong level of trust. Youknow, as a matter of fact, one of our investors in the U.S. asked, 'Ed, what doyou know of David?' And I said, 'You know, if you want to invest you have toapproach this investment as, uh, as an investment, because I can't really vouchfor him, because I don't know him.'
"That's what I told him [the investor]... When you come hereyou make a decision first 'coz I cannot vouch for him. 'Coz David and I werejust really also introduced by a pastor.'"
PEP asked: Did Beverly Hills 6750 at least sendrepresentatives to its partner clinic in the U.S.?
"He did not," answered Dr. Santos, referring to David."There were two occasions, actually [when we attempted]...One of our plasticsurgeons, our senior surgeon, went to the United States, met up with David, andhe [the senior surgeon] was insisting, 'Why don't you bring me to Beverly HillsSurgical Institute? That, I want to observe.' [David] always evaded thequestion. And he never brought him [the senior surgeon]. That was last year.
"Again, the request of [one of our] anesthesiologists was[in the] last quarter of last year. You know, 'Bring us to Beverly HillsSurgical Institute. We want to observe also how they do their anesthesia work.'Again, he [David] had no answer."
ADVERTISEMENT - CONTINUE READING BELOW
Meantime, in an email to PEP last December 27, David hadinsisted that the Institute had trained at least one of Beverly Hills 6750'sdoctors: "Tom Oseransky and Dr. Daniel Shin had three or four clinics runningat the same time at the time we signed our agreement. We had even sent one ofour dermas to their clinic to train."
(Tom Oseransky is the person who signed the 2005 BeverlyHills 6750 and Beverly Hills Surgical Institute "Franchise Agreement" withDavid Bunevacz. Oseransky carried the title of vice president for operations ofthe Institute, and was presumed to be representing the latter. David wasrepresenting Beverly Hills 6750 as the latter's president. Dr. Santosspeculated that Tom might be a "classmate of David.")
Asked about the alleged training, Dr. Santos said, "Therewas only one occasion perhaps that our dermatologist, our senior dermatologist,went to the U.S. And he [David] arranged for a visit. [But not] to BeverlyHills Surgical Institute, but to a place called Pacific Dermatology.
"And according to [our] dermatologist, it's really just aone-group, one-room, laser clinic-something like that. So it wasn't like it wasa big operation. David did arrange for that, but it was not Beverly HillsSurgical Institute. It was a place called Pacific Dermatology."
PEP wanted to know: Wasn't that dubious enough?
"Again it was the persuasive ability of David to ano [winone over]," Dr. Santos answered. "Like, for example, our plastic surgeon, a fewweeks ago, when this [PEP revelation] had come out, 'Kaya pala, kaya pala.There's no place he wanted to bring me to, even if I insisted to go there. Kayapala.' 'Yan ang reaction, 'kaya pala.'"
And the doctor admitted that there were instances when Davidwould bring them grand news of coming partnerships.
"There was always a continuing saga or story," Dr. Santossaid of David's style. "He would come up, let's say September, 'Oh gosh,there's a Canadian group who wants to buy us out. Everybody, all theshareholders, will make money...' [Something like] 1.3 percent, money back, less15-percent ownership of the company, so that's 1.3 premium per annum. 'Justhold on guys, hold on guys!' May mga kuwento siyang ganun. And this happenedtwo times, one with a Singaporean group, and another with the Canadian group."
ADVERTISEMENT - CONTINUE READING BELOW
PEP asked: "Did any of these deals go through?"
"Nothing. Nothing happened," Dr. Santos replied tersely.
Click here for PART II.