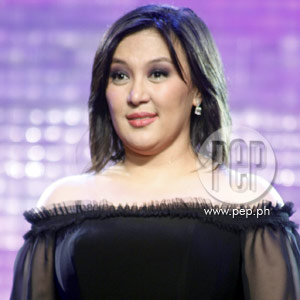 IMAGE 0
---
Last time, PEP (Philippine Entertainment Portal) listed down five action movie clichés commonly used in Filipino films.
Now, we present five more common hallmarks found in Pinoy movies—scenes that were played out over and over again. But despite the fact that most of these are mocked as clichés, they are the same things that distnguish our movies from their foreign counterparts.
FILM'S TITLE AS DIALOGUE. This is true especially in action and drama movies. There's a build up involved in carrying out the scene. In drama, the underdog heroine, who is now successful and just a shadow of her old api-apihan self, usually issues the line triumphantly against her former tormentors.
But it can also be a pledge or a motivating slogan for the protagonist to rise up to the challenge. Who could ever forget the Megastar Sharon Cuneta saying the line with firm conviction: "Inay, ipinapangako ko, bukas luluhod ang mga tala" from the 1984 film Bukas Luluhod ang mga Tala.
When it comes to action movies, the classic scenario is this: the bida complete with a high-caliber ammunition leans on a wall inside an abandoned warehouse or any decrepit building. Doing the same on the other side is the villain, sweating profusely while keeping up his devil-may-care stance. With both men protected by a concrete post, the two toughly exchanged barbs until the bida finally finds the opening to utter the film's title before the bullets fly.
Familiar movie scene? Too many to mention. But the late Action King Fernando Poe Jr. saying, "Kapag puno na ang salop" in his trademark low, full voice never fails.
LAST REQUEST. Never disregard the request of a dying person, goes Pinoy custom. In local movies, it is one sure way to drive the character to fulfill a mission. Drama, action and comedy all employ this tried-and-tested formula.
ADVERTISEMENT - CONTINUE READING BELOW
The trio of Randy Santiago, John Estrada and Willie Revillame used this stunt in their comedy film, Pera O Bayong [Not Da TV!] (2000). In the story, Willie, Randy and John are estranged brothers haunted by their long lost, dying grandfather. The lolo's wish as expressed on his deathbed to a trusted confidant is to find the three so that their inheritance would be given to them. As expected, and after myriad slapstick scenarios, the wish is finally realized with the grandfather's smiling ghost image. Talk about Pinoy humor at its finest moment.
PREGGY KA 'DAY. The scene we all know by heart. A young woman is having a meal together with her strict, ultraconservative parents. Suddenly, the lass flashes a weird expression. Something's wrong with her. She runs to the bathroom or to the kitchen sink and starts throwing up nothing. Stunned, confused and nervous, the poor lady stares blankly, dread written all over her face.
We know, of course, that she's thinking of her boyfriend, who may be a policeman or a jobless siga in their neighborhood, and their steamy nights together.
There were a lot of film scenarios like this, but what quickly comes to mind is the vomiting character of Nora Aunor in the film Atsay (1978 Metro Manila Film Festival).
SELF-REFLECTION. There's this notion that Philippine cinema proudly outgrew soliloquy over the years. Introspection or kinakausap ang sarili, however was quickly picked up and abused on soap operas.
Sigmund Freud himself validates the importance of going deep into one's self for realization and internal discovery. But what makes this scene funny on TV is the booming voice translating the thought with dramatic music in the background.
Every soap-opera luminary has gone through this sappy scenario in one way or another. From Judy Ann Santos to Claudine Barretto to Kristine Hermosa—name it. But as a consolation of sorts, even the Mexican telenovelas run this kind of scene like a worn-out record, perhaps even more frequently than we do. Count how many times Thalia stared into space while her thoughts boom from the TV speakers for us to hear. Throw in her trusted dog Fulgoso who's also an expert in self-reflection..."Pambihira."
ADVERTISEMENT - CONTINUE READING BELOW
PANCIT. Asia's answer to the fancy spaghetti was elevated in local pop culture through the nagging representation used in Philippine cinema. Pancit is a cheap dish easily bought in the street carinderia.
Most of the Pinoy movies tackling a poverty stricken household incorporate pancit to emphasize life's struggles. A working-class father or impoverished mother bringing home a plastic bag full of pancit as pasalubong for their eager children is utterly melodramatic.
And this is where another action movie cliché usually comes in: The whole family is about to devour the sumptuous noodles, and then an owner-type jeepney screeches in front of the little house and the riders pepper it with bullets, killing the entire household except the father who had bought the pancit. Revenge follows next and it has nothing to do with pancit.
SCENIC SING-ALONG. This is the scene that marked the careers of most of our respected actors when they were much younger.
Those of us who grew up watching Filipino films in the '80s up to the early '90s can definitely relate to the scene wherein the entire cast, marooned together in some resort or beach, gathered for some nice sing-along near the end of the film. Taking the spotlight was the bida and his love interest happily singing and dancing while some ongoing funny scenes served as a side story.
This scene, in all fairness, is not a Filipino invention. Hollywood films made use of this formula way, way back. But for some reason, Pinoys adapted the scene, nurtured it as our own and eventually made it a staple in comedy and cheesy teen flicks.
No one was spared. From Dina Bonnevie to Tito, Vic and Joey to Manilyn Reynes to most of the That's Entertainment luminaries—all went through the ritual of donning their best summer attire and lip-synching the movie theme for ultimate entertainment.
ADVERTISEMENT - CONTINUE READING BELOW
When rapper Andrew E. started doing movies in the early '90s, this scene was vital in showcasing the prevalent theme of his films: gorgeous bikini-clad girls frolicking in the sand and beach water, their hearts besotted at the sight of an ordinary looking bloke who gave hope to millions of not-so-blessed men through the proverb, "Humanap Ka ng Pangit."
In 2003, young director Quark Henares paid homage, or perhaps mocked, this worn-out scene in the film Keka, showing Katya Santos singing and dancing in the company of her leading men. Sweet.