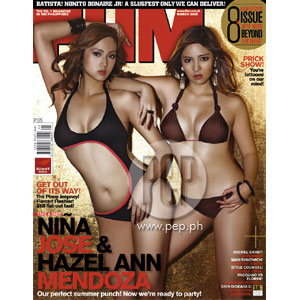 IMAGE 0
---
FHM, the country's leading men's magazine, celebrates its anniversarywith a double delight treat! As FHMkicks off its eighth birthday with two scorching hot cover girls, the countdownto the much-awaited FHM 100thissue continues, with only eight months left to go! This March, Pinoy Big Brother Teen Edition housemateNiña Jose, and formerchild actress and U Can Dancecontender Hazel Ann Mendoza bothheat up the start of the summer season with their first ever FHM appearance.
"Thisis such an honor," Niña gushes. "Tobe an FHM cover girl means you thinkI'm beautiful, sexy." Hazel Ann agrees. "Siyemprenakikita ko yung mga nagpo-pose for FHMand I really find them sexy—I never thought I could be like them." Niña and Hazel are currently being prepped to be show business'up and coming sexy sirens, under the management of Manny Valera who has been responsible for building up some of theentertainment industry's biggest names.
Butare Niña and Hazelready for this change? Niña answers,"Irealized it's a great time to do this right now. Besides, there's [still] moreto me than meets the eye." Same is true for Hazel Ann, who started her career inthe '90s show Ang TV, and is nowbeing groomed to take on more mature roles. But she holds up the stop signalwhen it comes to more than just wearing swimsuits. "I'm okay with [matureroles], pero hindi ko pa po kaya yungbed scenes or nudity."
Rightnow, Niña and HazelAnn content themselves with having their anticipated FHM debut on the magazine'sbirthmonth. "I'm happy to be a part of FHM'sbirthday. Wow moment talaga ito,"Hazel Ann relates. Niña is still gettingover the fact that she has actually done her first sexy pictorial, for FHM, no less. "This is my first-evermagazine cover—and it's for FHM pa.I want to live up to your high standards, "she proudly beams.
ADVERTISEMENT - CONTINUE READING BELOW
Thebirthday issue of FHM also featuresthe half-Pinay, half-English BondGirl Rachel Grant, a tell-allinterview with wrestling champ Batista,and the real score on the original King of the Road—the world-famous Pinoy jeepneys. Check out www.fhm.com.ph for more pictures and videosof your favorite FHM babes anytime,anywhere! FHM is now available atmagazine stands and bookstores for only P125 per copy.