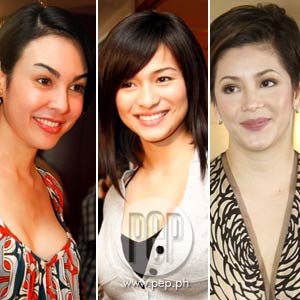 IMAGE 0
---

Pregnancy, network war, scandals and feuds, switching channels, breakups and reconciliation, and Gretchen Barretto were the contents of the showbiz news that became headlines here in PEP (Philippine Entertainment Portal) the past two months.
PEP now gives you a rundown of these stories in this special report.
BABY BOOM. The Year of the Rat was welcomed by the shocking news that young actress Jennylyn Mercado was three-weeks pregnant. The father of her child is, of course, boyfriend Patrick Garcia.
The young couple consulted a judge at the Makati City Hall on January 3 about their plan to marry. But the judge advised them to think about their decision thoroughly before plunging into a more binding relationship.
Before the end of February, however, Jennylyn and Patrick broke up. Jennylyn, now three months preggy, cited Patrick's lack of concern for her as the main reason she decided to cut ties with him.
Jennylyn was not the only star who admitted carrying a child. Sexy stars Sheree and Alicia Mayer also revealed that they are expecting their firstborns this year. Like Jennylyn, the two sexy stars are not yet married to the father of their unborn child—Sheree with singer Gian Magdangal and Alicia with a non-showbiz guy (reportedly the son of Jesus Is Lord leader Eddie Villanueva).
ADVERTISEMENT - CONTINUE READING BELOW
Meanwhile, former child actress Camille Prats gave birth to her first child with husband Anthony Linsangan last January 24 in Los Angeles, California. Camille and Anthony got married a few weeks before the young actress gave birth.
Another young actress who gave birth early this year was ABS-CBN talent Eda Nolan, 19 years old. The news about Eda's delivery last February 8 was a shock to many since news about her pregnancy never came out. What's more shocking is that the father of her son is a talent of the Kapuso network—Gian Carlos, 18, who was a runner-up in GMA-7's artista search, StarStruck 3. The relationship of the two somehow proved that love could blossom in the ongoing network war.
NETWORK WAR HEATS UP. Speaking of the network war, the ratings dispute between giant networks ABS-CBN and GMA-7 escalated at the start of the year. ABS-CBN presented several witnesses—most of whom agreed to show their faces on camera—while GMA-7 continued to deny the allegations.
ADVERTISEMENT - CONTINUE READING BELOW
Meanwhile, the Quezon City Regional Trial Court (QC RTC) junked ABS-CBN's complaint against AGB Nielsen because the case was "prematurely filed." The Kapuso network lauded the court's decision, but the Kapamilya network vowed to pursue its TV ratings battle.
AGB Nielsen asked the court for protection against ABS-CBN. Later, the survey firm petitioned to sanction ABS-CBN for contempt, saying that the Kapamilya network's reports about the ratings manipulation in Bacolod were false. In its own investigation, AGB Nielsen claimed that ABS-CBN is also involved in promotional activities.
Another blow to ABS-CBN's case was the order of the QC RTC to stop issuing "damaging" statements against GMA-7. In return, ABS-CBN requested the Court of Appeals to nullify the TRO favoring the Kapuso network.
And so, the TV ratings battle continues.
"WOWOWEE" SCANDALS. The court battles of ABS-CBN do not only concern the TV ratings. Last January, the Department of Trade and Industry (DTI) sued the Lopez-owned network for irregularities in the noontime show Wowowee because of an alleged anomaly in the "Wilyonaryo" segment of Willie Revillame's show.
ADVERTISEMENT - CONTINUE READING BELOW
The court also ordered the re-opening of the ULTRA tragedy case. The stampede during Wowowee's first anniversary on February 4, 2006 killed 74 people and injured dozens more. The Department of Justice (DOJ) is set to file charges of reckless imprudence resulting in multiple homicide and multiple physical injuries against some of the executives and employees of ABS-CBN.
WILLIE'S WOES. Although Willie Revillame is not among those who will be charged in connection with the ULTRA stampede, the Wowowee host still managed to get himself under the spotlight.
First and foremost, Willie was suspected of owning a smuggled Ferrari car. The TV host-comedian denied the allegation.
The Wowowee host's marriage to Liz Almoro was finally annulled last February 5 on grounds of psychological incapacity on both parties. Willie is now being linked to young actress Cristine Reyes, although both claim they are just friends.
LA GRETA STRIKES AGAIN. Probably the most controversial actress in the history of Philippine show business is none other than Gretchen Barretto. Whatever La Greta does makes headlines, whether the public likes it or not.
ADVERTISEMENT - CONTINUE READING BELOW
The Year of the Rat spewed several controversies that made Gretchen the talk of the town again. First on the list was her rumored affair with Dody Puno, which reportedly prompted Gretchen's live-in partner Tonyboy Cojuangco to throw her out of their house.
Although Gretchen neither confirmed nor denied the affair with Dody, she vehemently dismissed reports that Tonyboy asked her to leave. To show that they are still very much together, Gretchen and Tonyboy showed up holding hands at Jinggoy Estrada's birthday party last February 16.
Aside from Dody, Gretchen was also linked to Gretchen's brother-in-law, Ricky Yabut. Ricky is the brother of Denise Yabut, the estranged wife of Tonyboy. PEP reported that Gretchen and Ricky were allegedly seen kissing at Nuvo bar-restaurant in Greenbelt, Makati, last February 10. Gretchen just laughed off the report.
Gretchen was also involved in a spat with friend Nadia Montenegro. Gretchen claimed that Nadia was the one spreading malicious rumors about her. The two hurled accusations against each other. Nadia accused Gretchen of having "itim na puso" while Gretchen questioned Nadia's loyalty.
ADVERTISEMENT - CONTINUE READING BELOW
In an attempt to patch up things between Gretchen and Nadia, some showbiz folks arranged a meeting for them in Rembrandt Hotel on February 20. But the supposed "reconciliation" meeting turned ugly. According to eyewitnesses, drinking glasses even flew on the air after Gretchen and Nadia exchanged nasty words.
The two camps decided to keep quiet after Nadia apologized to Gretchen for spewing hurtful words.
Nevertheless, it was also because of Nadia that Gretchen walked out from her live guesting on Entertainment Live last February 23, while a video of Nadia speaking about their rift was playing.
Conveniently, these controversies surrounding La Greta greatly helped in promoting her music album under Star Records titled Unexpected. Many are now wondering if these issues are just being used to drumbeat her foray into the music scene. If it is, well, that's not really unexpected.
RUFA MAE ALSO SCORES. Gretchen's friend, Rufa Mae Quinto, also figured prominently the first two months.
ADVERTISEMENT - CONTINUE READING BELOW
Rufa Mae's tell-all interview in the February 2008 issue of YES! magazine generated so much controversy that Jessa Zaragoza decided to renew her feud with the sexy comedienne. This was because of Rufa Mae's story about her past relationship with singer Dingdong Avanzado. Rufa claimed that Dingdong started a relationship with Jessa while they were still together.
Jessa, who is now based in the U.S. with husband Dingdong and their daughter Jayda, called up local showbiz talk shows to express her disgust over Rufa Mae's allegations. Rufa Mae stuck to her story, saying it's her life, not Jessa's.
Recently, Rufa Mae's name was also linked to First Gentleman Mike Arroyo. According to reports, Rufa Mae and the First Gentleman flew to Hong Kong together. Although the sexy comedienne admitted that she and Mr. Arroyo sat beside each other on the plane, she clarified that they have no relationship at all and it was purely coincidence.
ADVERTISEMENT - CONTINUE READING BELOW
THE SONGBIRD FLIES, NOT! After admitting her relationship with SOP co-host Ogie Alcasid last year, Regine Velasquez once again hogs the limelight. No, she's not yet pregnant.
Rumorshad circulated that the Asia's Songbird was moving to ABS-CBN. AlthoughOgie denied this at first, the very emotional episode of SOP last February 17 confirmed the news that Regine really planned to leave GMA-7.
The following week, February 24, Regine was nowhere to be found on SOP but she guested live on The Buzz, the showbiz talk show of ABS-CBN. The singer-actress admitted that she resigned from SOP because she was interested in a project she claimed ABS-CBN offered her—Betty La Fea.
But an ABS-CBN executive denied having made the offer to Regine and thisgot the Asia's Songbird hurt. She took it to mean that the Kapamilyanetwork is no longer interested in getting her. So, the following week, shewent back to SOP and announced that she has decided to stay in GMA-7.
ADVERTISEMENT - CONTINUE READING BELOW
KC SOARS HIGH. The Megastar's daughter, KC Concepcion, also made headlines these past few months.
KC made her acting debut on TV via a special episode in the long-running ABS-CBN drama anthology Maalaala Mo Kaya. The verdict? Critics and viewers alike were all praises for her performance.
KC is also scheduled to shoot her first film for Star Cinema, possibly with John Lloyd Cruz as her leading man.
She was also appointed by the United Nations as Ambassador Against Hunger.
KC's love life also became the talk of the town. She reportedly broke up with young director Lino Cayetano in Paris earlier this year. Lino is now going out with ex-girlfriend Bianca Gonzalez. The two were even spotted vacationing in Singapore.
KC, on the other hand, is now being linked to heartthrob Richard Gutierrez. The GMA-7 prime leading man admitted having sent flowers to KC last Valentine's Day. Now, negotiations are underway for a possible pairing of KC and Richard in a movie that might be co-produced by GMA Films and Star Cinema. If this movie project goes as planned, we might see the end of the network war.
ADVERTISEMENT - CONTINUE READING BELOW
RELATIONSHIPS. Aside from the KC-Lino breakup, other relationships also became hot items the first two months.
Estranged couple Pops Fernandez and Martin Nievera settled their differences and are now on speaking terms. While Pops is very much involved with boyfriend Jomari Yllana, Martin's relationship with live-in partner Katrina Ojeda seems to be on the rocks. Martin was rumored to having an affair with the daughter of a princess who is married to Prince Jefri Bolkiah of Brunei. Martin denied the allegation.
Another estranged couple, Alessandra de Rossi and Jeremy Marquez, made headlines last January while they were in Davao del Norte for a celebrity tournament. Alex allegedly slapped Jeremy while in a heated conversation that was even caught on camera. Both Alex and Jeremy denied the slapping incident and PEP released the details of the real story.
Young actor Mark Herras broke up with EB Babes member Lian Paz, apparently because of the dancer's affair with a basketball player.
ADVERTISEMENT - CONTINUE READING BELOW
Toni Gonzaga and Sam Milby both admitted that they had a short-lived "mutual understanding" in the past. Now, Toni is happy with boyfriend Paul Soriano while Sam is courting Anne Curtis again.
Luis Manzano also admitted for the first time his special "bonding" with Lobo star Angel Locsin.
PINOYS CONQUER THE WORLD. If Charice Pempengco became a singing sensation in YouTube last year and even guested on the Ellen DeGeneres show—two other Pinoy singers living abroad also made Filipinos very proud.
Fil-Austrian Vincent Bueno wowed all of Europe when he won the grand prize in Musical! The Show, a televised musical competition in Austria, which showcases contestants singing excerpts from well-loved musicals. Vincent was the first Filipino and Asian to win a major contest in Austrian television.
Meanwhile, Ramiele Malubay became the seventh Filipino-American who made it in the Top 24 of American Idol. Ramiele, who is now based in Miramar, Florida, is one of the favorites to become the seventh American Idol. At press time, Ramiele is one of the remaining eight female contestants.
ADVERTISEMENT - CONTINUE READING BELOW
These are just some of the biggest news stories that PEP covered at the start of the year. For the latest showbiz news, just continue logging on to www.pep.ph.